The appearance of your site is the business card of your entire business. Unattractive design, an unresponsive site, obsolete features, and poor overall performance DO NOT inspire confidence in either your clients or the search engine, and both will choose your competitors. There are many signs your website needs a redesign. Here on the blog, you will find a selection of the most relevant and important ones.
A website redesign helps partially or completely change your website's design, thereby improving your website's overall performance and usability. If you need help with website redesign, then contact our web design company.
What is website redesign?
A website redesign is a process of updating the backend (the code) and the frontend (the look of your site) of your site by changing the following things:
updating layouts
improving navigation
updating content
creating of mobile-friendly design
changes in branding
overhaul of website templates
and more.
A website redesign is needed in order to improve the user experience on your website, get a higher conversion rate, modernize and extend your scope of influence.
When and why should you redesign a website?
You should redesign your site to at least meet the new requirements of Google algorithms.
You need a website redesign if:
you are losing out on conversions
your sales level starts to fall
your website design looks outdated
navigation on your site is confusing
you launch a new product or service
you want to add more functionality
If at least one of the listed items is true of your business, your website needs a redesign, and your business needs a rebranding. There are many reasons for redesigning depending on the problems of your business.
How many hours does it take to redesign a website?
It depends. No professional web design company can tell you the exact duration — it all depends on your site's size, its current state, and the amount of work you would like to do.
For example, do you want a template-based website design or a unique design with rich functionality? The answer to this question affects the time it takes to redesign your site.
The duration of your website redesign can take several days or several months. To find out the exact amount required for the redesign of your site, contact the designers.
10 main signs your website needs a redesign
1. A decrease in sales
A decrease in revenue is the top sign your website needs a redesign. As research shows, business owners greatly underestimate the impact of design on sales. Your site should be attractive, user-friendly, and easy to navigate. It will increase interest in your services or products. Everyone has high-quality products, but may not have an attractive site.
2. Poor security and performance
No reasonable user will risk their data security to buy something from you if your site is dangerous — they will go to another secure site instead. The same goes for page loading speed. Today it is recommended that your site load no more than 1.5 seconds. The higher the wait time, the fewer customers you have. Google will also decrease search rankings for a site that is not HTTPS certified and has poor performance.
3. Unresponsive design
The number of mobile users is growing every day. Having a site only for PC users is ineffective. If your site is not mobile-friendly, then you cannot provide a user-friendly experience and be competitive. If you don't have a responsive website, then it's time to redesign your website.
4. Difficult to navigate
Confusing navigation on your site will only contribute to an increase in bounce rates and a bad reputation for your brand. This shows that your website needs a redesign. A good navigation menu gives potential buyers quick access to the information they need.
5. Bad SEO & Website Update
Without constantly updating your site, you won't be able to achieve good results. Without constantly updating your site, it will become old-fashioned and irrelevant, affecting the search engine rankings.
6. Branding Disconnect
The lack of a consistent branding style on your site can be confusing to your site visitors. Ensure that all pages on your business site have the same style and fully reflect the area in which you work. Having a consistent brand website creates a sense of comfort and trust among potential customers.
7. Old site functionality
Old and poor site functionality is one of the first signs your website needs a redesign. Your business is constantly growing, changing and developing. The site must meet your user's needs and have powerful and new functionalities. Adding new functionality automates many processes and shows that you are a modern company that is aware of the latest web design trends.
8. Your competitors are better than you
If you see that your competitors are better than you and have a better site, then that's a serious sign that your website needs a redesign. Competition is a good thing as it encourages you to get better and develop.
Analyze your competitors — if their site is more attractive than yours and it is easier to navigate, then you should take action.
9. Low conversion rates
You built your site to capture more leads, right? The site fulfills its purpose when it brings high conversions. However, if your site is old and does not contain the necessary elements, there will not be a lot of conversions. Make sure your site has clear call-to-action buttons. Low conversion rates are a signal that you need a website redesign.
10. Complicated content updates process
The site cannot be imagined without content. However, adding content is still a nightmare for many site owners and administrators. If this sounds familiar to you, then it's time to change the CMS. As soon as you add content to your site, then the SEO will improve. Redesign your website to provide more opportunities for the development and promotion of your business.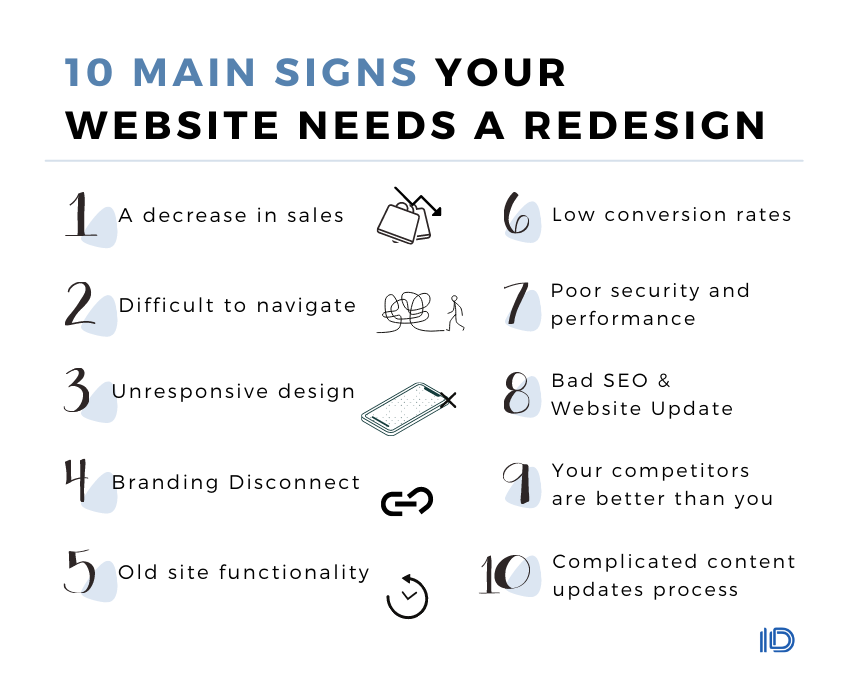 How much does website redesign cost?
A website redesign will cost you from a few hundred dollars to several thousand. The cost varies depending on the desired result.
Do not trust the amounts that you find on the Internet — they are inaccurate. It is impossible to name the cost of a website redesign without knowing about the site in question, the owners' expectations, and how much work needs to be done. Do not be afraid to contact a web design company and do a free audit. This is the only way you can find out the specific cost of your website redesign.
Top factors that shape your redesign costs:
The experience of a web design agency
The size of your website
The design you want
The functionality you desire
The integrations with a third-party system
The creation of responsive design
Is It Time to Redesign Your Website?
There are many different signs your website needs a redesign. But if you notice any of them, then you need a website redesign. After all, your site is like your body — it lets you know if something is wrong.
Listen carefully to your website, as any of the above signs indicate that your website needs a redesign. Professional web designers from the Internetdevels have a lot of experience in this and will be happy to help you.