Are you a B2B brand? Then you know that it is more difficult for a B2B company to get a customer for several reasons. First, the sales funnel is longer and more complicated. Secondly, your services are usually more expensive, so often contracts slip away halfway through, like a fish off a hook.
Regardless, remember that your B2B website service page is your primary sales tool. So pay maximum attention to your B2B website service page. It is not easy to create a B2B website service page on your own, but it is easy to get help from Drupal developers. If you have not already built one, you should make one after reading our blog. If you already have one, then check it meets all the requirements on our checklist.
What is a service page on a B2B website?
The service page on the B2B website is where potential customers find the answer to the question:
What do they do, and are they suitable for us as partners?
Specifically, a B2B website services page is a page that clearly, attractively, and fully conveys what services you provide and the benefits of cooperation with you.
It must convince them to start working with you and not your competitors, and bring potential customers to the bottom of the sales funnel, so they sign a cooperation agreement.
How do you create a B2B Service Page for your website?
Before we tell you how to create a B2B Service Page, we would like to make a note. Your B2B Service Page should inspire trust and deliver a good user experience.
We will show you how to create a B2B website service page that converts. To do this, you should adhere to a clear list of the required elements because the number of clients you receive will depend on how clear and complete it is.
What should a B2B website service page have?
In addition to the general components of any type of page, such as the footer and header, there are also other features of the B2B website service page which we invite you to consider.
1. Short and precise headline
The headline should be descriptive, so it is clear to everyone what you are doing. No matter where users come from, even if they accidentally stumbled upon your page, they should know where they are and what they can find on it. Headlines should be clear, specific, and supported by facts.
This is the first meeting with a person who asks what you do for a living. You do not say, "I am bringing up the young generation," stick to "I am a teacher."
2. Keyword page optimization
How can you be found if you don't use keywords?
To appear in search queries, focus on the prescribed key phrases that can be used to search you. Then even those who do not know your brand will get to your page. So do not hesitate — use our tips for search engine optimization to get more results.
Include KWs in URLs, titles, headers, and the service description text itself. It is important not to lose sight of this, as many site owners do.
3. Answer frequently asked questions
Add a section with answers to the most popular sales questions. This will help you avoid extra phone calls.
The fewer questions left in your leads' heads, the more likely they will become your partners.
The best service pages do not leave users with any questions about your services, they just pave the way for visitors to sign an agreement. If the site is on Drupal, then you can add an FAQ section with the FAQ field module.
4. Visual authenticity
For your B2B service page to be quickly recognized by everyone, take care of its visual credibility so that users pay attention.
Come up with an exciting logo and add it to the top of the page
Give screenshots and photos of your awards as confirmation of your quality
Tell visitors about partnerships and show reviews from previous customers
These are the elements that potential B2B partners are most interested in, and will form the basis of a trusting relationship.
5. Clean visual hierarchy
You should also keep in mind the visual hierarchy. You have complete control over visitors' eyes, and where they should look next.
Make them look smoothly from one element to another. Text, color, various font sizes, placement, and white space will help you.
The visual hierarchy should help ensure that whatever you add to the B2B website service page is read and understood.
6. Consequential subheads
Your customers will decide to read the information or simply scroll through it based on your subheads.
Subheads of the B2B website service page should describe what will be discussed in the next paragraph.
If you formulate them randomly, then the result will be i0% conversion. Take care to write quality subheadings.
7. Short and descriptive paragraphs
It is important to remember that your text should have short paragraphs (no more than four sentences are recommended).
To attract users' attention is difficult, but imagine what they will think when they see a large pile of text that isn't broken into paragraphs. Here's a hint — hey'll just move on.
Structure and shorten your paragraphs, as only short paragraphs get read.
8. Real testimonials from clients
Nothing can replace and will not replace honest reviews of your B2B company from previous clients.
Post reviews in various formats:
This is something that cannot be faked — it has impact because it is forthright proof. That is why people love, trust, and look for a section with reviews about your service.
9. Visualization of everything you say
Images, graphics, logos, diagrams and charts are more attractive for conveying information than text alone.
Use these visuals to complement your text. Do you want to share what stages they need to go through before agreeing? Show it visually, but don't forget to optimize images for SEO.
Add a photo of your team so that the leads can see real faces. You may underestimate the power and impact of your photos, but they are incredibly useful.
The visual component of your B2B website service page grabs attention first, then the text. It helps to engage your visitors. Use it.
10. Numerical performance results
If your customers do not want to write reviews, there is another way to confirm the efficiency and reliability of your company - give data and statistics.
Tell visitors how many years you have been working
How many projects have been completed
How many companies you have worked with
How many of them were satisfied after cooperating with you
How many team members do you have
Without specific numbers, your information could be describing a B2B website service page of any company.
11. Final call to action
Your website service page must end with a compelling call to action. This is what finally pushes the site visitor to become a lead.
Without a CTA, your page is incomplete. It's like ending a phone call before you even say goodbye.
The wording of the great call to action triggers is not general but specific — "contact us" is not good enough.
Note: you don't have to put it all on one page, you should choose what is most important and add that to the design.
Best B2B website service page examples to inspire you
We have created a new selection of successful B2B website service pages for you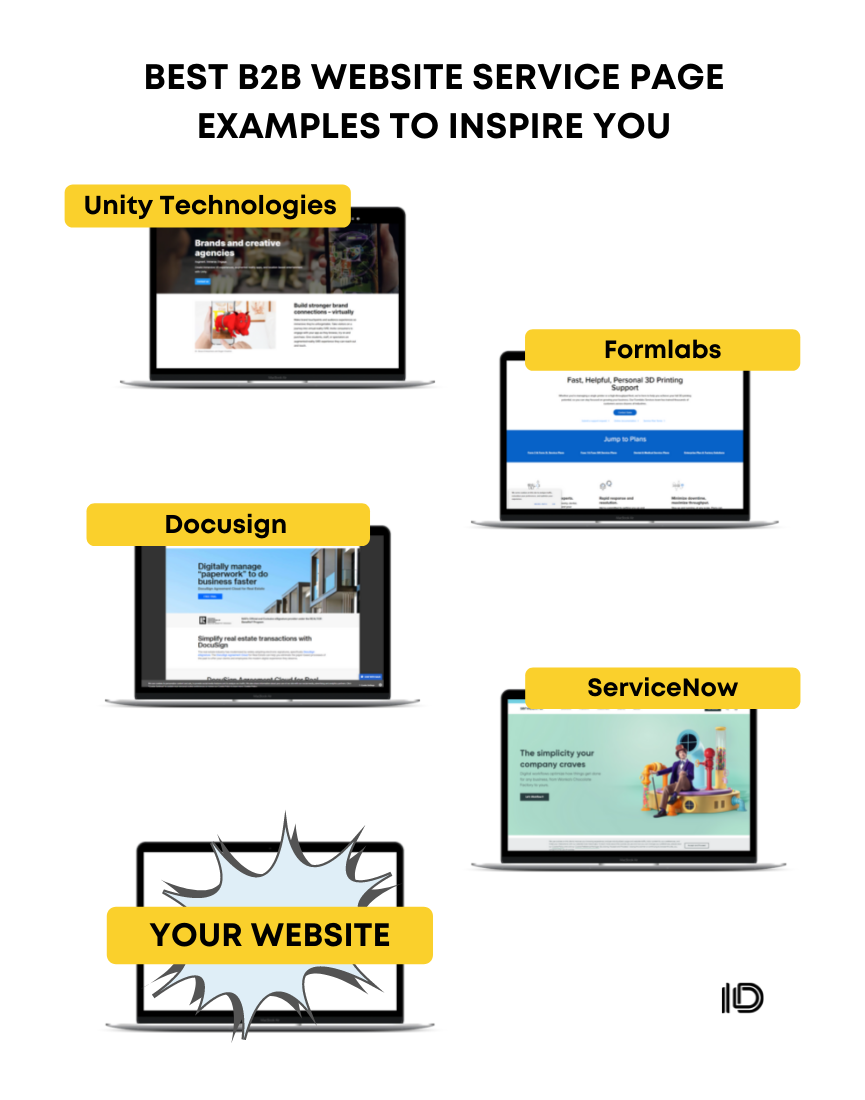 Unity Technologies
Unity Technologies opens our top five B2B website service pages. They clearly showed what they were doing, added a sufficient number of CTAs, indicated the benefits you can get from cooperating with them, and shared how it might look.
Formlabs
Formlabs B2B website service page confirms that all of the above relocation elements can be successfully placed on one page. They clearly described what they offer and created the ideal visual hierarchy that leads to the end of the page, where specific CTAs are already waiting.
Docusign
Docusign demonstrates numbers of results and shows a section with successful customer stories. Their B2B website service page has successfully exploited white space. Short and descriptive paragraphs focus only on the essentials, which attracts even more clients to them.
ServiceNow
ServiceNow is considered one of the best B2B companies in 2021 — and not for nothing. Their service site page has accurate titles and follow-up subheadings that grab the user's attention. The B2B website design is simple and pleasant.
B2B website service page of your website!
We truly believe that your B2B site should be the final one on our list. Therefore, let's make your website service page better together, with the InternetDevels web development company.
If your B2B website service page doesn't quite match the points above, then you need to improve it. Otherwise, you will be one of those other companies that do not attract customers and lose conversions.