Establishing a steady online presence is vital for your business. So when you are getting ready to launch a new website, you need to choose a hosting provider.
But it's just the beginning of the bigger story — in the course of your website's work, you may face several common website hosting issues.
Let's discuss them, so you are forewarned, forearmed, and choose a hosting provider carefully. And, of course, you can change your provider at any time if the current one gives you many hosting issues.
First, what is website hosting?
Although the term "hosting" is on everyone's lips, it can be hard to understand for those who have never dealt with it.
So, website hosting is the service of making a website accessible to all computers on the World Wide Web. Once your website is hosted, all users can type its domain name (like my-amazing-brand*.com) in their browser, and they will visit it. The hosting provider gives your site storage space on a server and related services.
Read more answers to the question "what is website hosting?" in our separate post. It also dwells on what a domain name is and what types of hosting exist. In the meantime, let's move on to what website hosting issues can be.
Common website hosting issues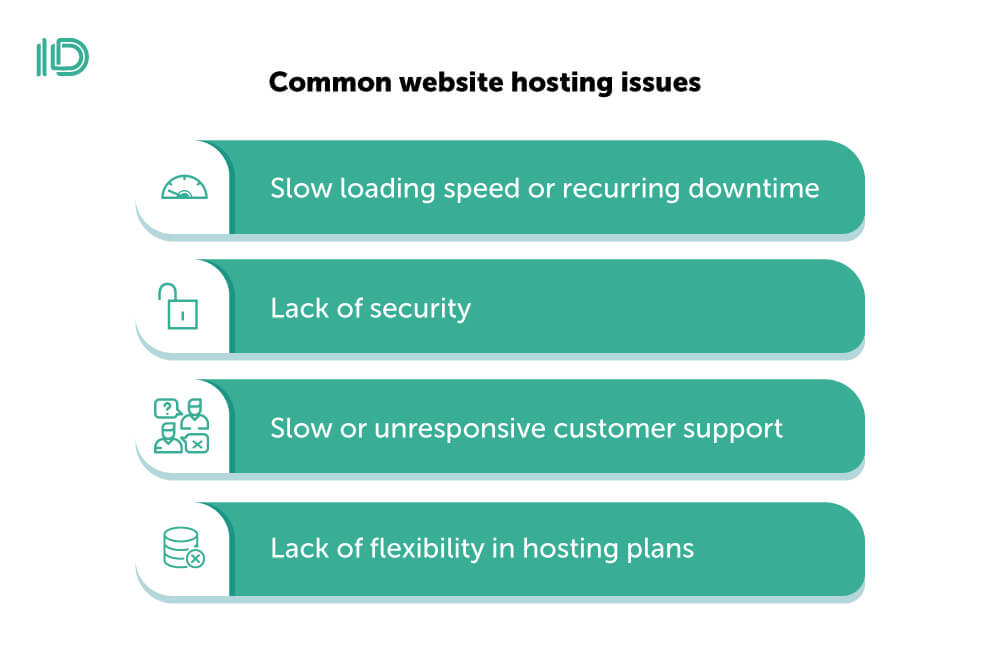 Slow loading speed or recurring downtime
You absolutely expect your website to run fast — and your users do, too. Slow performance steals away your website traffic, SEO rankings, and conversions. Downtime is even worse: during the time your website is unavailable, your business opportunities together with your reputation are melting away. So, poor speed and downtime are pretty big website hosting issues.
The hosting provider is not always the culprit. There are plenty of reasons for poor loading speed (lack of image optimization, heavy CMS plugins, no CSS and JS aggregation, and so on). A good website performance audit could do you a world of good.
However, if everything is optimized on the part of your website, this could possibly be a website hosting issue. It might mean that your provider's servers cannot give you enough speed and uptime. You may also be using a package that you have outgrown, so it does not have enough resources — consider upgrading if this is the case. Finally, your host may also ignore the importance of the server monitoring service that checks your website's uptime, so it's time to choose one who does.
We have shared a post with free uptime monitoring services with you. In addition, our team understands the importance of this issue, so our developer maintains an extension for Drupal websites that checks uptime — the UpTime Widget Drupal module.
Lack of security
You want to keep your website's data safe and sound. When your hosting provider cannot help it, it's an issue.
When it comes to hosting types, shared hosting is probably the least secure because it offers the least privacy. Are you on shared hosting while operating a business where security is vital? Consider upgrading to hosting on VPS (virtual private server) or VDS (virtual dedicated server) — choose a provider that offers these options.
VPS and VDS are a step from shared hosting in terms of security, freedom in configuration, and more. The hosted websites use individual resources thanks to the virtualization technology. There is an opinion that the VPS and VDS refer to virtual servers with various types of virtualization: VPS stands for virtualization at the operating system level and VDS on the hardware level. However, both terms appeared and developed in parallel, and mean the same thing: a virtual dedicated server running on the basis of a physical one.
Security also largely depends on other technical aspects — for example, whether your provider does regular backups, so you can restore your website in any situation, whether it offers a private IP address, free SSL certificates for encrypted data exchange, and so on.
Slow or unresponsive customer support
At some point, you may need to turn to customer support. They need to be quick to answer your questions and solve your issues, so you are not dangling in a crucial moment (for example, when your website throws a 503 error).
Is your host available through enough communication channels? Is the staff helpful and knowledgeable? On the contrary, if have you experienced a lack of reaction, no answer to emails, a too busy tone, poor knowledge or unresolved issues, these are bad signs. They show you should better choose another hosting team. Unfortunately, poor customer service is a common website hosting issue.
Lack of flexibility in hosting plans
Do you have overly long hosting bills? Maybe you are using the resources you do not need. This includes disk space, PHP memory limit, the number of MySQL databases and mail accounts, and so on. This is especially true when it comes to hosting services for small businesses.
Or, maybe, on the contrary, your business needs have grown, and more resources are necessary. Can your hosting provider give them to you? There are always ones that can!
Get a good hosting provider
These are some of the common website hosting issues. We hope you never encounter them! In our hosting services, we do our best to provide you with the perfect results.
Our company offers 4 flexible packages to host your website and 5 to rent a VPS (virtual private server). Our servers are situated in Germany and are based on KVM technology. We are known for Drupal hosting, but websites on absolutely any platforms are welcome.
Regular backups, uptime monitoring with the Zabbix monitoring system, free SSL certificates, handy remote control via CPanel, and much more is here. Let's discuss it!