Dear reader, we would like to invite you to follow us. Where? On an exciting virtual journey to DrupalCamp Kyiv 2018! The 10th anniversary of the drupalers' meetup was amazing, and unusual moments added some spicy flavor to it. A mysterious bearded man in a pilot's helmet, bikes on the speakers' stage, the phantom of Drupal 9, and much more lies ahead. Ready? Follow us! ;)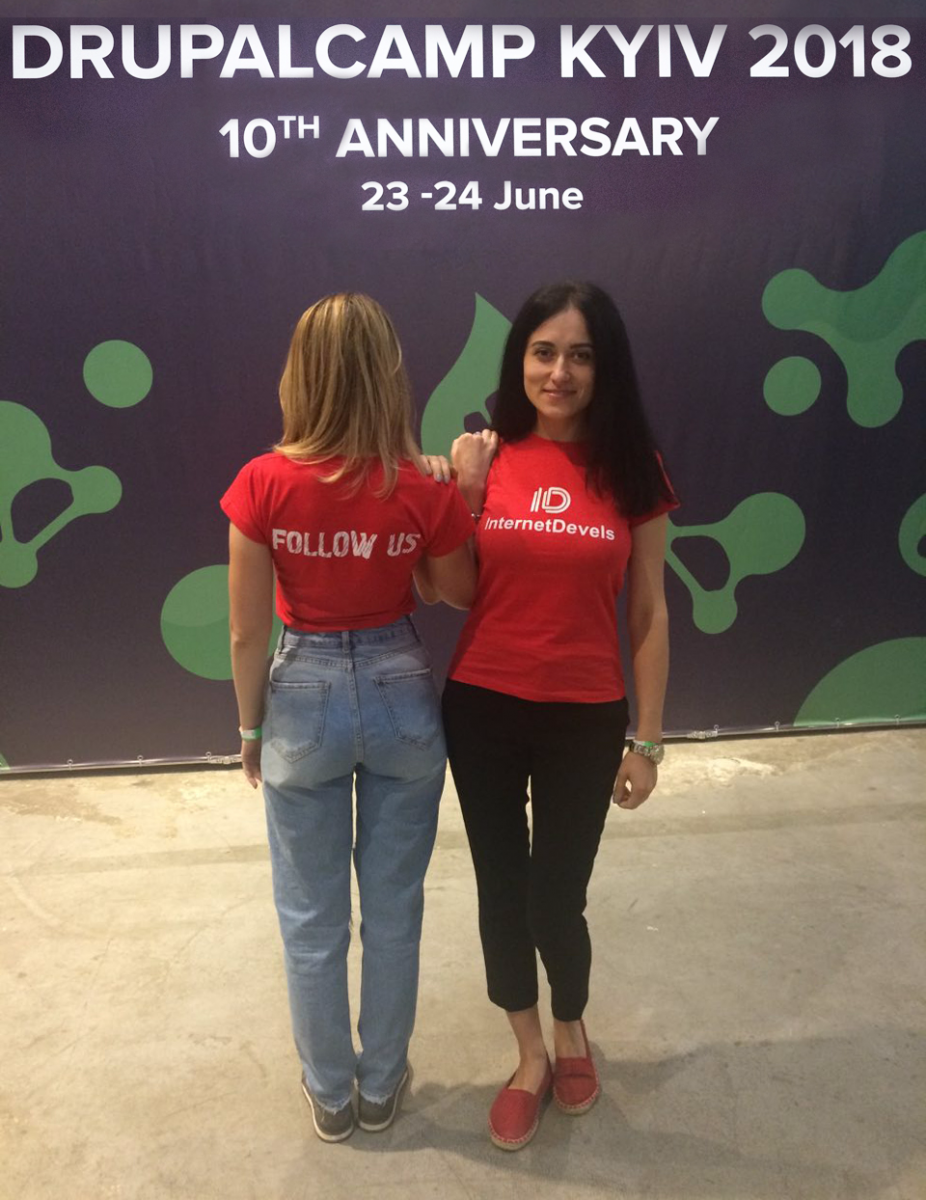 The creators of the future
Just like at DrupalCamp Kyiv 2017, DrupalCamp Kyiv 2016, and before, InternetDevels Drupal web design company was a sponsor and attendee of DrupalCamp Kyiv 2018. So we happily arrived in Kyiv wearing our red T-shirts, which were noticeable from anywhere. "Follow us" read the phrase on the T-shirt's back.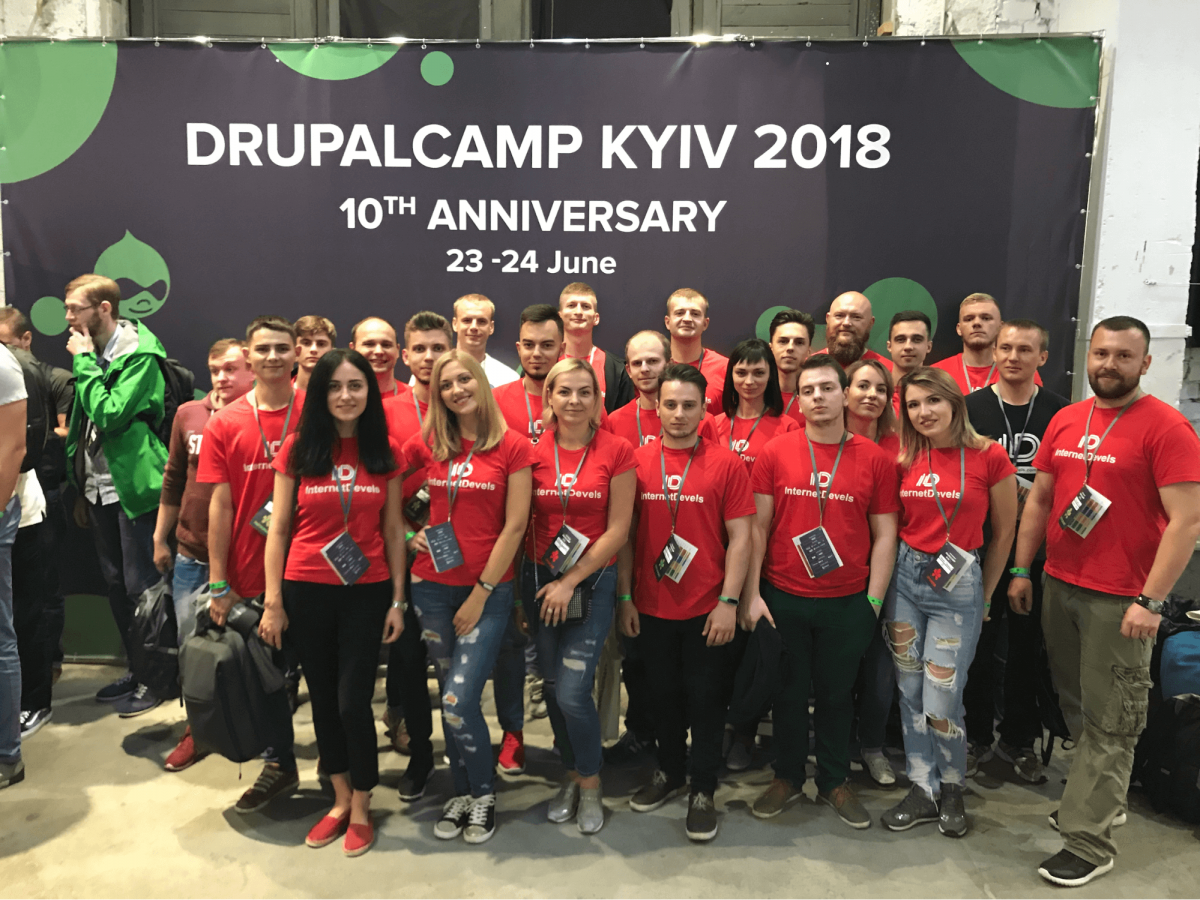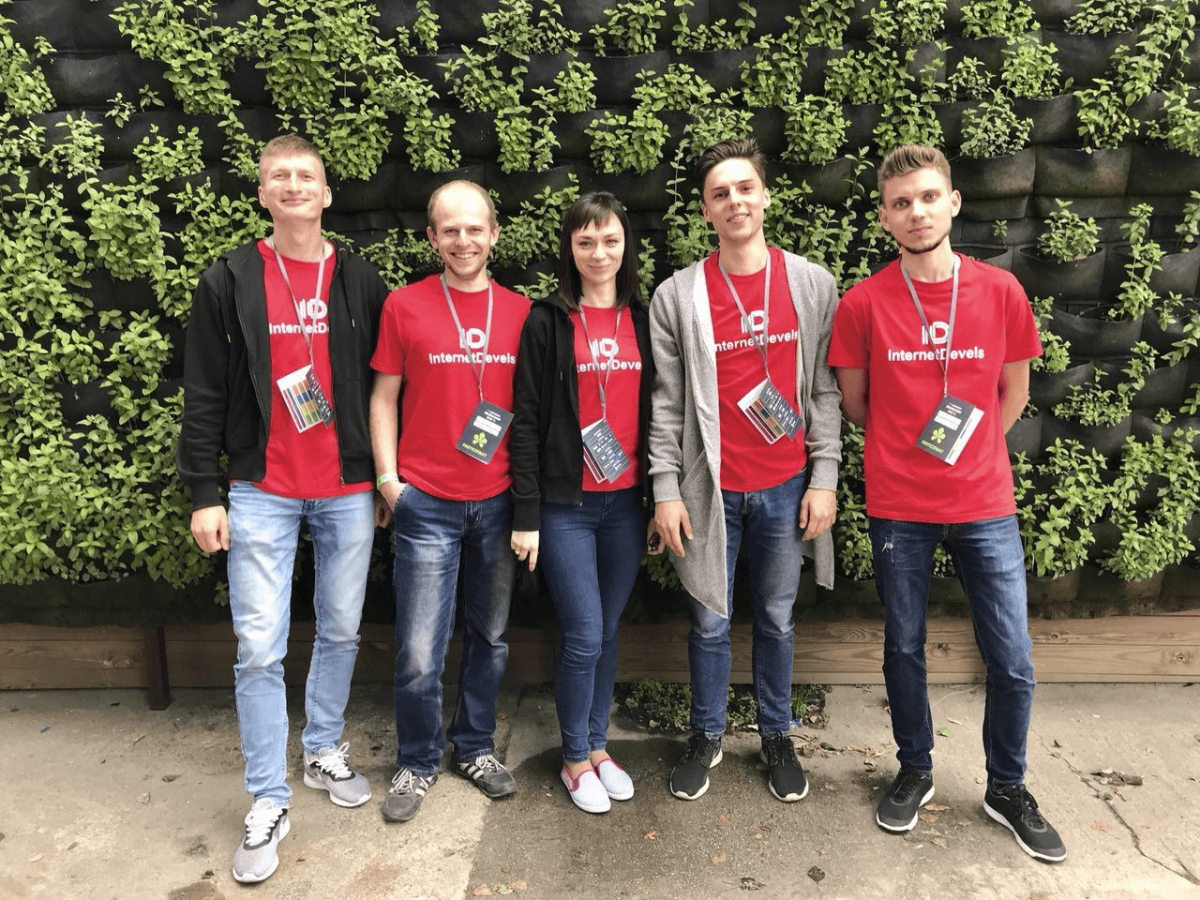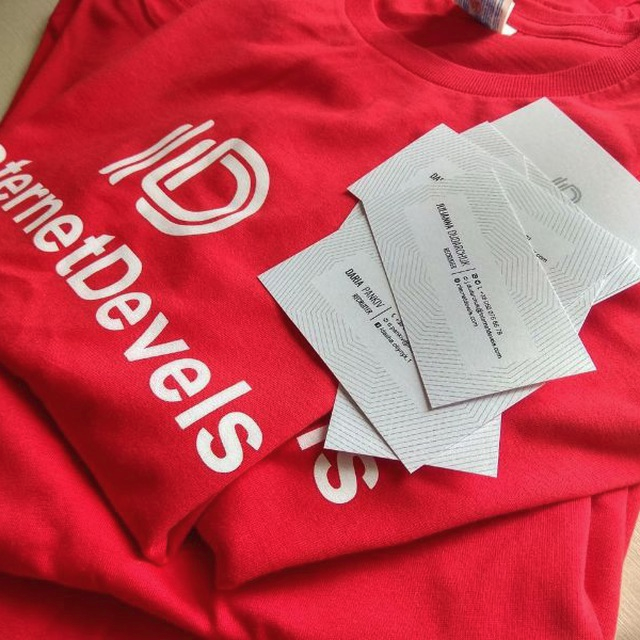 By following us, anyone could find their way through the huge, loft-styled IZONE Creative Community building.
But following us means more than that! Anyone can follow us in being active members of Drupal Ukraine Community, contributing to the development of Drupal, teaching new talents, doing everything with passion, and reaching new heights. These are one of the ways we are all creating the future! That's why our banner said: "We are more than developers — we are the creators of the future."
The mysterious bearded man
The future and the new heights were shown on our banner. It featured an energetic man with a pilot's helmet and an amazing beard, which caused a lot of interest. Who was he?
The "original" was also present at DrupalCamp Kyiv 2018. This was Butmax from InternetDevels. Look at the photo and find 10 differences!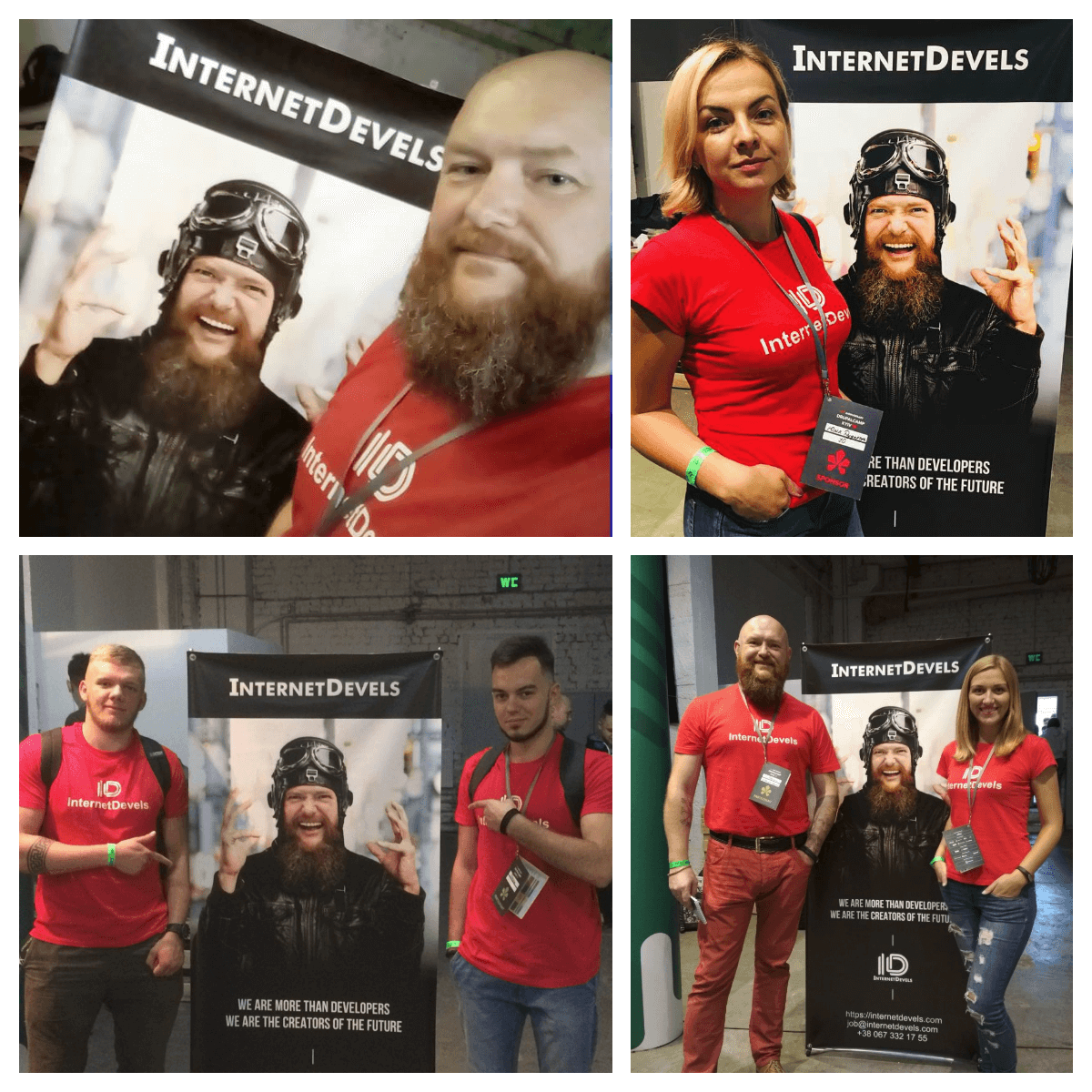 DrupalCamp Kyiv and its air
Oh, that unique atmosphere at Drupal Camps! The organizers may be busy, the participants may be tired after their trip to Kyiv, but everyone is so enthusiastic, happy to see each other, and ready for complete drupalization!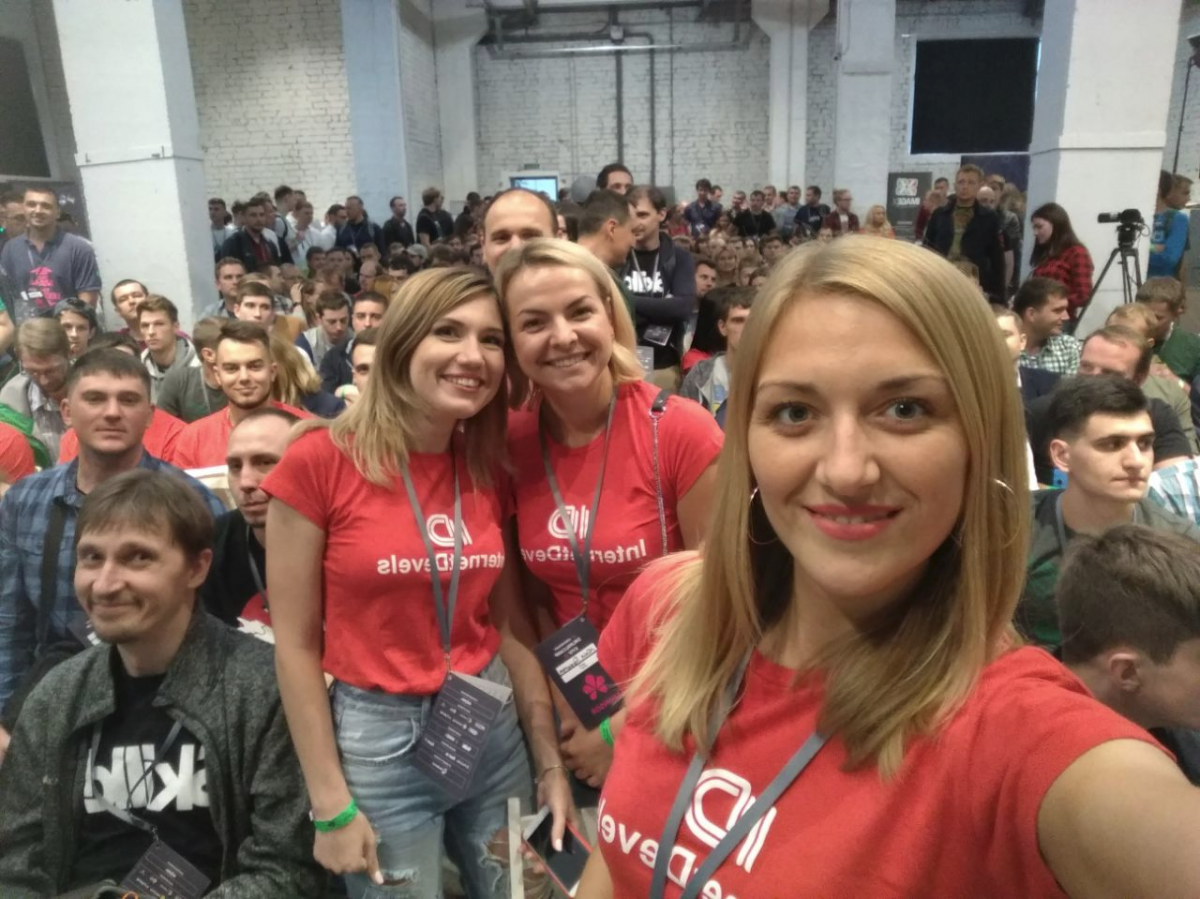 Great speeches: the 3 dimensions of Drupal
Drupal unites people of various professions. At DrupalCamp, you can see Drupal developers, QA engineers, HR managers, project managers, marketing specialists, and many others.
So the speeches at DrupalCamp Kyiv were divided into 3 main areas: development, business, and project management.
The complexity level of all speeches was also graded from 1 to 3. So, looking at the schedule, everyone could decide what suited them better.
But even with that, it was hard to choose among the speeches. They came in 4 streams at the same time. Brilliant speakers and the freshest Drupal topics gave you a real torment of choice!
We all immersed ourselves into the intricacies of Vue.js integration with Drupal 8, the novelties in Drupal 8 core, the ins and outs of GDPR, the use of the Lazy Builder, Drupal 8 caching, custom entities, Robo and BLT, and so much more.
We also heard the expected release date for Drupal 9, whose phantom is already in the air, attracting everyone's interest. It may arrive two years from now. It may, or it may not — only time will tell! ;)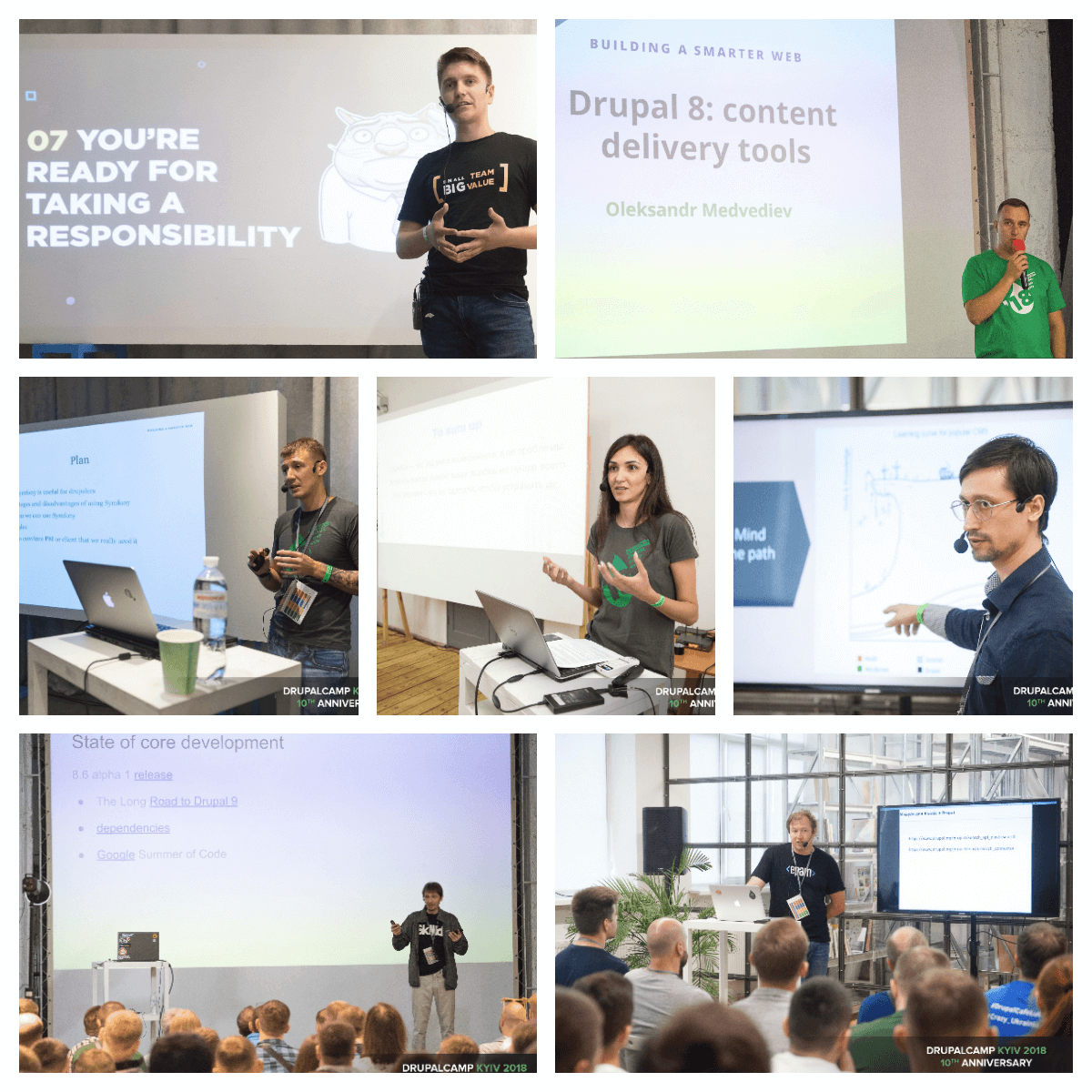 And, of course, InternetDevels representatives were active at the speeches!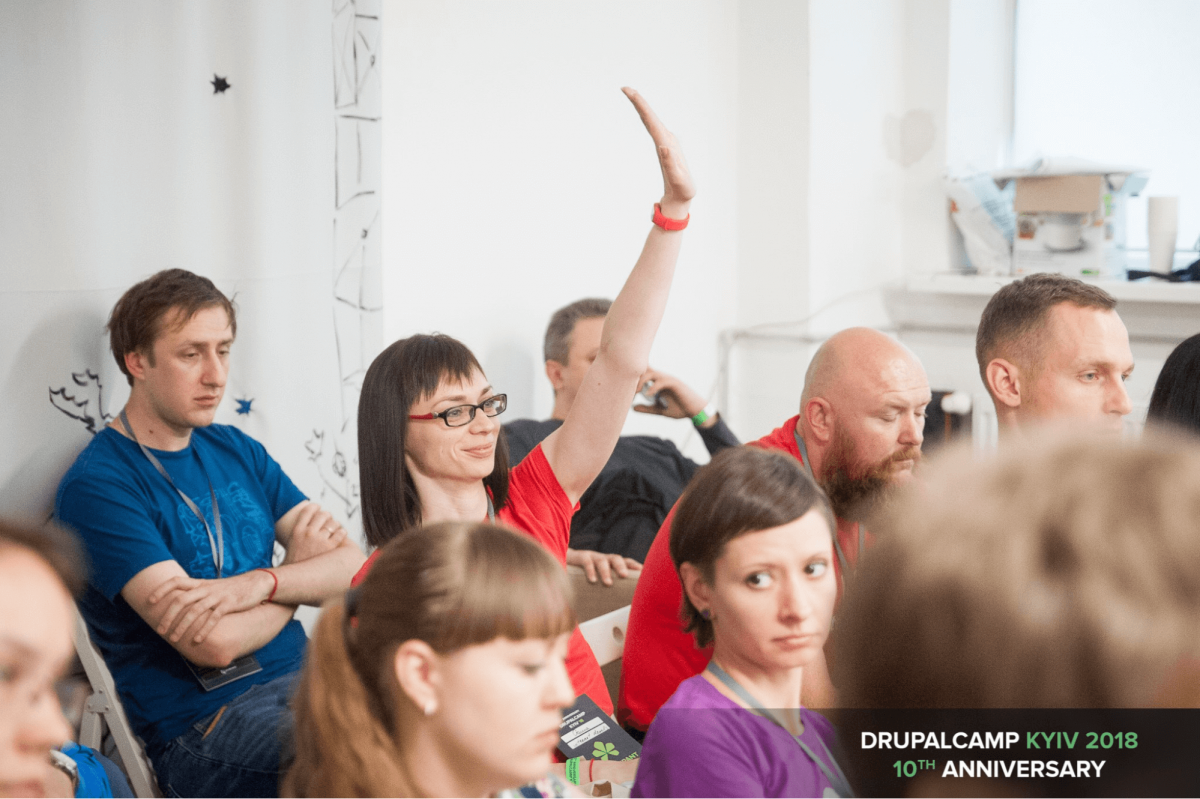 InternetDevels speaker at DrupalCamp Kyiv, 2018
Contribution makes the world go round! Our senior Drupal developer Andrew Zahura, aka Ahiles, gave a truly useful speech about how to contribute to Drupal.
Drupal is an open-source CMF that everyone can use for free. But it's great to share something back! Any drupaler can contribute their modules to Drupal, create patches, make translations, update the documentation, and much more.
However, many think they are too busy for that, and many do not know what steps to take exactly. But, after the speech by Ahiles, drupal.org will hopefully be bursting with new contributions!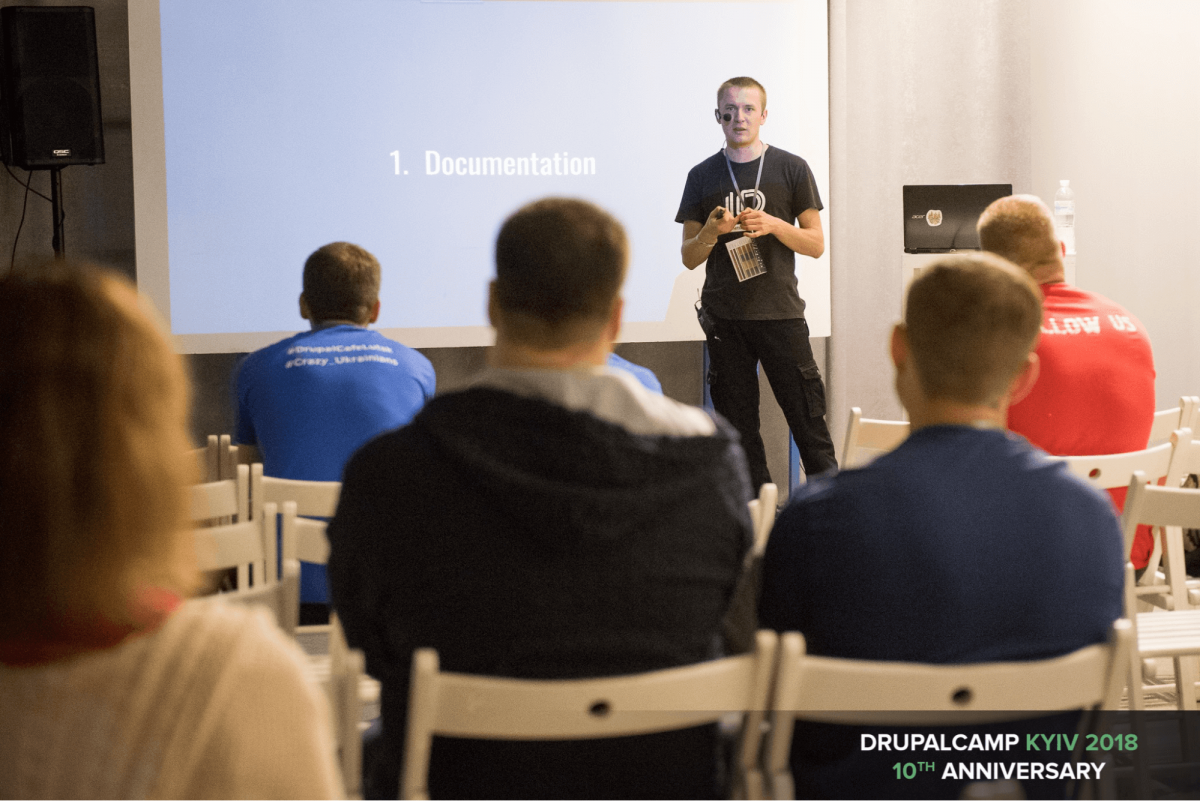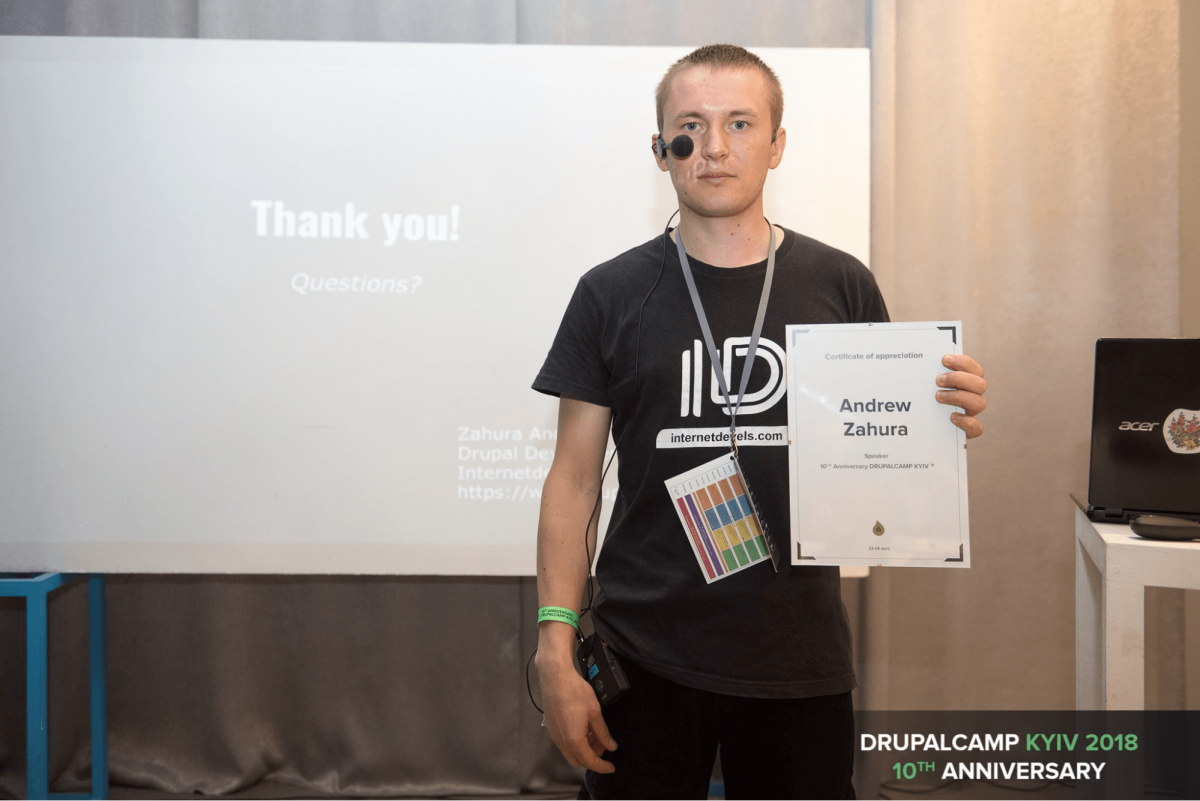 Certificates of appreciation
All sponsors received their certificates of appreciation. Noticeably, this year's DrupalCamp had many individual sponsors who wanted to develop Drupal.
Here is our certificate of appreciation. InternetDevels are happy to support DrupalCamp Kyiv 2018 and Drupal itself!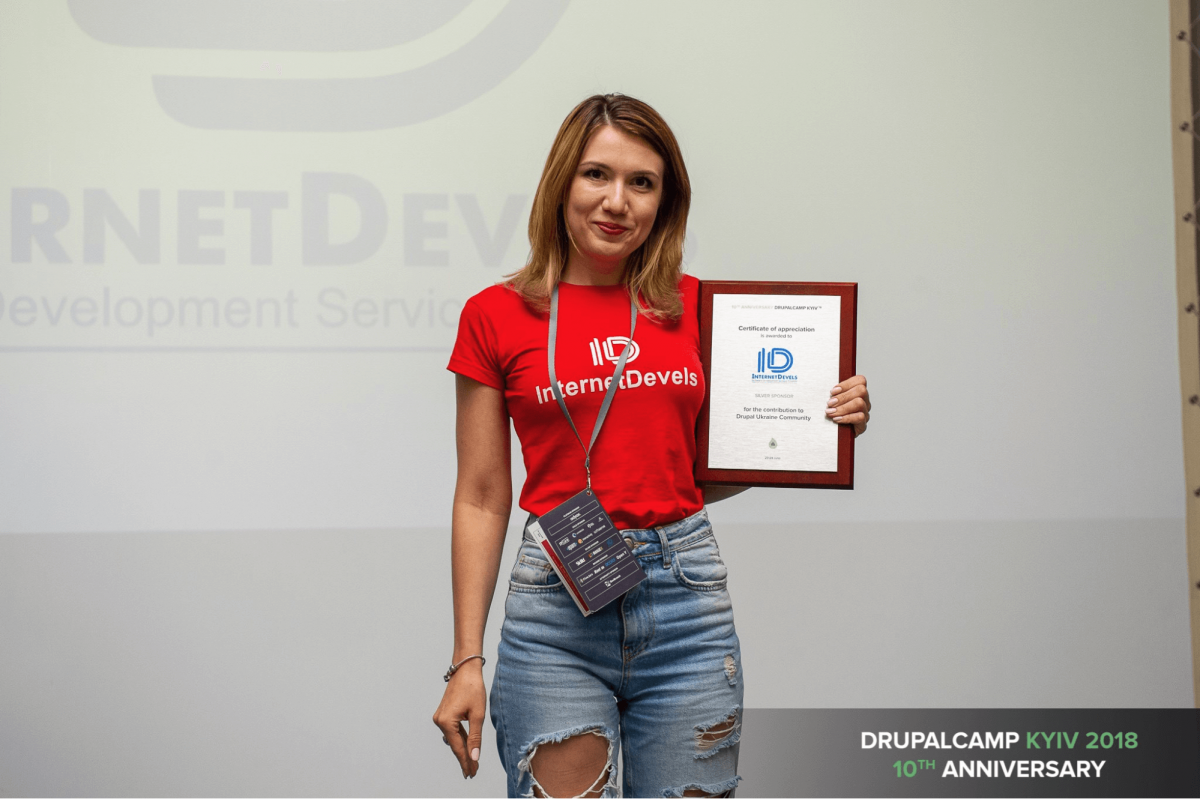 Prizes: from toy RC cars to full-sized bikes
A very nice part of the event was dealing with prizes from the sponsors and the organizers. Here are some of them.
Even when drupalers grow up, they cannot resist playing with toy RC cars. One of the sponsors arranged a car race whose winner got a car! We are not sure if he was able to drive home on it, but nothing is impossible for drupalers!
Another "vehicle" prize was a full-sized bike, whose winner was chosen in a draw — and it turned out she had a birthday on the same day as the DrupalCamp 10th anniversary!
The organizers also held a drawing with PhpStorm licenses by JetBrains. As is known, PhpStorm is every Drupal developer's best assistant.
Afterparty: time to have fun!
All the guests from other cities and from abroad could feel the might of the Dnieper River, because the after-party was held at River Port Pub. And, of course, everyone enjoyed the communication with old and newly-made friends.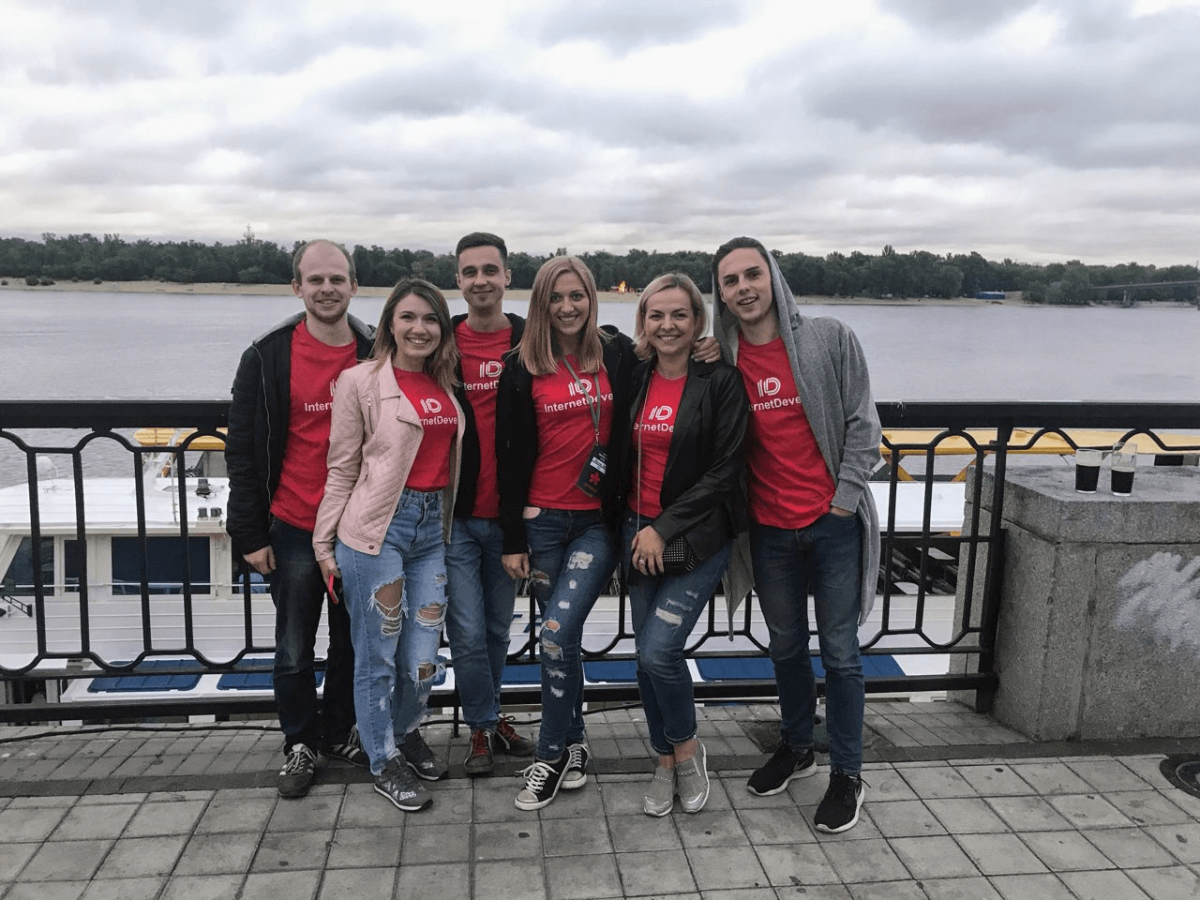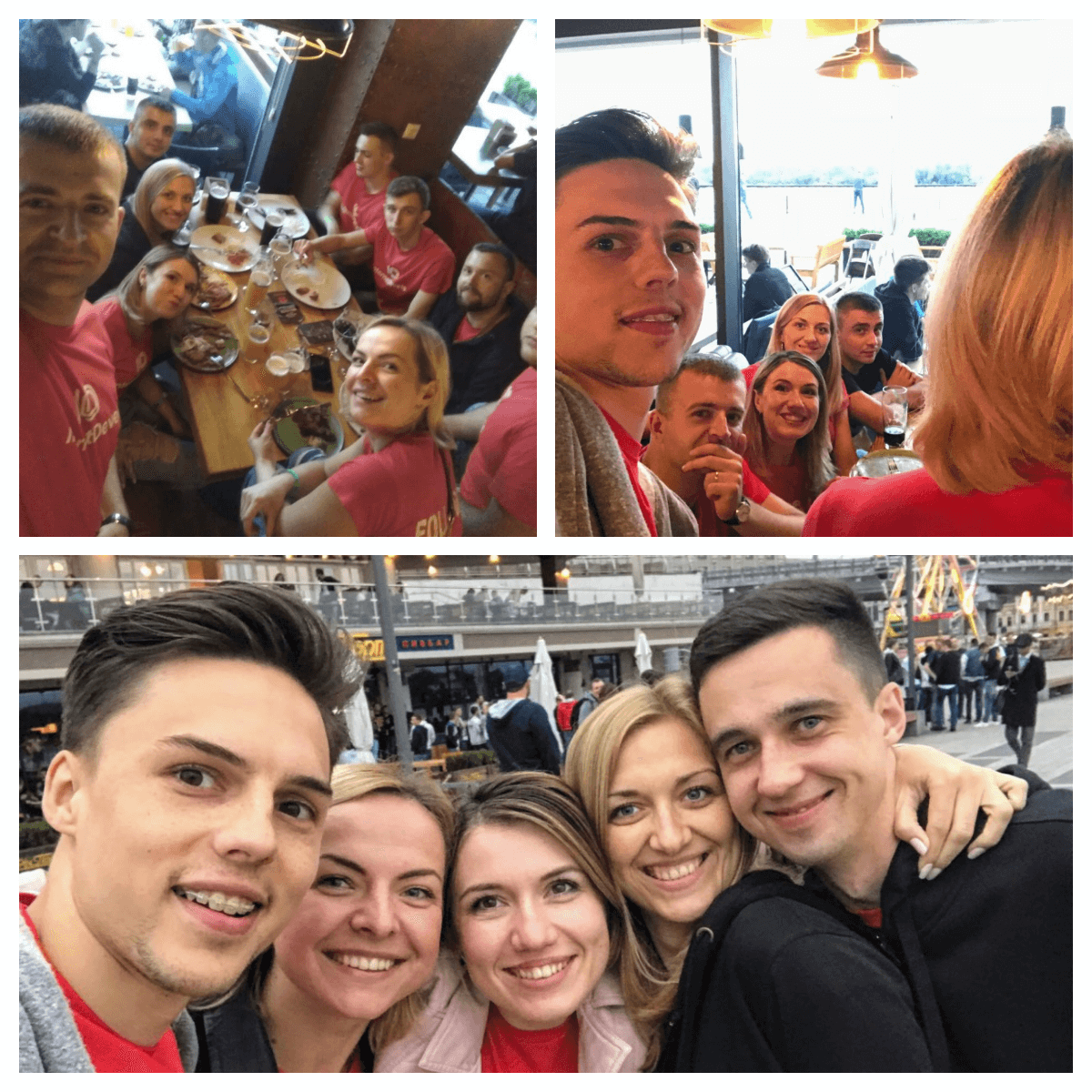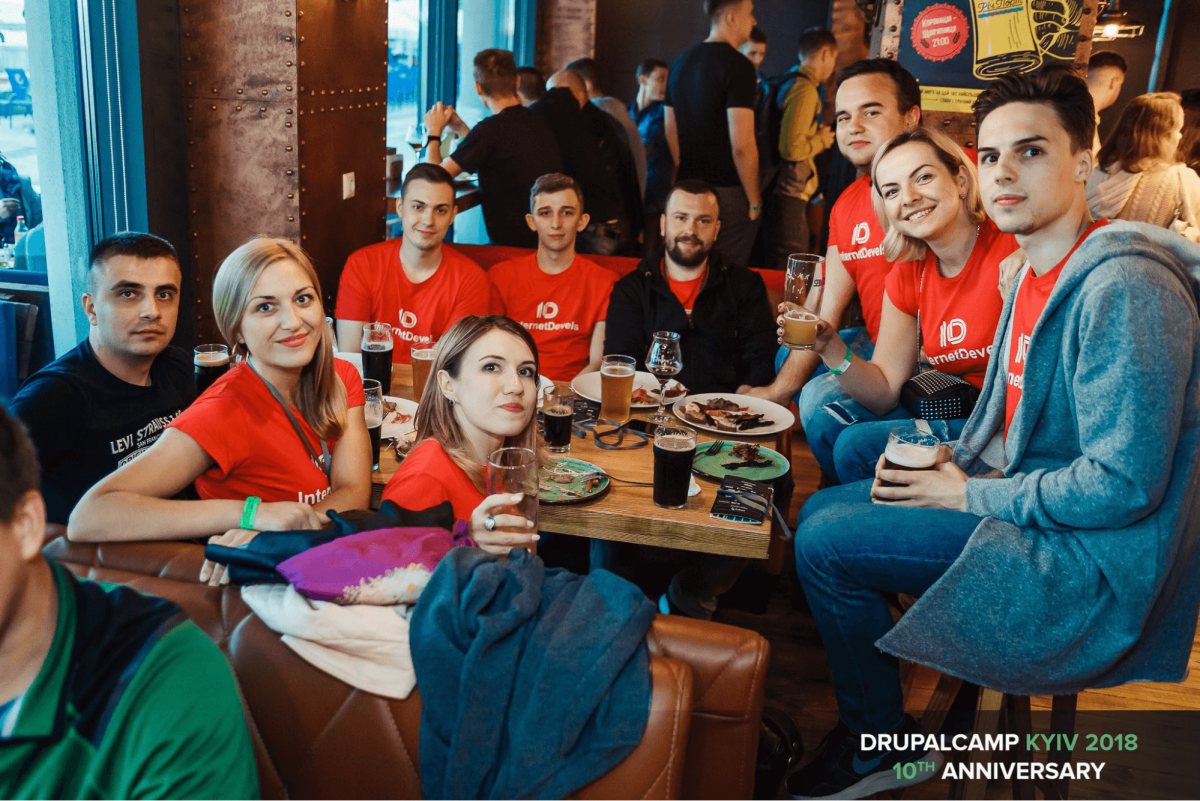 Code sprint: time to code!
A code sprint the next day after a party? Challenge accepted, as a real Drupal developers would say! Saturday was a very productive day for great Drupal minds at Port Creative Hub.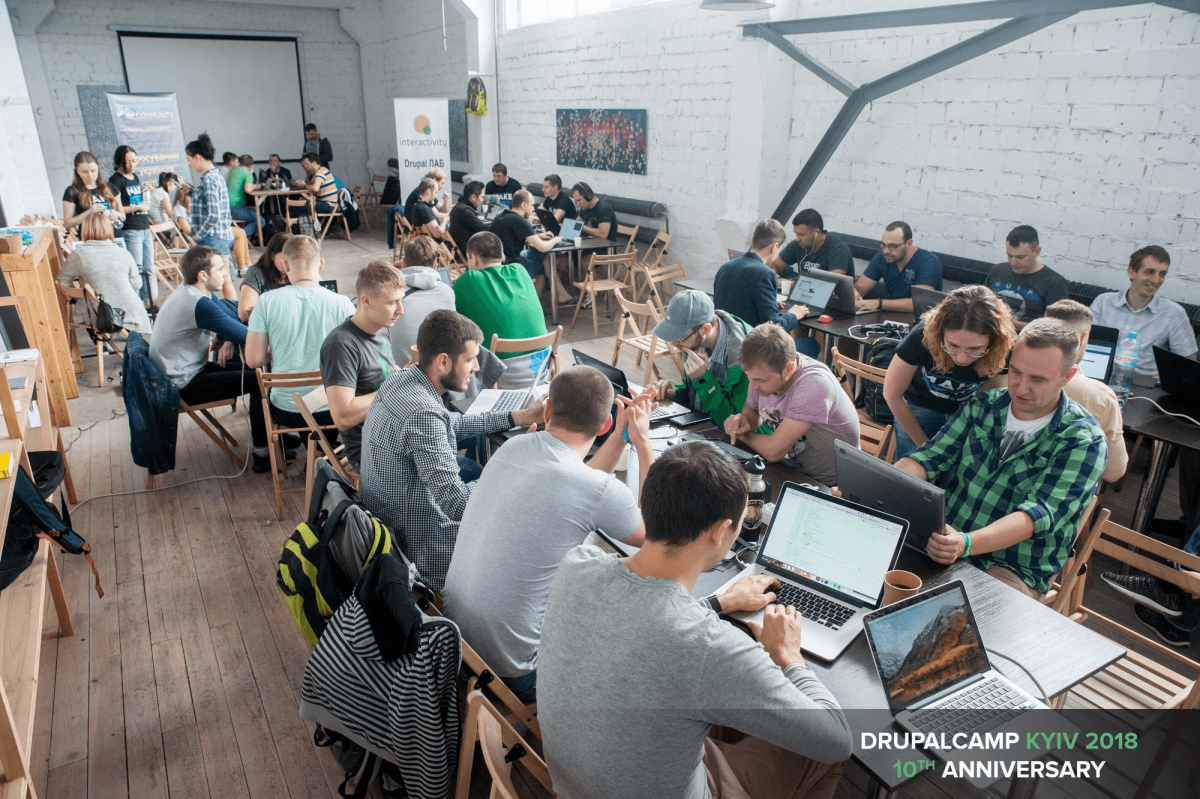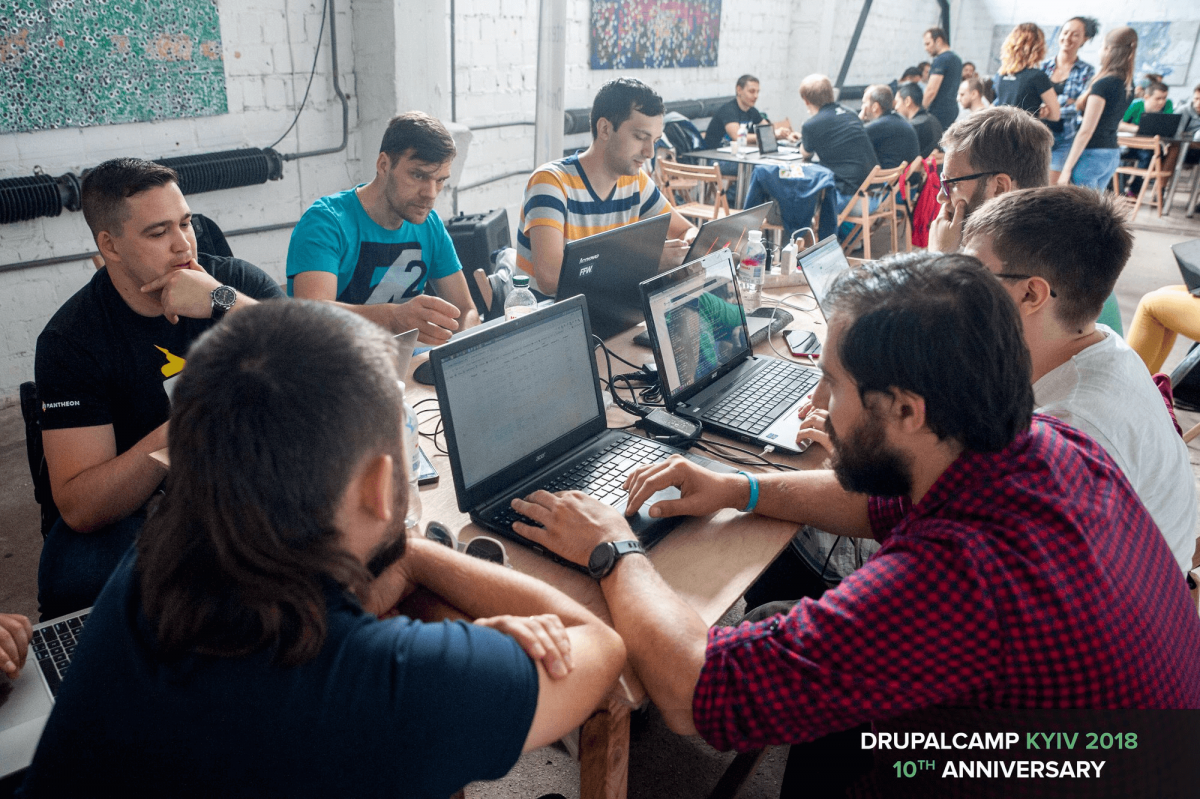 Wrap-up
Congrats on the 10th anniversary of DrupalCamp Kyiv 2018, and many thanks to its organizers, sponsors, and participants!
We would like to note what one of the sponsors said in their speech. DrupalCamp Kyiv gathers 400 people, while DrupalCon gathers 2,000. So the difference is only 5 times, which is very little, considering it's Ukraine vs. the whole world. DrupalCamp Kyiv is 1/5 of the global DrupalCon!
So let's continue bringing DrupalCon Ukraine closer — with events like DrupalCamp Kyiv, DrupalCamp Lutsk, and more. We know we can make it!
Let's create the future together!