Drupal's camps are an awesome tradition. InternetDevels Drupal development company always organizes DrupalCamp Lviv but never misses a chance to visit DrupalCamp Kyiv, a big Drupal meetup in Ukraine's capital, as an attendee, as a gold sponsor, and as a company with a great speaker for the event. Read on to find out the details.
Together with our best friends Drudesk website support service, we set out to Kyiv. But we didn't leave empty-handed! We packed sweet gifts in our traditional Drupal mugs for everyone to enjoy a more delicious coffee or tea.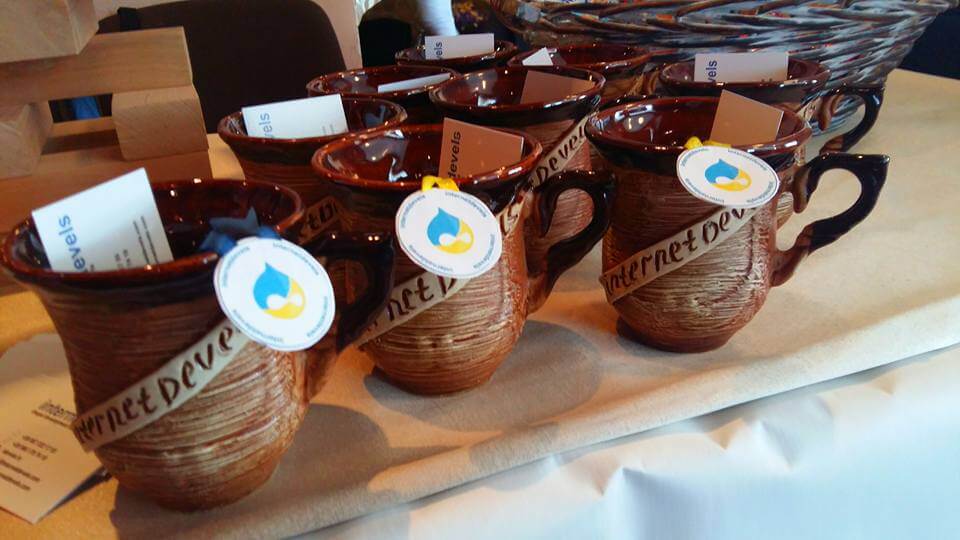 Our love for Drupal really shows! DrupalCamp Kyiv 2016 gathered about 250 participants, but we were always visible even from far away. We were not wearing our heart of our sleeve — we were wearing it on our red T-shirts ;)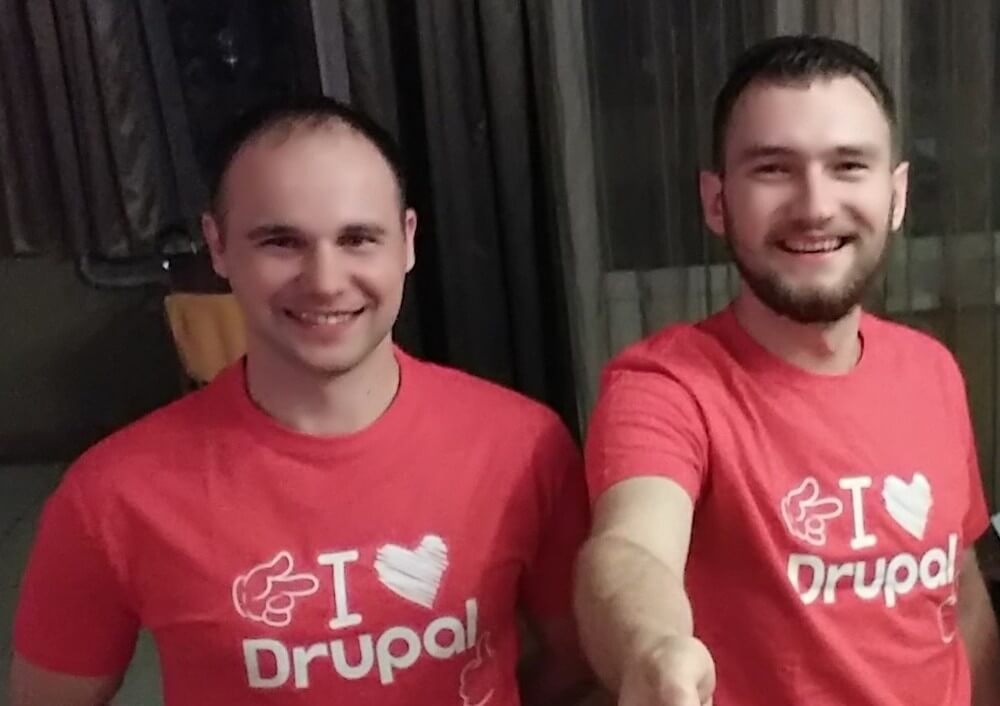 All work and no play…you know the rest! For everyone to make more acquaintances, to chat, to have some fun and rest between the brilliant Drupal speeches, we decided to suggest playing some Jenga at our desk.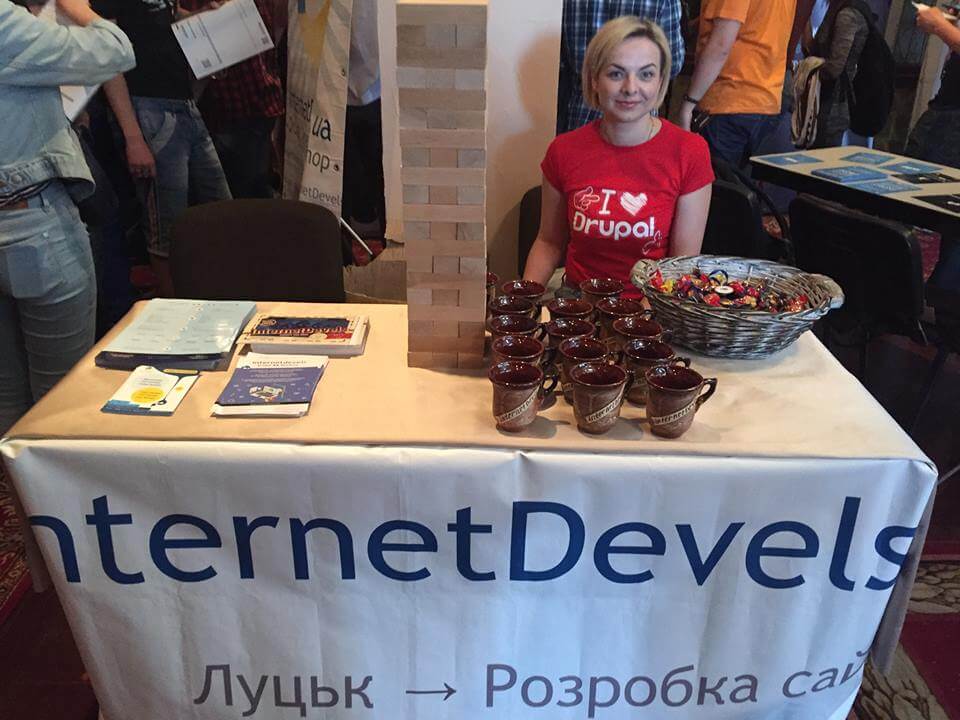 For the occasion, we changed the Jenga rules, and let the drupalers create any structures their imagination allowed them to. "It's not a bug, it's a feature," was the most popular joke about those unique constructions.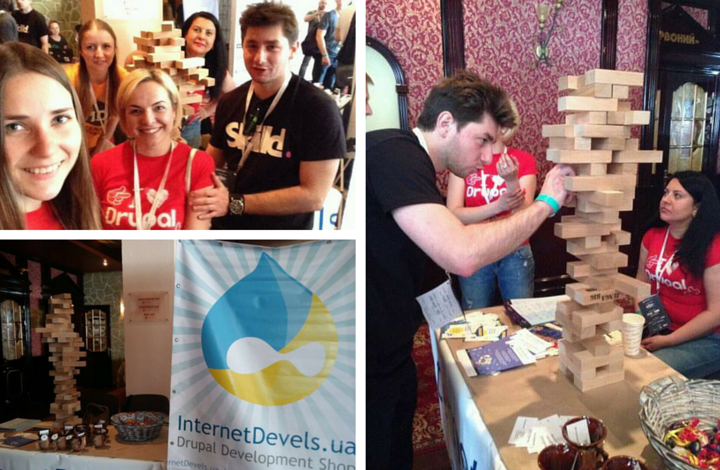 Drupal 8 was certainly on everyone's lips. A number of Drupal 8 issues were discussed, like migration, payment systems, theming, caching, multilanguage options, website creation approaches and much more.
The speeches came in 4 streams, so sometimes choosing between them was daunting. QA testers, project managers, SEO guys and others could also find speeches related to their work. But the overall atmosphere was a complete delving into Drupal 8. The speakers told about their experience, showed practical cases and exchanged tips on how to make a better use of Drupal 8.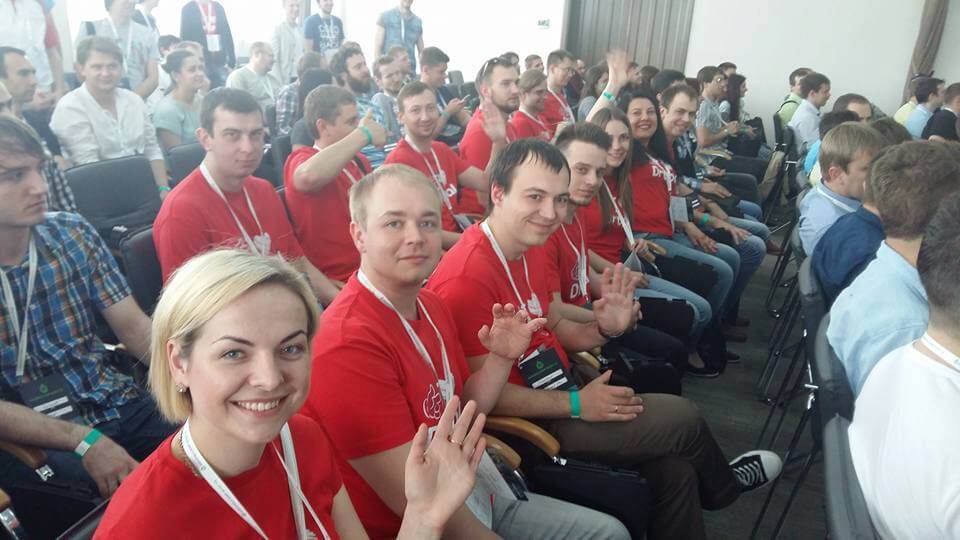 One of the speeches was extremely interesting to us — the one about "Extremely fast facets" delivered by our extremely smart and experienced developer Ahilles ;) He told the audience how they could use the Search API and Search API Solr modules to build a search page with filters that rendered the results in 50 ms.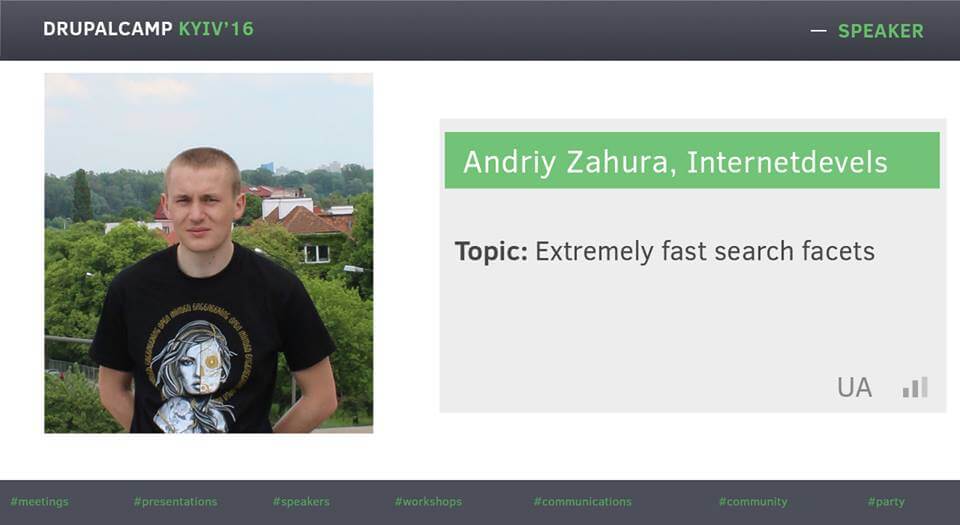 There's no event where our event managers are not mentioned! Our guests from Berdychiv sent greetings to our event magicians who had created Lviv Euro DrupalCamp, ConversionCon, BetWinCon and a wealth of other IT events. They invited the girls to come to their city and organize an event there with all their drive and energy.
... In the meantime, our event managers were attending a big marketing, PR and event forum called MPR in Lviv. Mariya was one of the speakers and shared all the event management experience they had gained.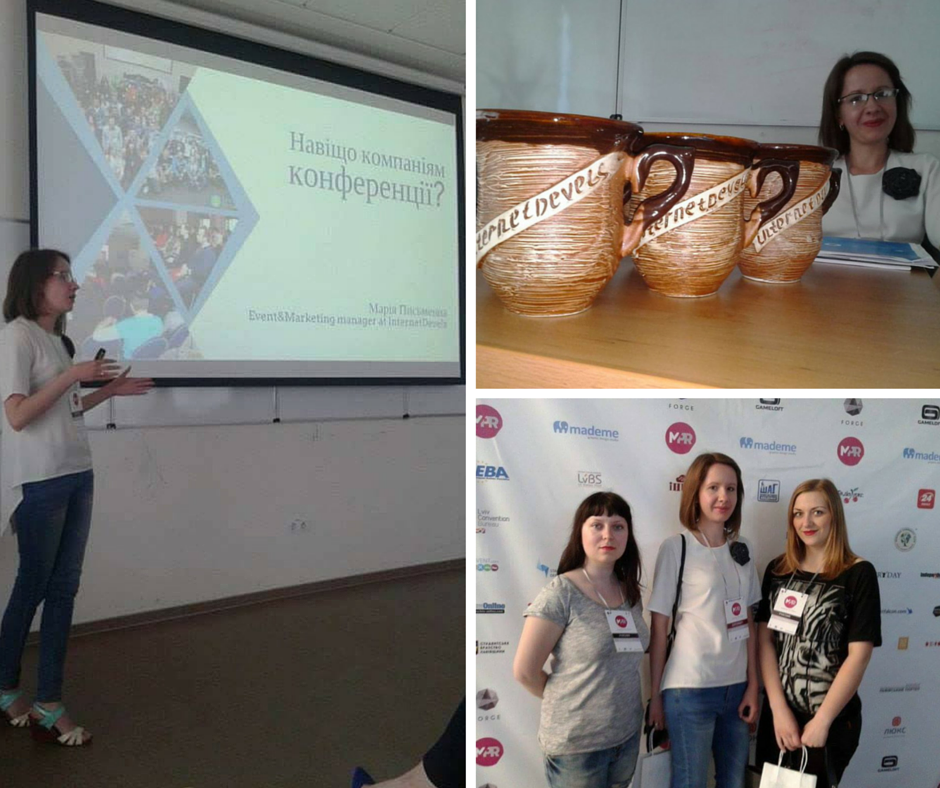 At the closing ceremony, the head of our Rivne office, the super Anastasia, gave a speech from our company as a gold sponsor.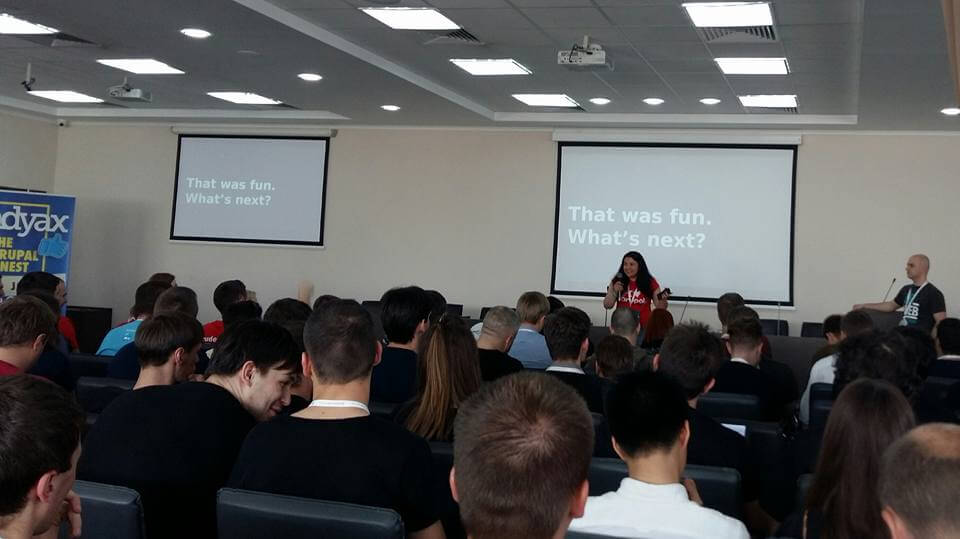 She also received a note of thanks that will surely take the place of pride among all our prizes.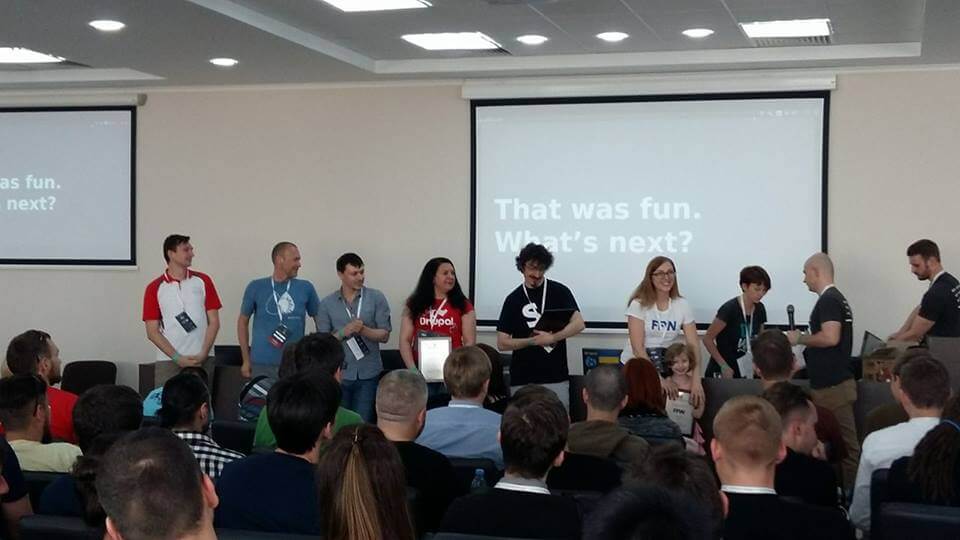 The afterparty brought together the positive atmosphere that was at the event. You know, it had long since become a tradition for people to come up and say nice things about InternetDevels. But our affiliated company Drudesk also started receiving its own words of thanks from customers! Greetings to to our client Igor Shevchenko (in the photo) who was very satisfied with what Drudesk did for his project. Great to hear!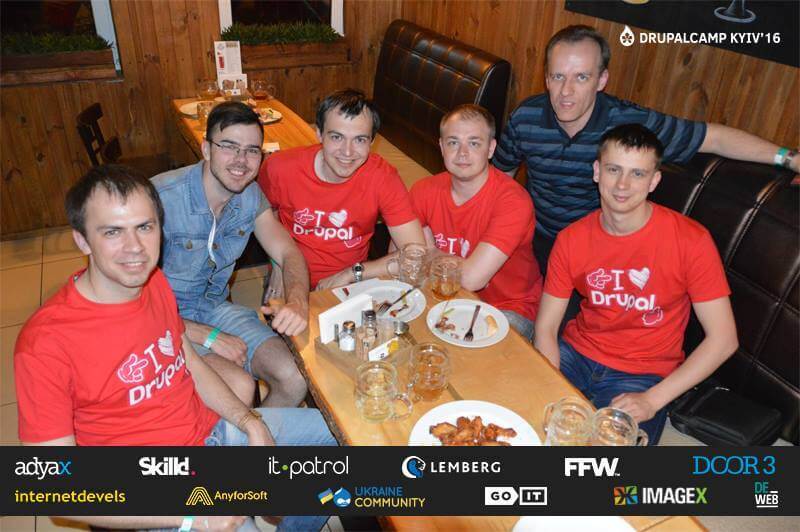 The next day was meant for the most dedicated and patient web developers, and the focus was on code-sprints. The participants were divided into 2 groups, one for the newbies and the other for more experienced developers. The newbies, listening to Andriy Podanenko and other mentors' instructions about using drupal.org, made their first commits. Other developers set to making Drupal better by fixing bugs and improving the features.
Thanks, everyone, and hope to see you at the next Drupal events!
And one of them, as you see in this photo, will be DrupalCamp Lviv 2016 that is scheduled for September 3-4!