Website design has a huge impact on conversion rate. It takes a visitor only a few seconds to decide whether he wants to stay on your platform or not. And this decision depends not only on the content but visual as well.
Design matters. UI and UX can help you grow your online business or, on the contrary, disrupt it. Discover what are the most common web design mistakes.
How do web design mistakes influence the site's ranking?
Your website may look beautiful, but it doesn't mean that there are no design mistakes. The following statistics show that:
38% of people will leave a website if it fails to produce attractive content or layout
47% of people expect a web page to load in two seconds or less
94% of people will close and stop trusting a website if it has degraded design
95% of visitors agreed that good user experience matters the most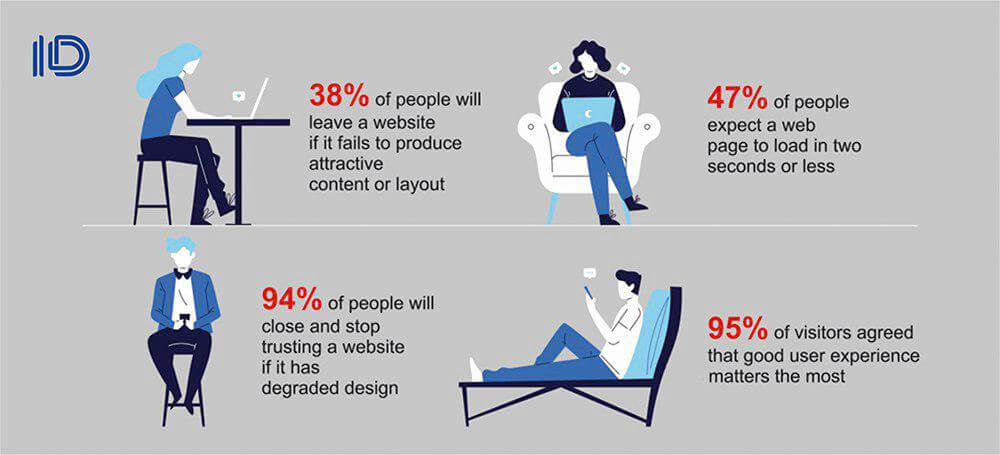 10 web design mistakes that kill conversions
The Drupal web developer at InternetDevels has prepared a list of most common web design mistakes to help you make the best of your website.
You care more about website look, not user experience.
Many website owners fail to create user experience and focus more on how the website looks. However, it is more important that users are able to find the information they are looking for at minimal clicks.
If users can't figure out what to do next, they'll simply bounce your website. Ensure that your website is convenient and user-friendly. Make all the elements visible irrespective of screen size. Create clear call-to-action buttons that can be easily accessed by your visitors.
You ignore website responsiveness.
Mobile internet usage is gaining more and more popularity. Mobile user experience affects website performance and ranking in search results.
Responsive web design is more than fitting long texts to a small mobile screen. Fast load speed, easy navigation, and visible call-to-actions encourage visitors to spend more time on the website, moving from page to page. This, in turn, increases the chances of conversion.
Build a mobile-first website to ensure positive user experience.
Your website navigation is confusing.
Clear website navigation helps to convert visitors into customers. It is the only way for them to reach your products or services. If your website structure is well-organized and the navigation is intuitive, the visitors will easily find the way towards the action you want them to take (call-to-action buttons).
If your website navigation is confusing, the visitors will leave the platform and probably never come back again. Make it easy for everyone to find what they are looking for.
You overuse colors and styles.
Colors and fonts play a very important role in web design. They help to highlight buttons, links, and other important web page elements.
Usage of too many colors and styles is a common web design mistake. Every web page should convey the same design principles. Do not display your designing excellence at the cost of user experience. People got tired of color and style diversity. Simplifying of color palette is a web design trend for 2019.
Your website load speed is slow.
Internet users expect to receive the information they're looking for immediately and can get frustrated even from a second of delay. If the website loads slowly, most people will leave and abandon it forever.
Increasing website loading speed improves conversions. You can do this by simply optimizing images, enabling caching, or doing a code clean-up. Learn more in our guide on how to increase page speed in 2019.
You don't have call-to-action buttons.
Do you have call-to-action (CTA) buttons on your website? Are they clearly visible? CTA is usually displayed in the headline or the button text and differs from the rest of the page elements.
If you want to turn your website into a high converting one, create an appealing and clear CTA button.
You don't have a footer.
A footer is a block of information visible on every page of your website. People usually scroll down to find specific information (contacts, menu, social media), so take full advantage of the space at the bottom of a web page and place the most important content there.
Your form design is too complicated.
It is tempting to ask users as many questions in contact forms as possible, however, don't do that! Your visitors will not be very excited to fill out all those form fields to sign up or place an order. Most of them will just become annoyed and leave.
People don't like to trust their personal information to strangers. Ask only for the info you need to sign up your visitor: full name, email, contact number.
You are using raster images.
The usage of raster images instead of vectors is a common web design mistake. Raster images are made up of pixels that become blurry when enlarged. Vectors are created with geometric lines and curves. A vector graphic looks sharp no matter to what size is scaled.
If you don't want your design to get pixelated, make it bigger than needed. High-resolution images will still be crisp when scaled down. You can always reduce resolution, but you can never increase it.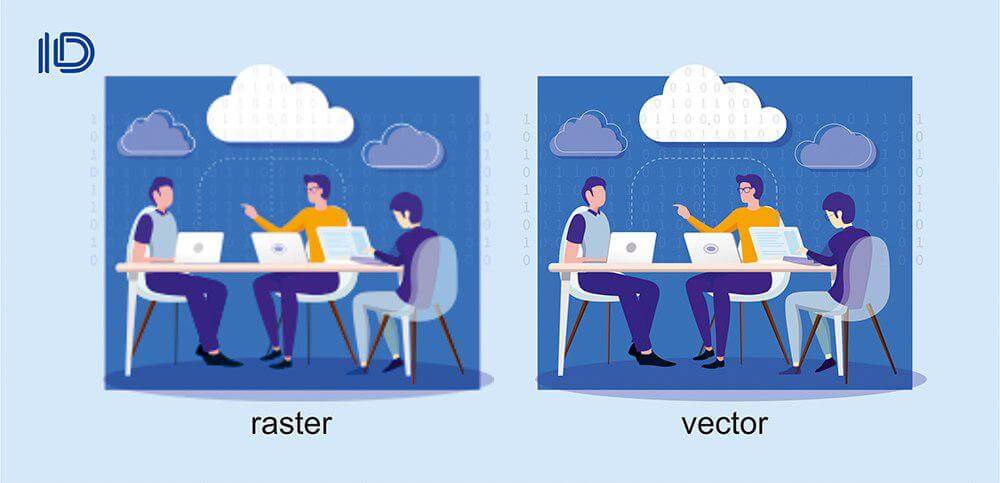 You use words instead of visuals.
Too much text will probably make your visitors leave, as there will be nothing to draw their attention to. Do not make this web design mistake. Place the most important data on visuals and make it accessible to everyone. Remember, that there is already a surplus of information on the net, don't make the text excessive, at least on your website.
And a few more tips to avoid web design mistakes!
use matching fonts
do not ignore visual hierarchy rules
make sure that kerning (space between letters) is the same
choose matching color combinations
scale elements properly
make sure there is enough negative space (white space)
do not place the web page elements arbitrary
use contrast effectively
use the same visual layouts on the whole website
Improve your web design today!
It is not that easy to avoid web design mistakes, however, it is easy to fix them. Make some time every month to look through your website and solve any issues. Look on the platform through the eyes of your potential customers. Is navigation clear? Does the site provide all the necessary information? Do you like fonts and colors? Do some A/B testing to discover which changes are more effective.
If you don't know where to start, you can always contact web designers at InternetDevels. We'll gladly check your site for design mistakes and help optimize your platform to meet the demands of modern consumers.