Do you know who the richest man in the world is? The owner of the Amazon online marketplace Jeff Bezos. Why don't you start your own online marketplace website today? Perhaps you will become his main competitor!
Every day, more and more online marketplace websites appear. Not all of them grow into something big, but building a high-quality marketplace website is not easy, you need to know how to build a marketplace website.
Today, our web development agency will tell you about all the pitfalls of building a marketplace, telling you how to start your own online marketplace website, and help you start your own online marketplace website.
What is an Online Marketplace?
eBay, Etsy, Amazon, Alibaba, Airbnb, Houzz, Fiverr, ZocDoc, SoFi, Rover, Caviar, Uber, Blablacar, and many more are marketplaces.
A marketplace is a platform where various vendors sell their products and pay the marketplace owner a commission on each successful sale. The goods sold on the market are not the property of the owners of the marketplace website, they act only as an intermediary. Marketplace and online stores are completely different things.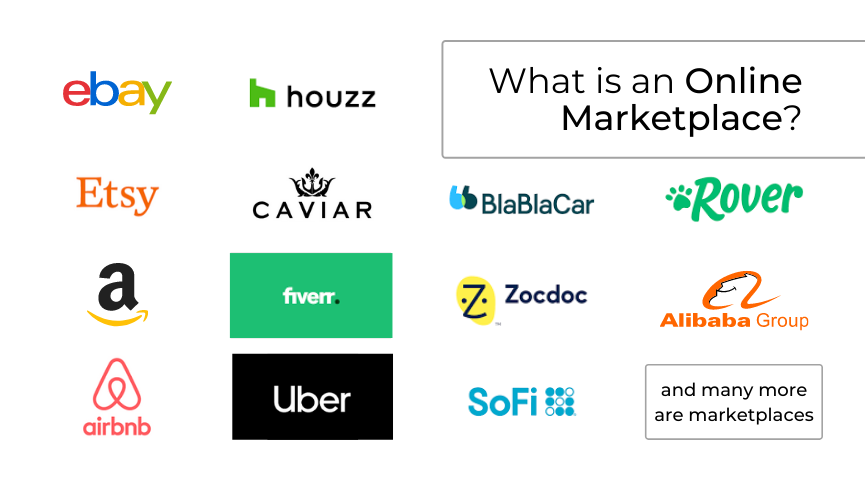 Marketplace vs. Online Store
A marketplace is just a place where third-party vendors sell their goods or services and pay a commission to the marketplace owner—for example, Amazon, eBay, Blablacar.
The online store is a place where you can buy products of the same brand. The owner sells his/her own products—for example, the site Zara, Apple, Adidas.
How do online marketplaces websites make money?
For you to better understand how the marketplace website works, we will walk through it step by step.
A potential buyer enters the marketplace website and decides to purchase the products they like from completely different vendors. For example, they may buy Adidas sneakers and Zara pants.
The potential buyer buys the products and remains happy.
Owners of Adidas and Zara sell their products.
The owner of the marketplace receives a percentage of the proceeds and lives happily.
This is how online marketplaces make money.
How do you start your own marketplace website?
In short, you need to get help from a professional Drupal web development company.
To answer this question in more detail, there are several mandatory steps to ultimately build a successful marketplace website.
6 steps for starting an online marketplace website
Step 1. Choose the niche for your future marketplace
First of all, think about what niche you want to occupy and what you want to sell. For example, this can be the sale of cosmetics, furniture, travel services or logistics services, and much more.
Step 2. Choose a vertical or horizontal marketplace
You need to choose a vertical or horizontal type of platform. You should choose a vertical marketplace if you want to sell unique products for specific spheres. In this case, you focus on a smaller customer base.
You should choose the horizontal marketplace if you want to sell services and goods in multiple categories. In this case, you focus on a wide customer base.
Step 3. Formulate a unique value proposition
In other words, give sellers and buyers clear reasons why they should choose you and not other competitors. Come up with benefits for both parties so that they use your platform for selling and buying.
Step 4. Choose a monetization strategy
This is about how you can earn money.
You can earn commission on sales, which is how most marketplace sites do.
You can buy goods from suppliers and store them in your own warehouses and resell them. You will earn money on speculative value.
Sellers will pay a fixed amount for placing an advertisement selling their product or service.
In this case, buyers pay a fixed amount to you to gain access to goods for a certain period of time — for example, a subscription to Netflix.
Additionally, you can earn money by placing ads on your marketplace website.
We have just covered the main options for monetization strategies, but there are many more. As you can see there are many options — the main question is what you desire to do.
Step 5. Promote your online marketplace website
Next, you need to attract as many buyers and sellers to your site as possible. To do this, you need to:
analyze your competitors
create a list of keywords
Step 6. Create MVP
The most important thing is that your idea does not fade away, as it often happens. There are no reasons to wait a long time to create the perfect platform. Start by creating a Minimum Viable Product. The team of web developers will put your idea into action as quickly as possible.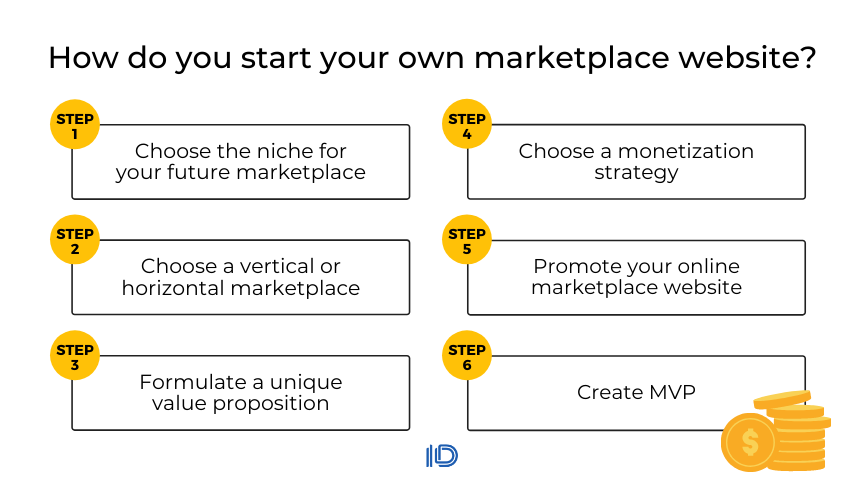 Some main different types of marketplace website
There are various types of marketplaces. We decided to show you the most typical and understandable one, and added existing examples of these kinds of marketplaces.
Product Online Marketplace (for example, Amazon, Flipkart, eBay)
Online Service Marketplace (for example, Fiverr, Upwork)
Online Rental Marketplace (for example, Uber)
Hybrid Model in Ecommerce (for example, Olx)
Things To Know Before Starting An Online eCommerce Marketplace website
You are financially responsible for all transactions between buyers and sellers. Make sure your site is safe and secure.
Your marketplace website must continually take care of promoting and generating high levels of traffic. Otherwise, no one will be interested in working with you.
A user-friendly UX can be a major impetus for customers and vendors to do business with you.
Choose the right eCommerce platform that will be user-friendly and scalable to build on a powerful eCommerce Marketplace site. Drupal is the best choice for your eСommerce business.
The design of the marketplace site is worth every dollar spent on it. Use high-quality product photos and responsive designs because that's important.
How long does it take to build a marketplace website?
To calculate how long it will take to create an eCommerce Marketplace site, you need to decide on the type of marketplace and the set of functions available on it. We want to say that the more features you want to add to it, the longer it will take. Consult with us to get an estimate of the cost and time required to create the online marketplace website of your dreams.
Want to set up your marketplace website right away?
The idea of starting an online marketplace website is a great push to building a reliable business today. Today you learned about the difference between marketplace and online store, as well as what steps you need to build a marketplace website.
Do not hesitate to get help from our web designers to make all your ideas a reality today.