Everyone is looking for positive news, and we have some for you. Drupal web development in times of Covid-19 continues — severe crises are even opening new perspectives! One of the characteristics of a good web development company is that it only becomes stronger in hard times.
Read on to discover why the idea to hire remote software developers for your Drupal project is an especially good one during the Corona crisis. We also describe how we provide Drupal web development services now, under quarantine.
Remote work is our team's natural environment
Due to the quarantine restrictions, we, like most IT companies, transferred our team to remote work mode. However, nothing has changed for anyone who wants to find software developers for hire. Some things have even become better.
In our case, remote work is not new — this is something we had mastered already because we had a chance to. Outsourcing web development overseas has always been a popular approach among businesses. Ukraine is always on the list of the best countries to outsource web development to, we have always seen Ukraine — indeed, there are particular good reasons to work with a Ukrainian outsourcing company. Multiplied by our skills and reputation, this has always provided the InternetDevels Drupal web development company with overseas customers.
That said, everyone who is looking to hire developers should know that the Covid-19 quarantine has had no impact on the quality of our web development services:
First, we established high-level remote communication and smooth workflows with the overseas customers long ago.
Second, we have always been flexible with allowing our own developers to do their work from home and this is not a problem.
As always, we invite you to hire remote developers from the InternetDevels team and promise to provide as efficient workflows as ever! We firmly believe that efficient Drupal development services should be available from any location.
Key components of our remote development services
The staff
Drupal developers, just like most other IT experts, value a quiet environment that is not always available in the office. They need inspiration and concentration in order to be productive. So the quality of their work may even improve from their home isolation.
While working remotely, our team members are able to make themselves comfortable on their personal couch when they want to and deliver their genius ideas. In addition, they are never stuck in traffic jams and have more time for their families.
Of course, working from home takes self-discipline and responsibility. But we only keep people on the team who have proved responsible and reliable. They keep to the deadlines and regularly meet with the whole team and the customer via video calls according to the best Scrum practices.
Remote work requires establishing a good work-life balance, and our Drupal team tries to stick to the best recommendations here. These include having strict working hours, changing clothes from pyjamas to something more official, informing the family about their video conference time, and more. However, these are just recommendations, because it's not the clothes that matter —- it's the skills.
The equipment
Drupal development is in a very lucky industry that can continue through the lockdown. The only necessary equipment being computer hardware. It's very easy — an office can be at home if it is properly equipped with the right PCs! For many IT specialists, the capacities of their PCs and the characteristics (and the number) of their monitors are indispensable for their productive work.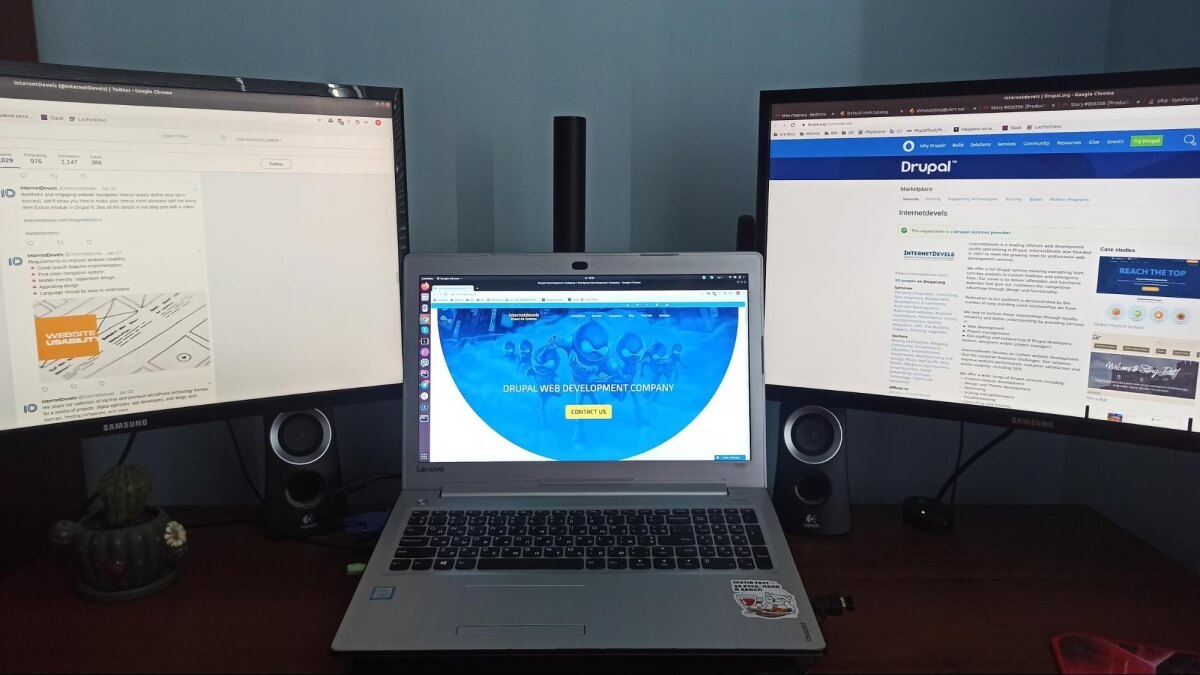 So we have provided our development team with all the hardware they need and have also helped with the deliveries to their homes. There was even a case when one member of our development team suddenly had their laptop fail, and we quickly delivered another one so this person did not lose a precious working day.
That said, if you hire remote developers from the InternetDevels web development agency, you can be sure they have everything they need to do the work as efficiently as ever.
The tools
As always, we use the best tools to provide for smooth remote communication and efficient workflows. They eliminate repetitive tasks, increase the development speed, take care of the shared work, and do much more. These include messengers, video conferencing tools, project management software, version control tools for developers, etc.
Among the tools are Zoom, Slack, Google Hangouts, Jira, Skype, Github, Bitbucket, Google Docs, Google Drive, and many more.They are crisis-proof and work at any distance. We have been using them with our overseas web development customers for a long time, so there is nothing new in them.
The new perspectives of your digital presence
Here is what we meant when we promised to tell you about your new perspectives. As you know, the world has moved online due to the lockdown. People browse the web instead of travelling, hiking, or doing other outdoor activities. They are online, and are you there for them?
Businesses that are represented online have a clear advantage. There is an increased need for online shopping, delivery services, online educational and entertainment activities, blogs and news, and much more.
The lockdown will end someday and Covid will be happily defeated — there is no doubt about it! People will travel again, walk around their beautiful cities, and see their loved ones.
However, the trends of online activities will remain ever after — the world has understood their convenience. For example, someone who once enjoyed shopping in your Drupal online store with a user-friendly shopping cart will continue to do it just because it's quick and easy — so don't miss a chance to hire the best e-commerce developers.
Loyalty to customers and affordability of services in times of crisis
We strive to help our customers in difficult times, so we are offering very reasonable pricing if you would like to hire remote developers. We want to take part in providing your business sustainability now.
We know that Drupal websites can absolutely give businesses a big boost by attracting customers, promoting their brand, and driving conversions.
We can always find more affordable Drupal development solutions — for example, the use of the core and contributed modules where it is relevant. The efficiency also matters — our devs are able to do much more work per hour in order to deliver the results to you quickly and without extra costs. We started a strategy to immediately divide the scope of work into the standard and custom parts and advising our customers on a faster and more affordable option. So drop us a line to discuss this for your site.
The benefits of outsourcing web development
In our big world full of Drupal talents and having a great level of remote workflows, there is no more need to look for "software developers near me." Finding a software developer that meets your needs can be a much more successful task if you expand your search across the globe and hire overseas. Here are just a few reasons why outsource web development:
Considerable cost savings. Costs can be saved thanks to the big choice to hire developers at more affordable prices outside of your country. Another big advantage of outsourcing vs hiring in-house is the savings it gives you on the recruitment process, permanent monthly wages, work equipment, and so on. By outsourcing web design overseas, you only get your services when you need them.
Broader skills. Outsourcing web development is a chance to find top talents in the industry. If you hire an in-house developer, they will find it hard to compete with a team of experts who have worked on many projects, faced a variety of issues, and can combine their specific skills in ever-changing technologies on your project. In addition, UX design, QA, SEO, and other specialists are also part of Drupal web development teams and play their valuable role.
Focus on your business. When you hire an outsourcing team, you entrust it to experts without having to worry about or dedicate your precious time to it. You can focus on your own key business processes instead. Still, you are fully able to control the project — your input is welcome in the Agile practices and we are fully available through remote communication and transparent task tracking.
Stable workflows. What to do if a developer "falls out" of the process due to an illness or other unforeseeable circumstances, or a particular one cannot fully meet your needs? To cover these cases, outsourcing web agencies have other devs to substitute them. By signing a contract, they take the responsibility to provide stable workflows throughout your project. This is a significant advantage over hiring an in-house developer.
Flexibility on your project. Every stage of your project needs a specific amount of work from particular experts: developers, designers, QA engineers, etc. You don't permanently need all this staff in-house. You are free to vary your requirements according to your business situation — for example, first create an MVP (minimum viable product) and then add features and scale your project. This is not a problem with Agile agencies.
Hire our remote web development team
If you are ready to join the customers who outsource development projects and enjoy the resulting efficiency, our Drupal team is here. Hire remote developers from InternetDevels to outsource web development at affordable prices today. Stand strong against the crisis and more forward thanks to your digital presentation! Contact us to discover more details.