Nonprofit websites do not sell products or services. The purpose of such sites is to disseminate important information and raise funds to solve global problems and help those who need it. In order to attract the attention of people and collect donations, however, your non-profit site must have several important features. They help make the nonprofit website an effective tool that inspires action.
Do you want to make your nonprofit website easy to use, easy to donate, and attractive to browse? Follow the advice of our Drupal development agency. Additionally, we will show you some successful nonprofit websites to use as examples.
What are the characteristics of a nonprofit organization?
To be considered a nonprofit, your organization must first of all work for the good of society, and any funds you collect should be used for that purpose. The transactions with funds must be transparent and available for monitoring by every donor. Such organizations have official tax exemptions. For example, nonprofit organizations can include
foundations
hospitals
charities
etc.
6 key characteristics of nonprofit organization
have mission, values, and purpose
provide full financial transparency
have brand identity
are donor-centric
inspire others
keep pace with development
Why are websites important for nonprofits?
The success of nonprofits depends on how many people know about them. Phone calls are no longer enough — creating a site opens up new opportunities to spread your nonprofit organization to the whole world.
The importance of having a great website in the nonprofit sector
It can help you clearly tell your unique story and share your mission
It can help you get supporters and donations from all over the world
It can help you expand, reach and raise website traffic
It makes it easier to contact you if donors and volunteers have additional questions
It shows that you are a truly reliable and modern nonprofit organizations
What makes a great nonprofit website?
Now that you know why having a website for your nonprofit organizations is essential, we suggest moving on to the necessary features for nonprofit websites. Only by adding these must-haves for every nonprofit website will you see the real results why your business needs a website.
11 Essential features for nonprofit websites
1. Suitable and flexible CMS
Let's face it. The CMS is the foundation. Stop for a second and read why you should choose Drupal. The more user-friendly and feature-rich of a CMS you choose, the easier it will be to implement features for your nonprofit website. By investing in a powerful CMS, you get full management flexibility and speed.
2. Optimization for mobile devices
By optimizing your nonprofit website for mobile devices, you automatically open up to more donors who are used to using mobile for online transactions. Plus, having a mobile version is encouraged by Google. In 2021, 54.78% of traffic comes from mobile devices, and only 42.37% from desktop.
3. Individual Team Page
Make your site feel alive — add photos and stories of those behind the nonprofit cause.
Details like this will help build a connection between you and those who find your nonprofit website. In addition, it will provide another way to contact your staff members if visitors have any questions.
4. Intuitive and accessible navigation
Navigation on your nonprofit site should help visitors to take action. We would advise making your site navigation available on every page of your site and sticking to one level of menus. Poor navigation will divert a lot of potential donors away from your site.
5. Fast-loading website
If visitors want to donate but your site takes a long time to open, then there is a high probability that they will leave and spend their money elsewhere.
6. Secure website
Your site accepts donations, which means it should be safe. People don't want to risk it if you don't make your nonprofit website reliable. Consider security as a most critical feature for nonprofit websites.
7. Integration with email service
Integrate your site with an email service to provide your subscribers with up-to-date information. You can share information about new projects that are awaiting their support, how much money has already been raised and how much more is needed, etc.
8. Donation Button
The donation button is the main CTA. Place the Donation Button on every page of your site so that the moment visitors are ready to donate, it is at their fingertips. P.S. don't forget about the button design — you need to make it visible and attractive.
9. Blogging
Another must-have feature for nonprofit websites is blogging. By doing this, you will be able to educate people about what you are doing, your mission, goals, and how you are working towards them. A blog will maintain your credibility with everyone.
10. Social media integration
Adding social media buttons increases the likelihood that those who have already contributed to the project will share it on social networks. This brings even more conscious users to your site who are ready to support you.
11. Various payment system
Visitors will donate if it can be done quickly and conveniently. Add different payment methods so that people from different countries and even other continents can transfer money to you conveniently.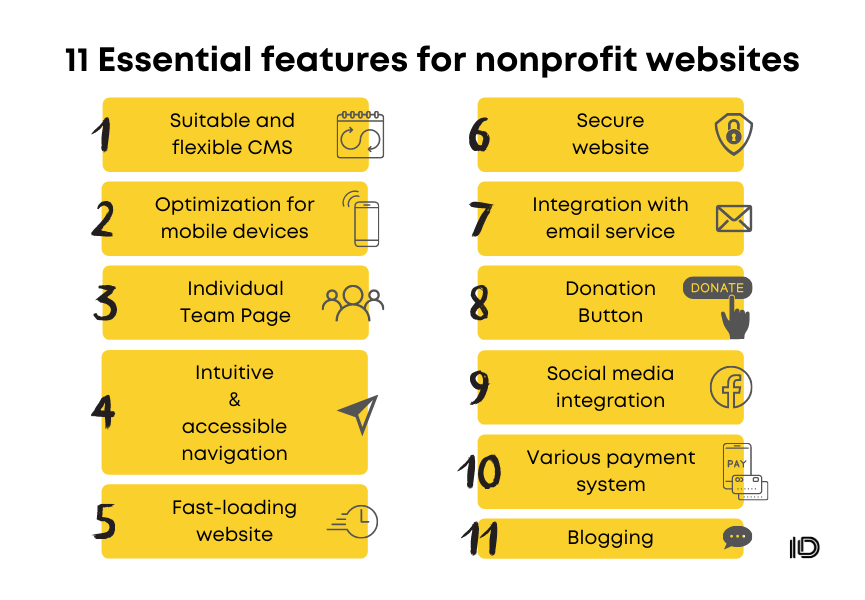 Inspiring nonprofit organizations examples
After all the theoretical information, we want to show you by example what a successful and attractive nonprofit site looks like. We have selected the five most successful sites which are worth looking up to for today.
1. Red Cross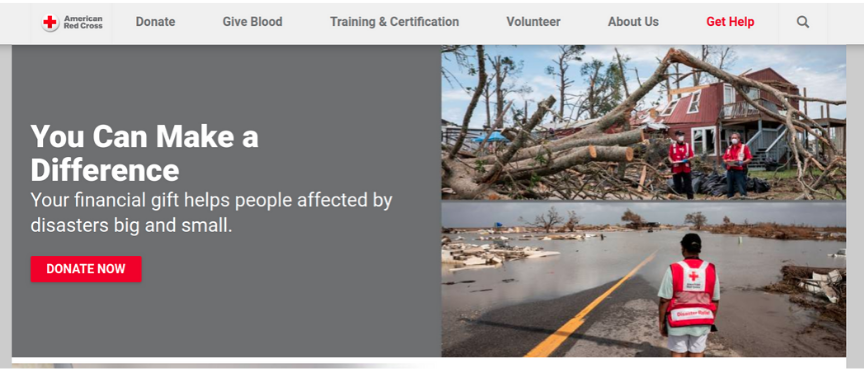 2. GlobalGiving
3. UNESCO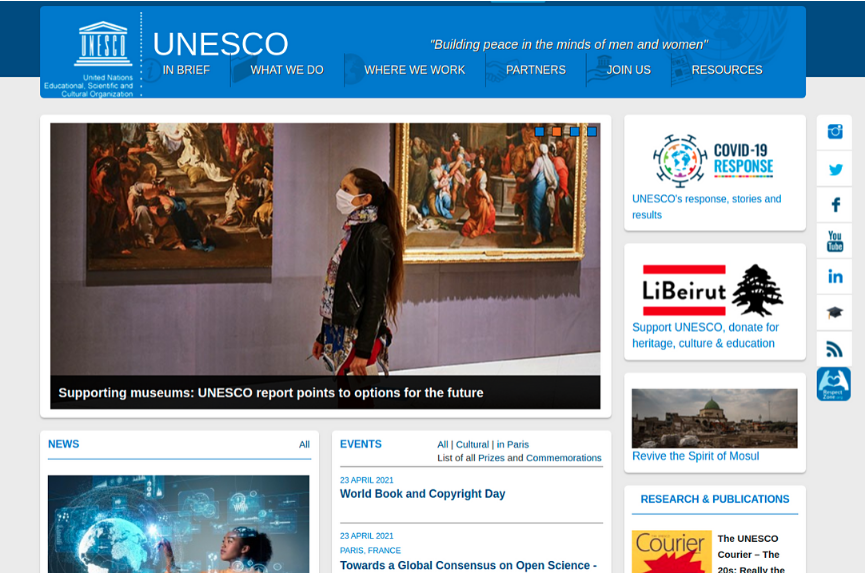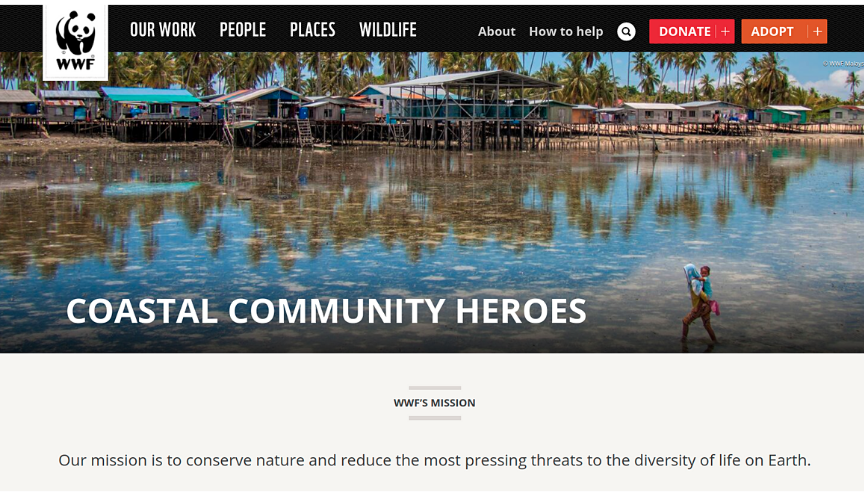 5. Greenpeace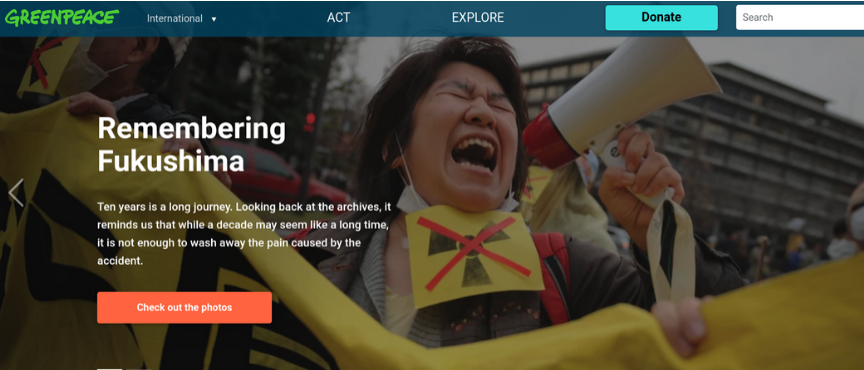 Build an Amazing Nonprofit Website with the Internetdevels team
Add all the necessary features for nonprofit websites on your site. In turn, we are ready to add them to your site quickly. Let Drupal developers know if you need help.
It takes little effort to create a great nonprofit website. Draw ideas from our selection of the best nonprofit organization's example and the go-ahead to implement your ideas. You help the world, and we can help you!