When you want to start your own online business, the first thing you are faced with is choosing the right CMS. You can't go far without this. Of course, there are many CMSs, but Drupal CMS is the most convenient and promising among the entire list.
Why choose Drupal for your business? In short, because Drupal CMS is a feature-rich "platform for ambitious digital experiences." You can endlessly improve your site because Drupal can be supplemented with various modules — like stacking additional Lego pieces.
Today the Internetdevels Drupal web development company will finally explain why they choose Drupal over WordPress and other CMSs.
Drupal – Is it a CMS for Everyone?
Drupal is a content management framework that lets you improve your website endlessly.
Among the main features of the Drupal CMS are:
high level of security
convenient to add content
quick migration of your website to Drupal
easy 3rd party integrations
constant community support
SEO optimization
free and open-source Platform
46,566 modules that match your needs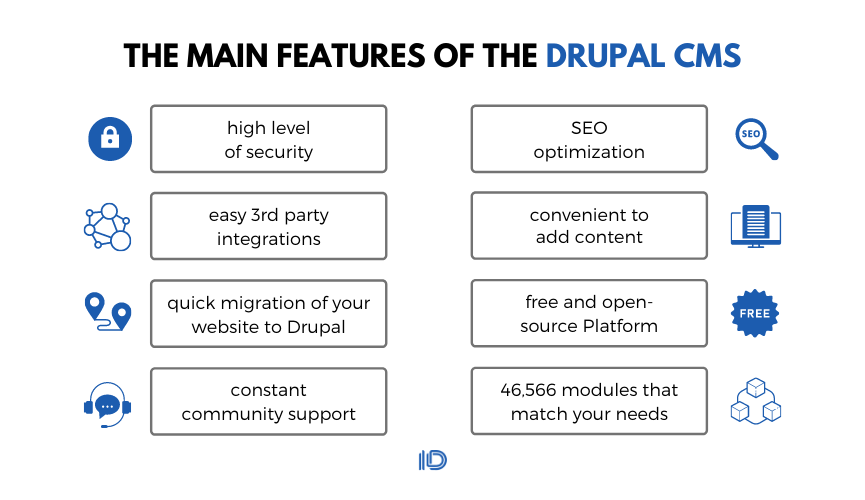 Today there are already 9 versions of Drupal. This means that it is a very powerful system that is constantly updated and improved to meet even the most discerning business owners' requirements. Of course, each CMS has its advantages, but Drupal beats them all with its capabilities.
10 Reasons to choose Drupal over the other CMSs
1. Popularity of Drupal CMS
Today, Drupal is one of the most popular CMSs. Its advantage is that it is reliable and available to all users. It is used by a wide range of different companies, from government agencies to the Pinterest website.
According to the latest data, as of today there are 627,615 websites worldwide on Drupal.
2. Installation process
Installing Drupal for a beginner will be challenging. To install it, you need to know how to connect through FTP and install databases. However, if you work in that area, then it will take you less than a minute and a half. This is thanks to the new update in Drupal 9, which reduced the installation time of Drupal by 20%.
3. Maintenance and Upgrades
Another great reason to choose Drupal is the constant updates and easy upgrading processes. It doesn't matter if you are updating to the latest version or a minor version.
If you forget to follow Drupal's updates, don't worry — you'll get a reminder when it's time. Drupal notifies site owners about the updates that have been released for you to get the best experience.
What if you don't update to the latest site version? You will still receive support from the community, but only temporarily. Updates are always better than standing still.
4. Community Support
The Drupal Community is perhaps the best of all. They say, "Come for the Software, Stay for the Community." For 20 years now, Drupal Community delights us with reliable support, dedicated developers, and constant contributions that make Drupal the best over other CMS.
5. Best scalability
Drupal CMS is a highly scalable platform that fears nothing. Your site will be ready for traffic spikes and other unforeseen situations if you use Drupal. Once Dries said, "... there is no room for error!"
6. Highest level of the security
Every year the issue of security is becoming more and more pressing. However, if you've built your business on Drupal, you're safe. To keep your sites secure, the community constantly releases and posts new updates on drupal.org. As soon as there is a new update, users will be informed about it. In 2019, only 1.28% of Drupal sites were hacked — a comparatively small figure.
7. Quality
As we already said, Drupal CMS is considered very user-friendly and high quality due to constant improvements from the outside. Web developers from all across the world improve and complete modules and bugs. Thus, its improvement never stops. As a result of this work, any sites created on Drupal can boast of their quality.
8. 100% free
Drupal is a completely free CMS. You don't need to buy a license or pay periodic fees. Anyone can install Drupal for free. The fact it is open source makes it stand out.
9. Multilingual
Drupal expanded borders and has been translated into over 90 different languages. This makes it available for everyone to use. No matter whether you speak Chinese or Arabic, it will be convenient for you to use it.
10. SEO
SEO is the main battleground today. If your site is ranked high in search engines, it means that you are available to a large number of users. Drupal website gives you tons of options to optimize your website. Having powerful SEO modules and clean code makes a solid foundation for building a well-optimized website.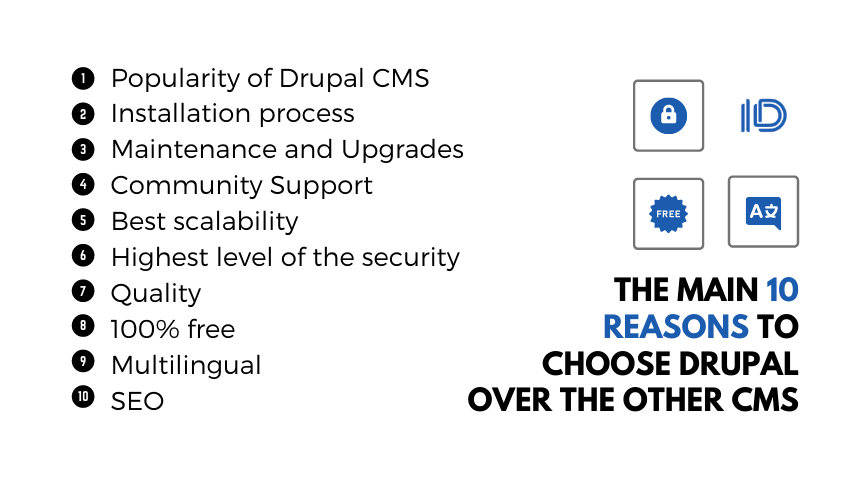 Choose Drupal to grow your online business!
Many blogs have been written about Drupal, but the Drupal CMS features really prevail over other CMSs. Why Drupal? Because it is suitable for a site of any size and direction, and provides the best opportunities to grow your business. Drupal is a CMS for everyone!
If necessary, our web developers will help you with any questions related to Drupal.