You need AMP WordPress Plugins if you want your website's mobile version to load quickly and work correctly.
Absolutely all sites, without exception, need the WordPress AMP plugin, regardless of whether you are selling a product or blogging. The Accelerated Mobile Pages plugin allows you to shorten the load time of mobile web pages.
The same effect can be achieved in two ways:
create AMP HTML documents for the site
integrate the AMP plugin for into your WordPress site (often completely free)
These days, 93.22 percent of information is searched for from mobile phones in America. If you want your site to be higher in the ranking and load quickly, then install one of the AMP WordPress Plugins on your site. Below you can find a list of the 6 best AMP plugins for WordPress specially selected by our web development agency based on their preferences.
What is WordPress Amp Plugin?
Many sites are still not focused on the mobile users to their detriment. After all, as we noted above, the numbers confirm that most traffic comes from mobile users.
AMP Plugins clean your WordPress website from unnecessary elements, speed up its loading on mobile devices, and fit it in the devices.
By accelerating the display of your site on mobile, you improve your position in search results. Read our previous article to find expert SEO tips to rank higher.
Why are AMP WordPress plugins necessary?
We will give you a list of the main benefits of installing AMP plugins for a WordPress site to explain.
By reducing the load time of your site, you are simultaneously increasing the Ranking in search terms.
A mobile-compatible site means you can reach everyone on the internet, which means it is likely that you will see dramatic improvements in the site's traffic and revenue.
Creating a user-friendly experience
By providing convenient access to your site from any device, you make your site accessible to absolutely all users.
Adapting to various devices
AMP WordPress Plugins are also working to make your site fit on mobile devices.
After installing the AMP plugin, you do not need to create a specific mobile version of your site, which saves you money.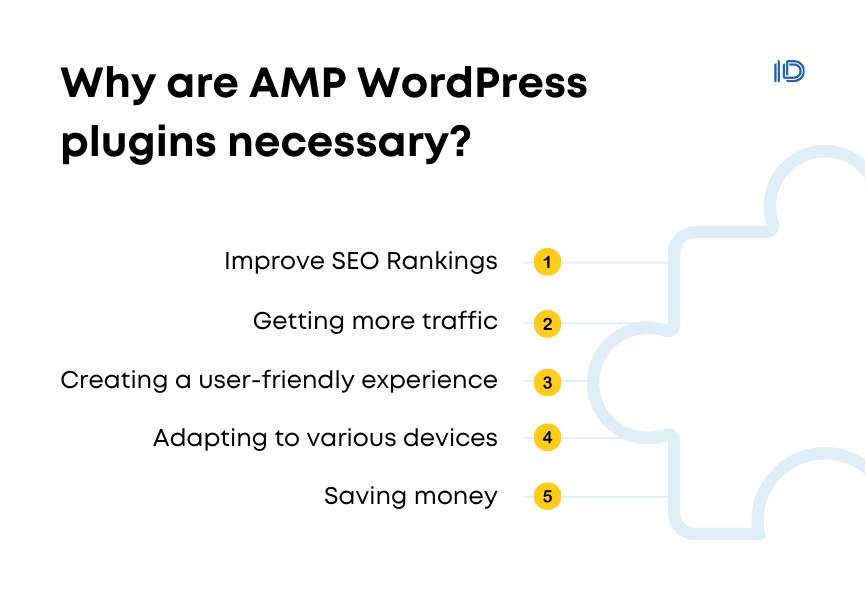 Best AMP Plugins for WordPress
Below you will find a list of current AMP Plugins for WordPress. We did not include those plugins that were not supported or were updated. This is a list of only safe, powerful, and up-to-date AMP plugins.
1. AMP (free)
AMP is the official AMP plugin for WordPress sites. This is ideal for those who want to get most of the features in one plugin. Plus, it is free and easy to use.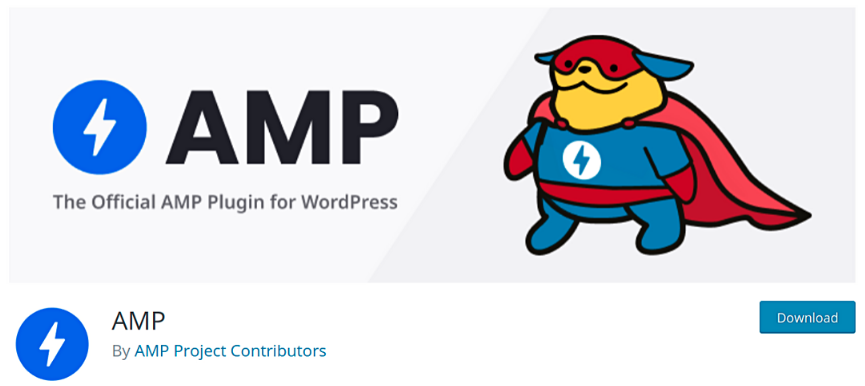 Total number of installations: more than 500,000
Key Features:
makes your website fit the mobile devices
constantly updated
understandable even for a beginner
is compatible with the most WordPress themes
has three template modes
removes unwanted CSS
receives frequent updates
Price: free
2. AMP for WP (freemium)
AMP for WP is an all-in-one plugin that works to automatically create an AMP page for your site. It is available in both free and paid versions.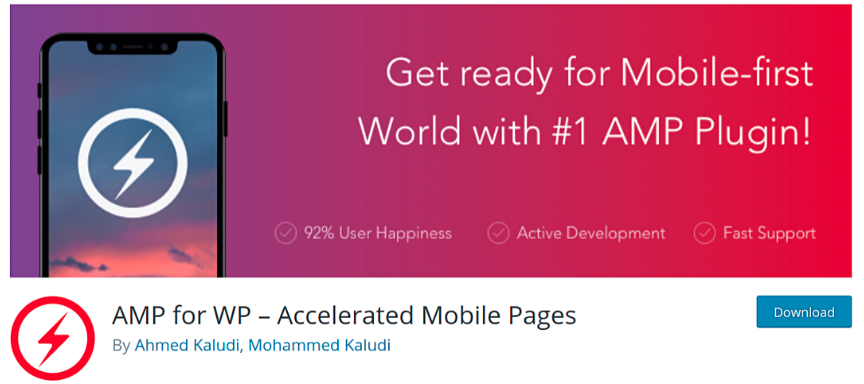 Total number of installations: more than 20,000
Key Features:
automatically creates an AMP of your site
constantly updated
supports RTL
easily integrated with 14+ analytics
has four pre-built themes
supports Gutenberg and Elementor
integrated with WooCommerce
supports Google Fonts API
Price: free / starts at $149
3. WordPress AMP Plugin (premium)
WordPress AMP Plugin makes your website load as fast as possible for mobile users. It also allows you to create your own AMP page.

Total number of installations: not given
Key Features:
Price: starts at $39.00
4. All in One SEO (freemium)
All in One SEO is one of the top AMP WordPress Plugins that works to make your site load faster for mobile viewers and rank it high in Google rankings.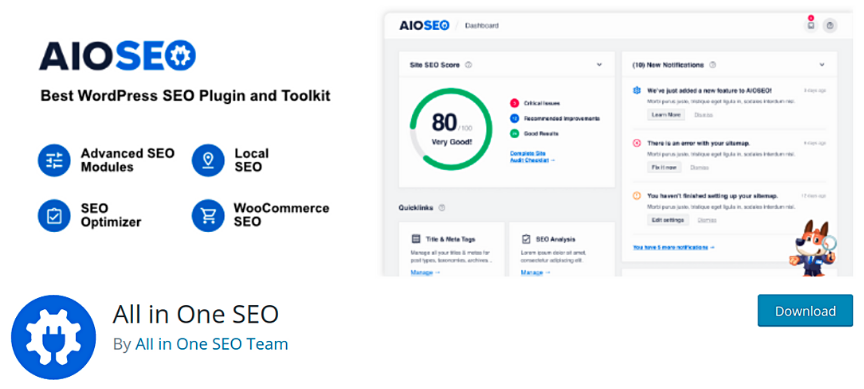 Total number of installations: more than 2 millions
Key Features:
is easy to set up
improves your mobile SEO ranking
supports WooCommerce
increases site's traffic
integrated with Social media
has Google AMP support
improves your local SEO
Price: free / starts at $49.50
5. PWA for WP & AMP (freemium)
PWA for WP & AMP is another example of an AMP plugin for a WordPress site. It offers full AMP support in order to create the best experience for your users.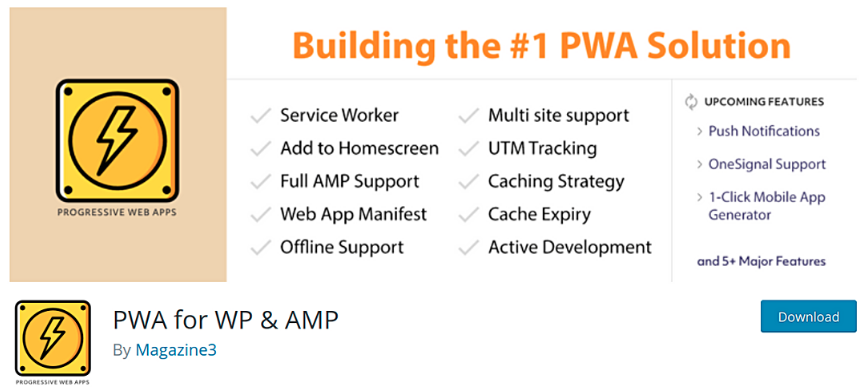 Total number of installations: more than 20,000
Key Features:
has an intuitive dashboard for ease of use
contributes to faster load times
supports many sites
constantly updated and improved
easy to set up
works even when users are offline
Price: free / starts at $149
6. easy AMP (free)
easy AMP creates mobile versions of your pages so that they load quickly on users' mobile devices. It is a free option, all you need to do is download it and configure it correctly.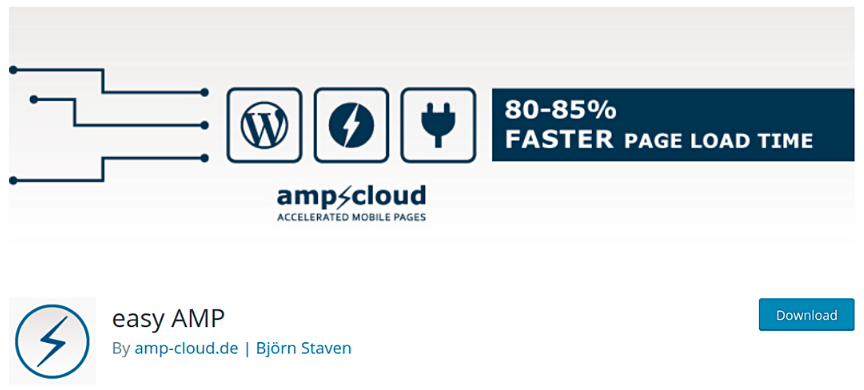 Total number of installations: more than 400
Key Features:
creates AMP version of your site
is free
hosts AMP pages on your domain
shows a cookie consent banner
uses SSL certificate
automatically adds social media buttons
creates a carousel for your pictures
easily integrates with YouTube
Price: free
What Amp Plugin is best?
Optimizing WordPress site loading speed on mobile devices can now be done simply by adding one of these AMP WordPress Plugins.
The choice is, of course, yours, but we would recommend paying your attention to the official AMP plugin for WordPress sites.
To get help from our web developers installing and correctly configuring the AMP plugin, just contact us!