If you are running Facebook ads or planning to run them, then the Facebook conversion pixel is a must-have part of this process. There is the only situation where you don't need it — if you want to throw money down the drain.
Internetdevels web development company will guide you into the world of Facebook Pixel and explain everything.
What is a Facebook conversion Pixel?
Anyone who has already tried to run ads on Facebook knows that this is not an easy task. Of course, Facebook ads work, but you need to know how to do it right. Plus, a prerequisite for a successful ad run is using the Facebook Pixel. Only Facebook Pixel for eCommerce can give you such detailed analytics and data on potential leads and their path on your website.
The Facebook Pixel gives you analytics about:
the time spent on your page
your page views
what was added to the cart
purchases
scroll depth of your page
and many other equally important details.
Facebook Pixel is a Facebook analytics tool. It's like Google analytics but only for Facebook. This gives you detailed analytics about the ad running on Facebook and shows you how effective it was and how users interacted with it.
How does Facebook conversion Pixel work?
The Facebook Pixel starts working immediately after installation. Therefore, regardless of whether you have launched an advertisement or you are planning to launch it in the future, you will still need it.The Facebook Pixel tool collects all the necessary data and, on its basis, you can form the future Facebook ads.
6 stages of the Facebook Pixel work
Stage 1. Installing Facebook Pixel
In order to install this pixel, you need to add a special piece of code to your site.
Stage 2.Data collection
Once installed, the pixel will immediately begin to collect data about users, their actions, their location, preferences, and the like.
Stage 3. Forming conclusions about user behavior
Based on the data obtained, you can already see what people are doing and make conclusions about their preferences.
Stage 4. Building a potential audience
All the data obtained from the previous stages can be used to form Facebook Custom Audiences in order to tailor ads for a specific audience.
Stage 5. Setting up bidding
The decreasing cost can stimulate people's desire to buy.
Stage 6. Creating a Facebook ads strategy
After evaluating your conversion data, you are ready to create the best Facebook ads strategy.
That's all - not that scary and confusing, really.
Why do you need a Facebook conversion pixel for your Facebook shop?
Installing a Facebook pixel for Ecommerce will improve the performance of your Facebook advertising campaign. After using this pixel you can be sure that your ad will be shown to those who will really be interested in you. Implementing Facebook pixels on eCommerce allows you to increase the number of conversions.
You can use the Facebook pixel to:
1. Get information about conversion tracking
Using them you can understand:
how users interact with your page
from which devices users view ads
2. Use the information to create a targeted audience
Pixel data can be used to:
create an advertisement for people who will be interested in it
for users who have visited your site before
3. Optimize ads based on the value
Pixels will help you to:
analyze the amount users have spent on your site before
show your ads in accordance with the paying capacity of the audience
4. Access other tools for additional analytics
Install the Facebook pixel to
5. Get more custom events
By using Facebook pixel custom events you can:
collect more details about visitors
sort different types of users into groups
How to Create a Facebook Pixel for Ecommerce?
In the next part, we offer you a step-by-step guide to creating your first Facebook pixel!
1. First of all, you need to open the Events Manager.
2. Next, you should choose a business profile to work with.
3. Then go to Connect Data Sources.
4. After that, a table will appear where you must select the Web and click Get Started.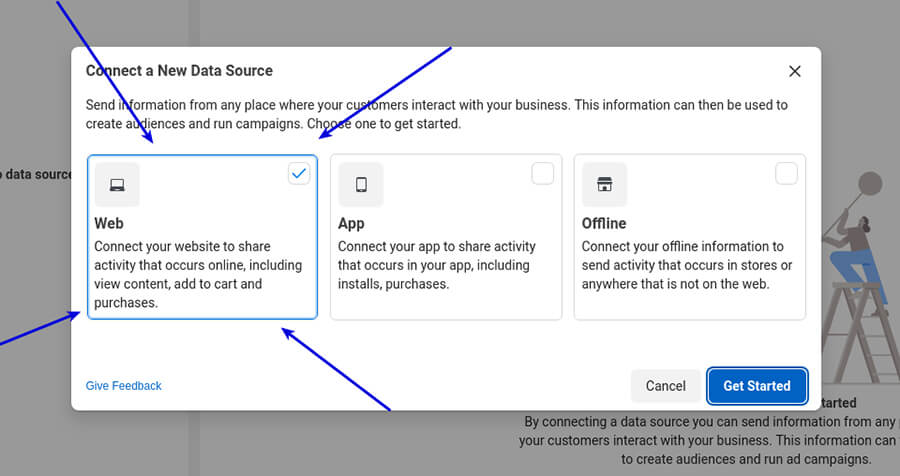 5. Next, select Facebook Pixel and click Connect.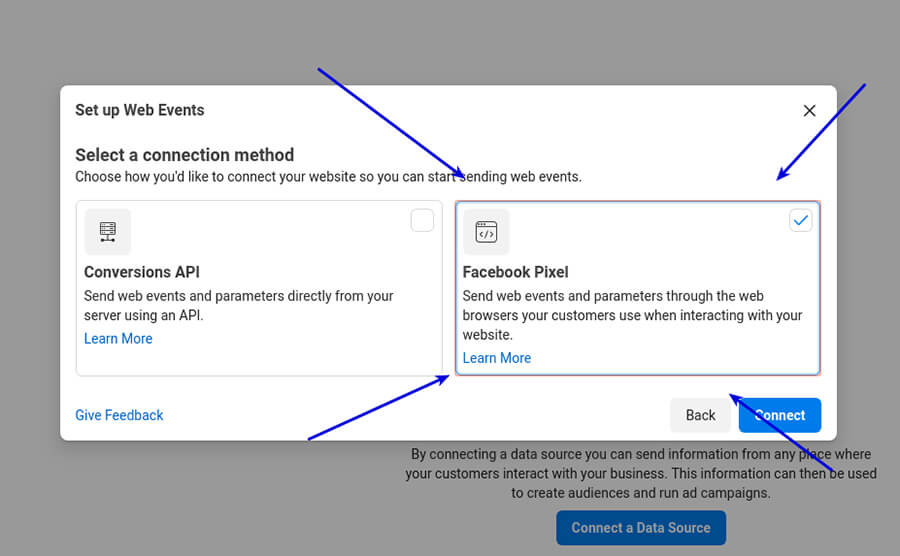 6. Fill in additional data: the pixel name and URL of your site.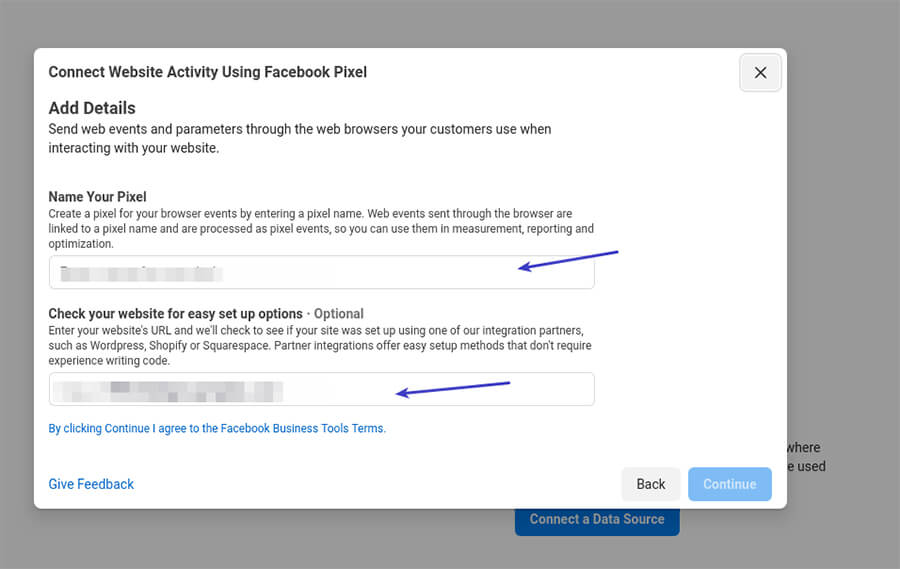 7. Click Continue.
How to install the Facebook conversion pixel on your website?
After you've successfully created your first Facebook pixel, you need to add it to your website.
There are 3 options for how you can add a Facebook pixel to your website:
1. manually
2. via a partner integration
3. via email instructions
First way. Manually add pixel code to the website
Open Events Manager.
Select the specific pixel you want to adjust.
Select Continue Pixel Setup.
Highlight a piece of code to install.
Copy this code.
Paste the piece of code below the heading, before the closing head tag.
Click Done.
Second way. Via a partner integration
Open Events Manager.
Select the specific pixel you want to adjust.
Select Continue Pixel Setup.
Choose a partner from the list of possible ones.
Use the onscreen setup instructions.
That's all
Third way. Installing via email instructions
Open Events Manager.
Select the specific pixel you want to adjust.
Select Continue Pixel Setup.
Click on the button Email Instructions.
Enter your email where the instruction letter will be sent.
Click Send, and that's it.
Install Facebook conversion pixel on the website for business at Internetdevels web company!
As you can see, installing Facebook pixel on a website for a business is a bit of a hassle, but a necessary thing. Only by using Facebook pixels for Ecommerce will you be able to see all the detailed statistics on your Facebook ads.
Web developers with Internetdevels are always in touch to help you. Contact us now to get professional help from web developers and install Facebook pixels on your website!