If you've already created a website for your business, don't forget to maintain your WordPress website. In short, maintaining the site will cost you less than rebuilding it.
To better understand the situation, just imagine that you bought a house. Over time, a faucet in the kitchen broke, then roof damage and plumbing problems appeared. The house may seem like it's still functioning, but all these problems will eventually lead to its destruction. A similar situation happens to your site. Without ongoing WordPress site support, your site will die.
So you can understand the importance of the WordPress Maintenance Plan, we created today's blog. If you are looking for help from a website support specialist, then Internetdevels specialists will be happy to help you.
What is WordPress Maintenance?
Website maintenance is a set of actions aimed at maintaining a website in good working order. It is a prerequisite for correct and error-free operation of the site. Website maintenance should be ongoing.
Lack of continuous or inadequate WordPress Website maintenance can cause the following problems:
high probability of site hacking and hacker attacks
decreasing site speed
loss of positions in search queries
poor user experience
Why is WordPress maintenance important?
A site for a business is a must-have today. The site creates the first impression of your company. Therefore, maintaining the site in proper condition, following trends, and having a good user experience will lift you above your competitors and help make the right impression on potential customers.
The top 7 benefits of Website Maintenance
Improved User Experience
Always have a safe site
Extend the base functionality
Cost savings
Increasing positions on search engines
Attracting the attention of new visitors
Compliance with the latest trends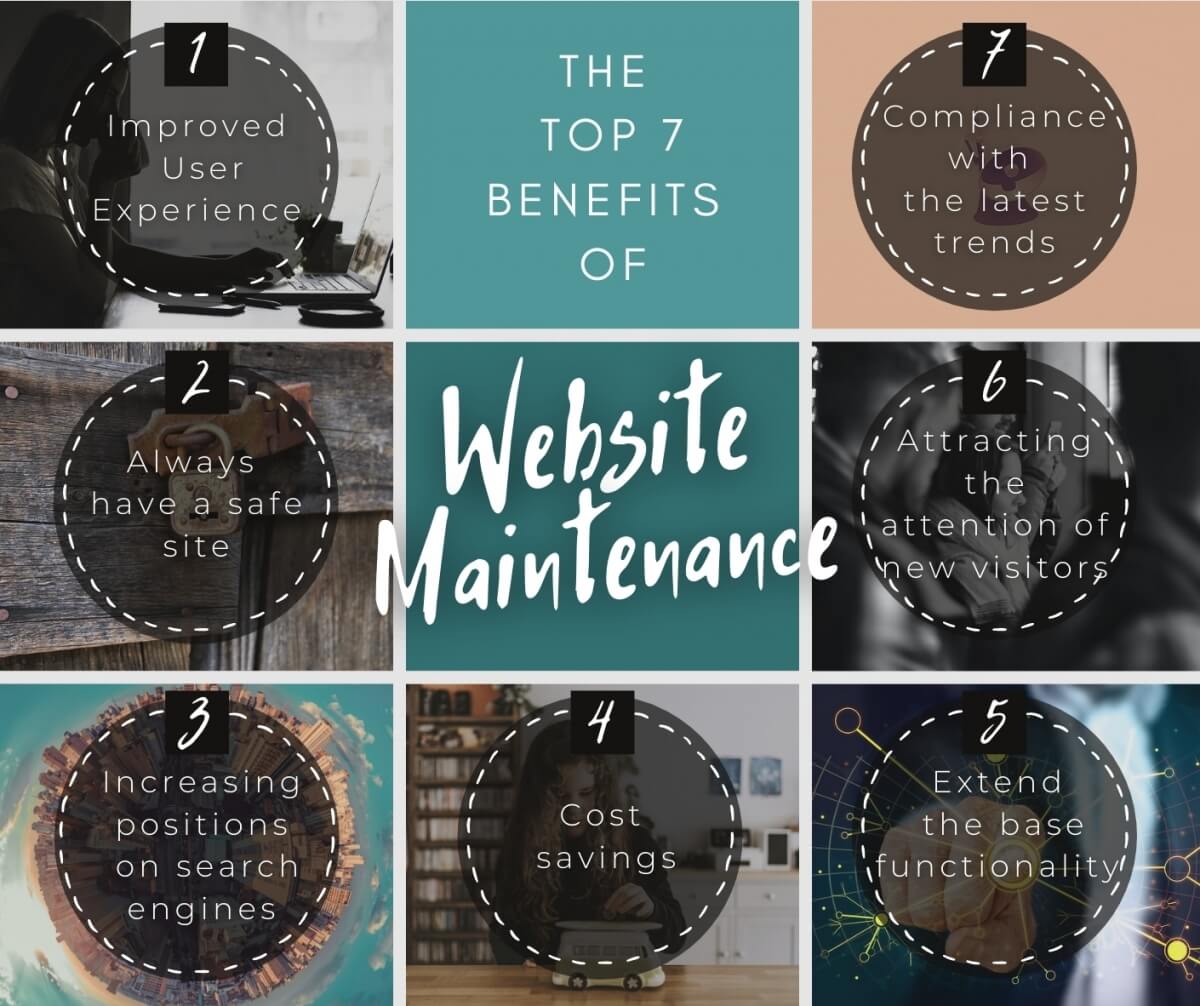 Website Maintenance Includes:
Maintain Your WordPress Website combines several elements, including:
The WordPress core
Plugins
WordPress themes
Security Monitoring
Website maintenance packages include the following key services:
1. Security Updates
Security updates of the WordPress website is a prerequisite for the security of your website. For some reason, site owners often believe hackers will not attack their site, but this is not the case.
It is impossible to delay updating the security system, as at least it can cause:
high risk of hacking and data theft
slow performance of your site
decreasing site positions in search engines
Also, you may not even know that somebody hacked your site at first. We suggest you avoid this all together, because the further it goes, the more difficult it will be to fix it. Just do security updates and everything will be okay.\
5 WordPress popular plugins for Security Updates:
All In One WP Security & Firewall
2. Backups
The backup of the WordPress site is creating a copy of a website. This is necessary so that if something happens to your site, you can restore it.
WordPress provides many plugins for backing up your site, but despite this, you should manually do a backup from time to time. This will allow you to be 100 percent sure everything is in order.
If you do not backup the site, then:
your site can be hacked, and you cannot restore it
you can lose all content
you may have to start from scratch
Remember that the best solution for your peace of mind will be to do backup and store your site on a third-party service.
5 WordPress popular plugins for Backups:
3. Updating Core and Plugins
WordPress plugins allow you to customize the functionality of your site. However, when adding new plugins, you need to remember that they must be updated.
If you do not update plugins and the core, then:
some of the functions for which the plugin is responsible WILL NOT work
the whole site will get out of control
site security will be in question
users have a bad user experience
Do not neglect timely and proper updates of the core to the latest version, as well as plugins on your site. It will only lead to problems if you do. The core on your site is like the heart of a living organism — take care of it.
4. Broken link Inspection
Broken links are an issue where individual links on your site are not working. Identification and elimination of broken links is necessary for those who care about the position of sites in the search engines.
If you do not fix the broken links, then it can lead to the following problems:
hurting you search rankings
deterioration in the satisfaction of your visitors
make a bad impression of the site
3 WordPress popular plugins for Broken link Inspection:
5. Theme Updates
Your site's theme is the look and feel of your site, which users pay attention to first and foremost. Without timely updates to the theme of your site, you can cause such problems in the site as:
site recall failure
bad user experience
slow website performance
unattractive design
A correctly working theme is the calling card of your business.
6. Delete Spam Comments
If you blog on your WordPress site, then comment spam is an integral part of your blog.
Comments under a blog are a desirable thing for everyone who blogs. They help to improve the impression of the company and influence the desire of people to buy your product.
However, there are often spam comments that must be deleted. Spam hurts:
search positions
your company brand
site security
Alternatively, you can install a plugin that automatically monitors and removes spam comments. However, sometimes plugins also crash. Remember to check manually from time to time.
4 WordPress popular plugins for Delete Spam Comments:
When should web maintenance be done?
In short, it should be done continuously.
Below we have created categories for the maintenance of services according to the frequency of their performance.
Weekly Website Maintenance Tasks
Checking the website for broken links
Updating plugins
Monthly Website Maintenance Tasks
Testing website loading speed
Doing security scans
Analyzing website statistics
Checking local search visibility
Doing backups on your site
Quarterly Website Maintenance Tasks
Testing out the website`s forms, CTA, popups
Making all possible improvements on the site
Making your content up-to-date
Updating meta tags
Checking your website on different devices
Annual Website Maintenance Tasks
Making user testing
Updating website design
Checking each page of the website
What Happens When You Don't Maintain Your Website?
We are sure that you have thought about this.
It will go something like this:
at first, certain functions will not work on your site
subsequently, viruses will cling to it
after that it will work very slowly
and eventually, it will die
Your site is like a living organism, its vital activity must be supported!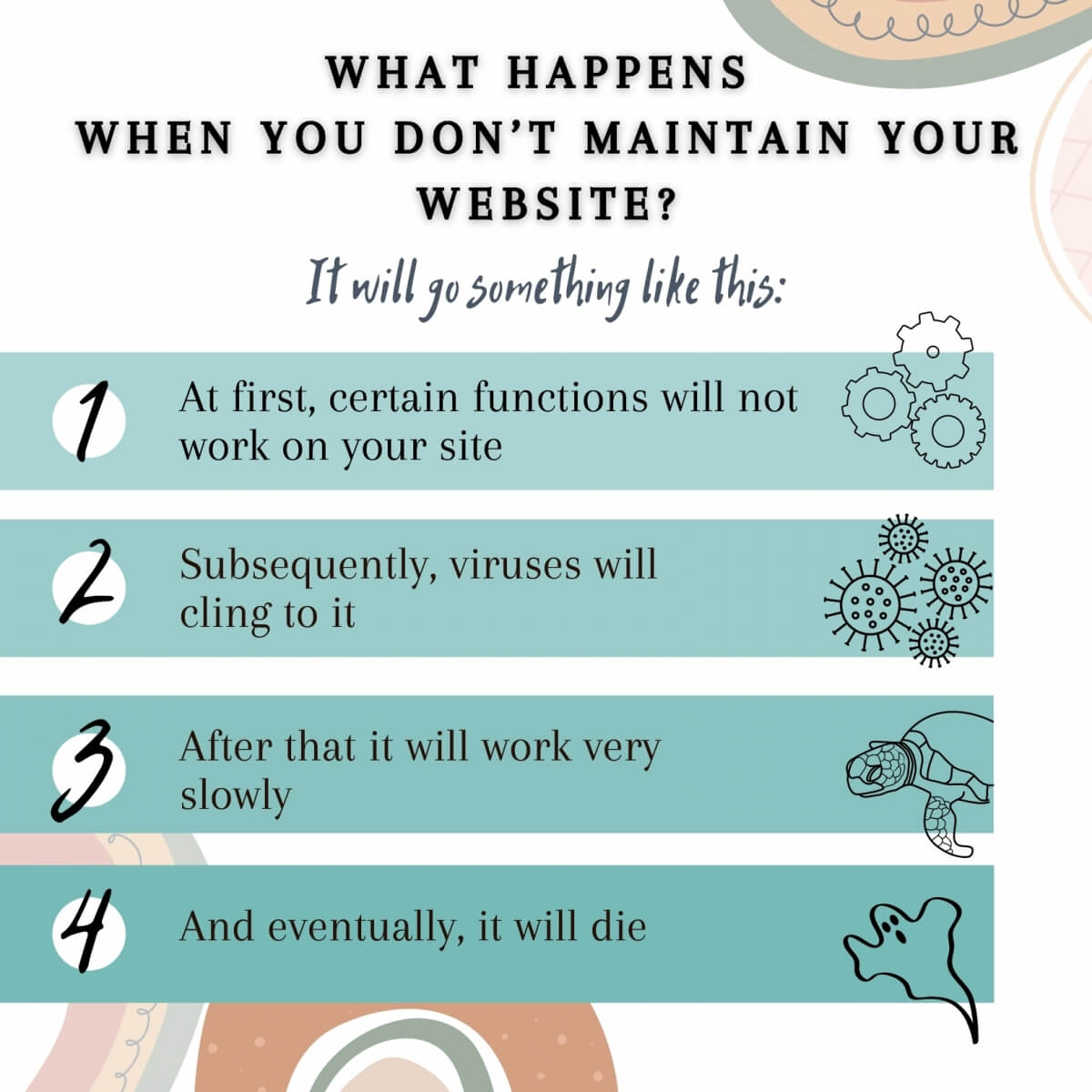 Maintain Your WordPress Website with the Internetdevels web development company
Maintain Your WordPress site is a must-have for those who are actively doing business on the Internet. Without it, your site will simply die, and all the funds that were spent on its creation will be wasted.
We hope that after reading this blog, you will not question whether it is necessary to maintain a WordPress site.
Maintain Your WordPress Website at Internetdevels web development company today.