Voice search is a new trend that has already become a part of our everyday lives. Did you know that the percentages of searches using voice will reach 50% by 2020? With the growing use of digital assistants, voice search website optimization is crucial to your SEO success.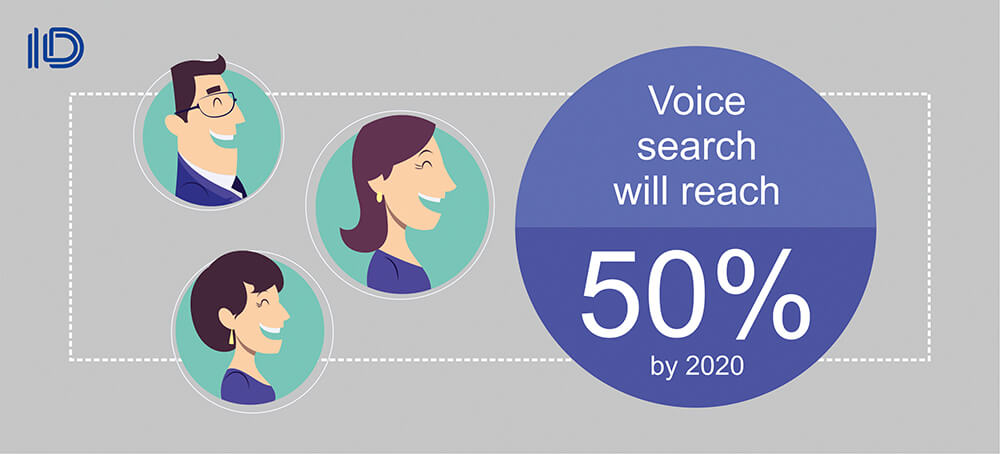 The InternetDevels Drupal company prepared a guide on how to optimize a website for voice search. Stay tuned!
Characteristics of voice search
Before optimizing a website for voice search, you should understand how people use it. Voice search uses speech recognition to understand a query and then finds matches that answer it. Here are some of its main characteristics:
voice queries are longer and contain conversational words
When searching information via personal computer, we type shorter phrases to save time and effort. Things are different with voice search — it is more like a conversation with a digital assistant.
Think about your own experience. What do you usually type in when looking for food delivery? Probably something like "Pizza New Orleans." But when using voice search, you are more likely to ask "Which pizza place is open in New Orleans now?"
Think about how your audience talks about your business, products or services. Use the Answer The Public service to find questions for your keyword. This can give you some insights of what your customers are looking for.
most voice search queries are for local content
People use mobile phones on the go, and it is not a surprise that most of the voice search queries are used to find information on 'things near me.'
users seek for immediate answers
Do not expect users to visit your website. In most of the cases, they're looking for immediate information like phone numbers, addresses, or info available in Google snippets. Add all the necessary data to your business listing. Update office hours, contact details, and address.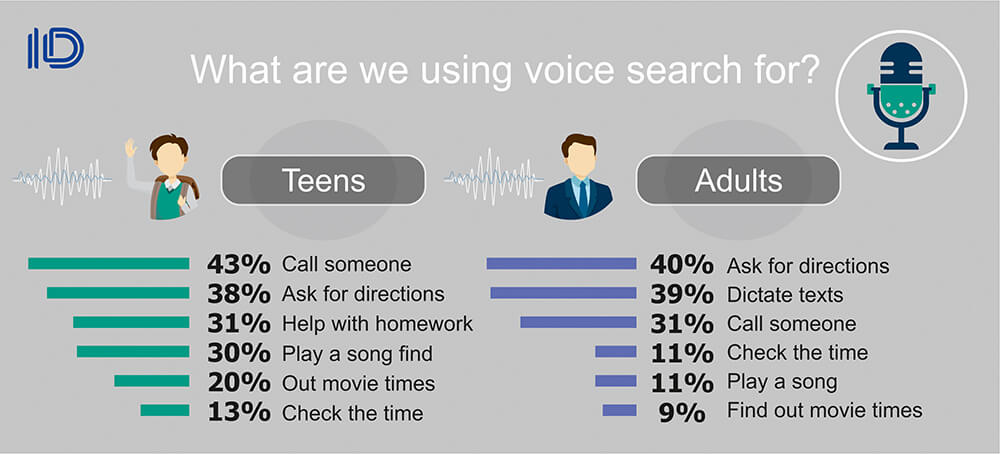 How to optimize a website for voice search?
Use long-tail keywords
Voice searches are 76.1% longer than text-based searches. Use long-tail keywords, the majority of which should be conversational questions.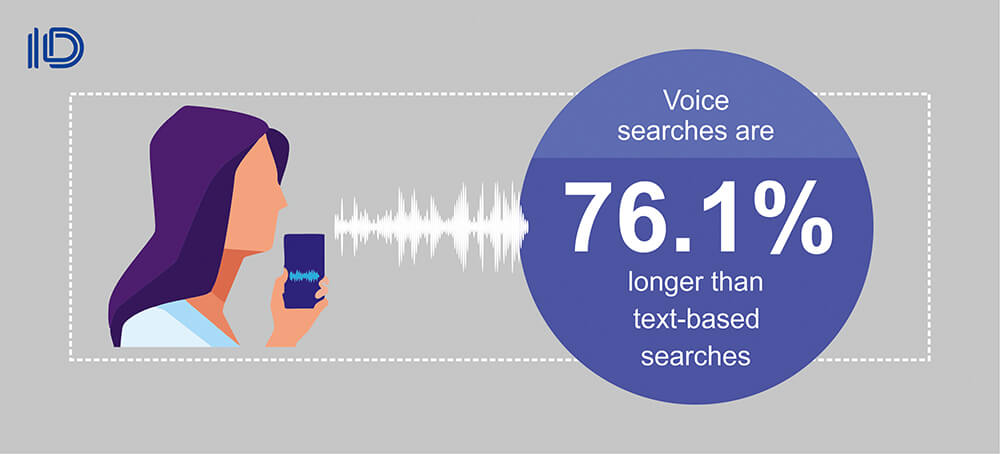 Decrease page loading speed
As we have mentioned above, users are seeking immediate answers. Even one second of delay can frustrate your visitor, and they will proceed to another platform. That's why your website has to load fast. Read this guide on how to increase page loading speed.
Create conversational question-answer style
Voice search queries are usually three-to-five word long and include questions like 'what,' 'where,' 'how,' or 'why.' Optimize your content to match such queries.
Optimize content for local search
More often, voice search is used to find places or services nearby. If you provide local services or delivery, don't forget to optimize your website for local search:
Add your company to Google My Business.
Add and update your contact details regularly.
Optimize your content with local keywords.
Make your website accessible on all devices
Voice search is more popular for mobile devices. Thus, your platform has to be mobile-friendly. Don't forget about responsive web design to make your website look good on all devices.
You can use Google Mobile-Friendly Test Tool to test whether your website is well-optimized for other gadgets. If no, you can always contact InternetDevels for website optimization services.

Add FAQ page on your website
The FAQ page will help you add long-tail keywords to your content and provide valuable information for your visitors. Ask yourself what questions you are frequently asked about your business, products or services, and add them to your list.
Optimize a website for voice search today!
The future of voice search is clear. It will replace text-based search in a few years, as it is more convenient and quick. Do not delay voice search optimization till the last moment. We are recognized as a Top Search Engine Optimization Company on DesignRush. Keep your business on top with InternetDevels website development services. Drop us a line and our experts will ensure that your website is optimized for the new era of technology.