Do you have an amazing business idea, but don't know how to validate a startup? It's a common issue. There are so many cool ideas, but most of them fade away just because people don't understand how to validate a startup. Before proceeding with this, ask yourself 2 questions: "Does my business idea meet customers' needs?" and "Can I monetize it?" If yes, congrats! This article is for you!
Do you know that it is possible to validate your startup idea in 24 hours and even get an appealing website for your business from a team of experienced web developers? Today, the team at InternetDevels explains how to manage this challenge with minimum effort.
Validate your startup idea within 24 hours
Here are some tips that will help you to sort things out, establish a website, and validate a startup in less than a day. Stay tuned!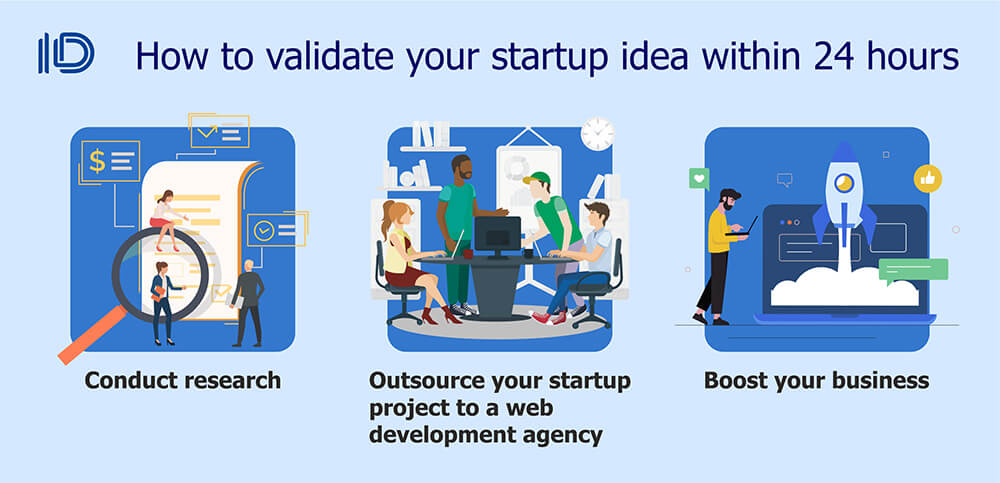 Step 1. Conduct research
Before starting to spend all your time and effort into the business, make sure that your idea is interesting to the consumers. Conduct research. Visit forum-like websites to ask your target audience about the problems that your business idea resolves:
This will give you a clear insight into the market's needs, potential customers, and competitors.
Step 2. Outsource your startup project to a web development agency
It's clear that you cannot manage website development yourself. A startup website can be developed within 24 hours and requires support and maintenance from time to time. Hiring an IT specialist who will become a part of your team is too expensive and ineffective for small businesses. That's where outsourcing comes into play.
When outsourcing a project, you save a lot of money and effort. While professional web developers are taking care of your startup website, you can focus on more business-related issues and launch all the internal processes. A small startup website can be easily developed within 24 hours. All you have to do is to wait for an outstanding result and then validate your business.
InternetDevels outsource its specialists to work on projects around the globe. Here is a brief piece of research on Ukraine as an outsourcing partner.
If you are still hesitating, check our blog post 'Seven 'what ifs' before you outsource your web development project. '
Step 3. Boost your business
After all is set and done, it's your turn to take the controls. Validate and boost your startup through social media marketing, Google Ads, and SEO, gain conversions and increase your sales.
Note that the team at InternetDevels is always here to help you with website support and maintenance, as well as SEO or speed optimization.
Validate your startup idea with InternetDevels development services!
In our busy society, there is no place for doubt. While you are hesitating, other business owners are validating startups and moving forward to success.
Don't get left behind! Contact InternetDevels to outsource a startup project and validate your startup ideas in 24 hours!