Seconds and milliseconds of website loading speed influence your website's SEO positions, customer satisfaction, and leads. That's why it is important to check and improve your WordPress website performance.
One of the most famous speed test tools for today is GTmetrix. Let's focus on how to test WordPress website speed with GTmetrix and improve the received results.
What is GTmetrix?
GTmetrix is a page speed and performance analysis tool. It gives your website a performance score and a report along with the speed improvement suggestions. The GTmetrix speed test by GT.net, a Vancouver-based web hosting company, as a helpful tool for their hosting service customers.
GTmetrix shows you a wealth of data about what could slow your website down and how to fix it. One of the most useful GTmetrix features is that it combines the results of the Google PageSpeed Insights and YSlow speed tests, so you don't have to run any of these two separately. It is a very user-friendly tool for beginners.
With GTmetrix, you can take a free website speed test any time you need, and it also offers premium packages starting from $14.95/mo. They include extra analysis and report features like monitoring from remote locations, video capture for alerts, developer toolkit, hourly monitoring of URLs, and so on.
If your site is built with WordPress, you can use GTmetrix as a WordPress website speed test tool. However, it is absolutely multipurpose and fits any type of website.
How do I test my WordPress site speed with GTmetrix?
Just like with any other site, it's easy to test WordPress website speed by going to the GTmetrix site and typing in your URL. You can also configure the analysis options just below, but this is only available when you sign up for a GTmetrix account.
Using the GTMetrix WordPress plugin as an option
There is the GTMetrix WordPress plugin that allows you to test WordPress website speed directly from your WordPress admin dashboard. You will also receive alerts about your site's status there. The plugin can also schedule daily, weekly, or monthly reports. When using the plugin, you will need a GTmetrix account in any case.
Steps to test WordPress website speed with GTmetrix & improve it
1. Configuring your WordPress speed test options
Let's now come back to our WordPress site performance test options at GTmetrix. Here are the key ones:
Test server locations. In the "Test URL in.." option, you should choose the server that is geographically closest to your audience. If you have a global audience, you should repeat the test in several server locations. This feature adds more accuracy to the speed test interpretation. Here are the server locations to choose from:
Vancouver

Dallas

Hong Kong

London

Mumbai

Sydney

São Paulo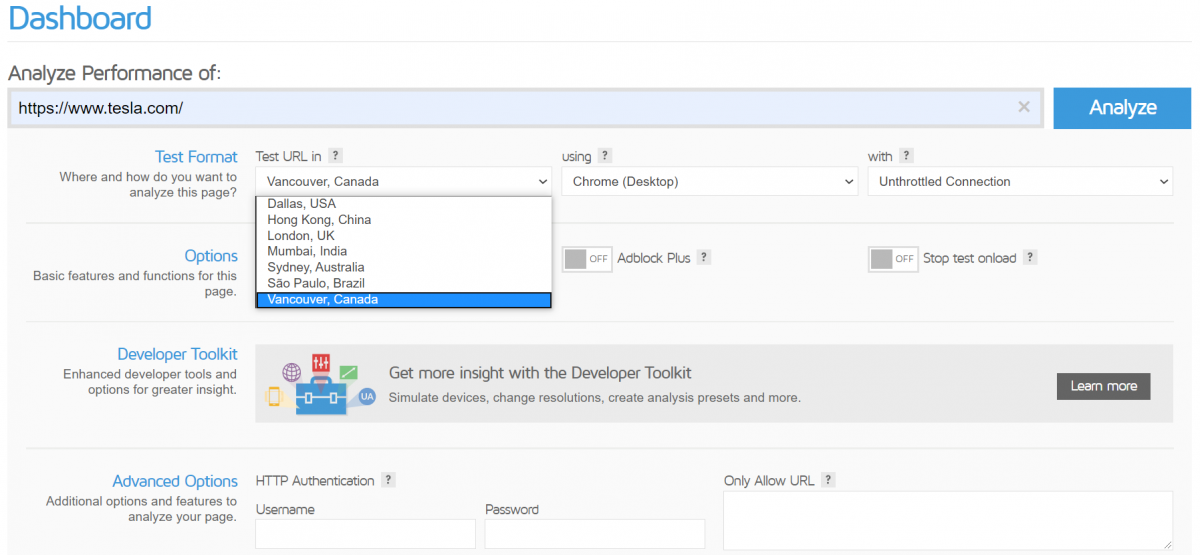 Browser. In the "Using…" option, choose the desktop or mobile browser for which you want to test WordPress website speed. It's better to repeat the test for various browsers. The choice is as follows:
Chrome (desktop)
Firefox (desktop)
Chrome (Android, Galaxy Nexus), which is available with the Pro versions only

Connection. In the "With..." option in your speed analysis settings, you can choose the connection speed in order to make your WordPress page speed test even more accurate. The tool offers connection speeds such as unthrottled, broadband fast, 2G, 3G, 56K dial-up, and more.

Video. The "Create Video" is an on/off option that allows you to see exactly how your page loads. You can have a 4-x slower visualization and spot particular loading problems.
Adblock. You can use the "Adblock Plus" option and disable/enable ads in order to see how they impact your WordPress loading speed.
Stop test Onload. It's possible to set the test to stop at window Onload (at the moment when the page processing is complete).

2. Interpreting your WordPress performance test results
After hitting "Analyze" and waiting for a few seconds, you get your speed test results. They include a quick summary with your performance scores, loading time, total page size, and the average number of requests. More details and recommendations are presented in 6 tabs:
PageSpeed. Here, GTmetrix evaluates your website against Google's PageSpeed rules. Your website will get a score from 0 to 100 based on 26 rules. Grades for particular rules can be interpreted as useful recommendations to follow in order to improve your website speed. For example, serve scaled images, leverage browser caching, minimize JavaScript, and so on. Each point can also be unfolded.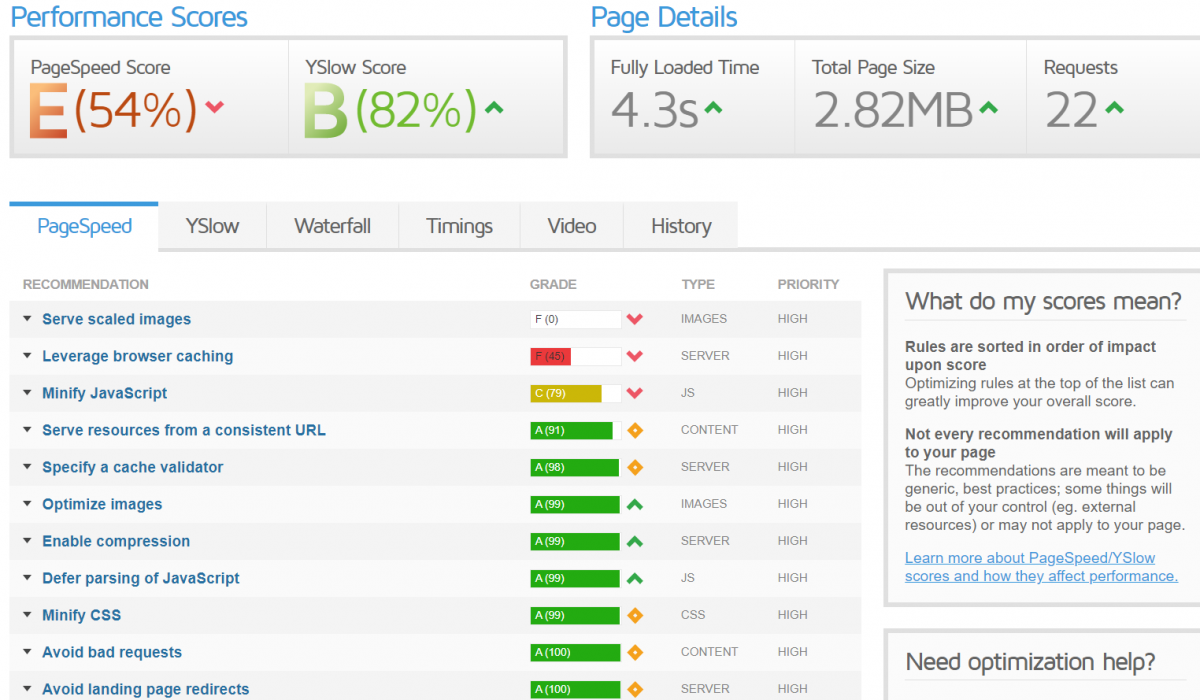 YSlow. On the second tab of the performance test, you see your YSlow score. You shouldn't be surprised that it's different from the PageSpeed score because it is based on 19 different rules. Similarly to PageSpeed, YSlow gives you suggestions to optimize your website speed — for example, minify JavaScript and CSS, make fewer HTTP requests, avoid URL redirects, reduce cookier size, and so on.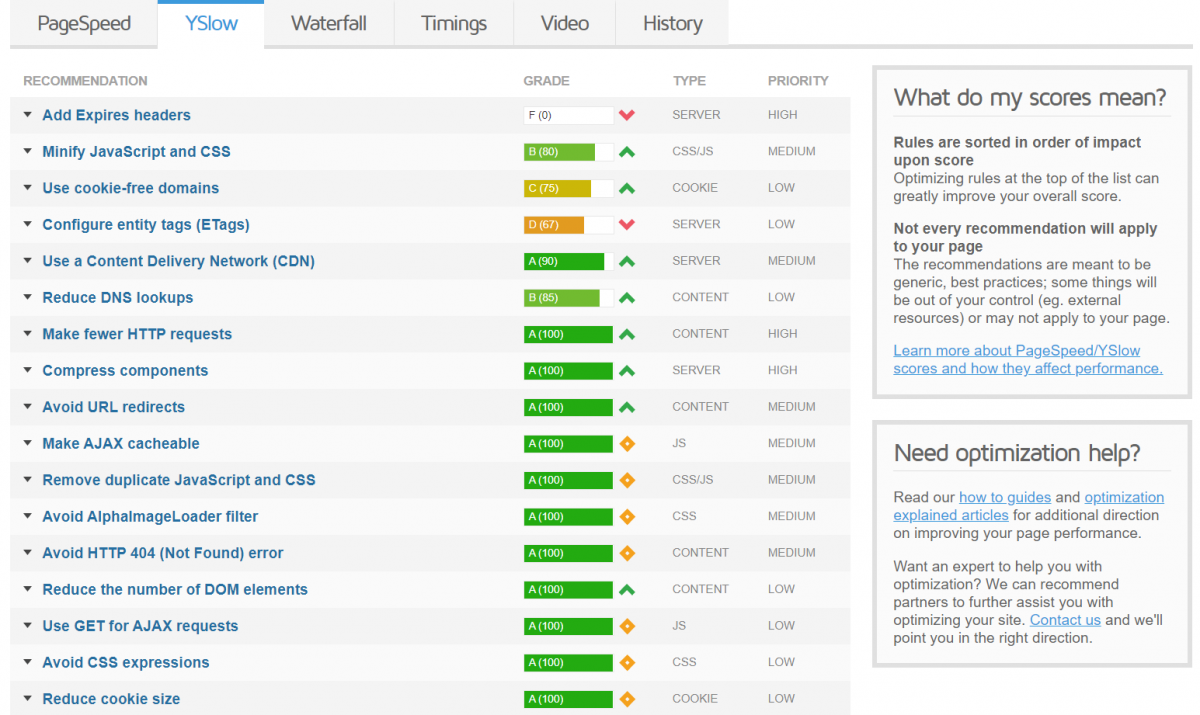 Waterfall. The GTmetrix waterfall tab gives you a detailed analysis of how long each resource takes to load. This will give you additional speed optimization information. For example, you may see that an image file takes too long to load, and take care of its compression. The resources are grouped by type (HTML, CSS, JS, XHR, fonts, images, and others).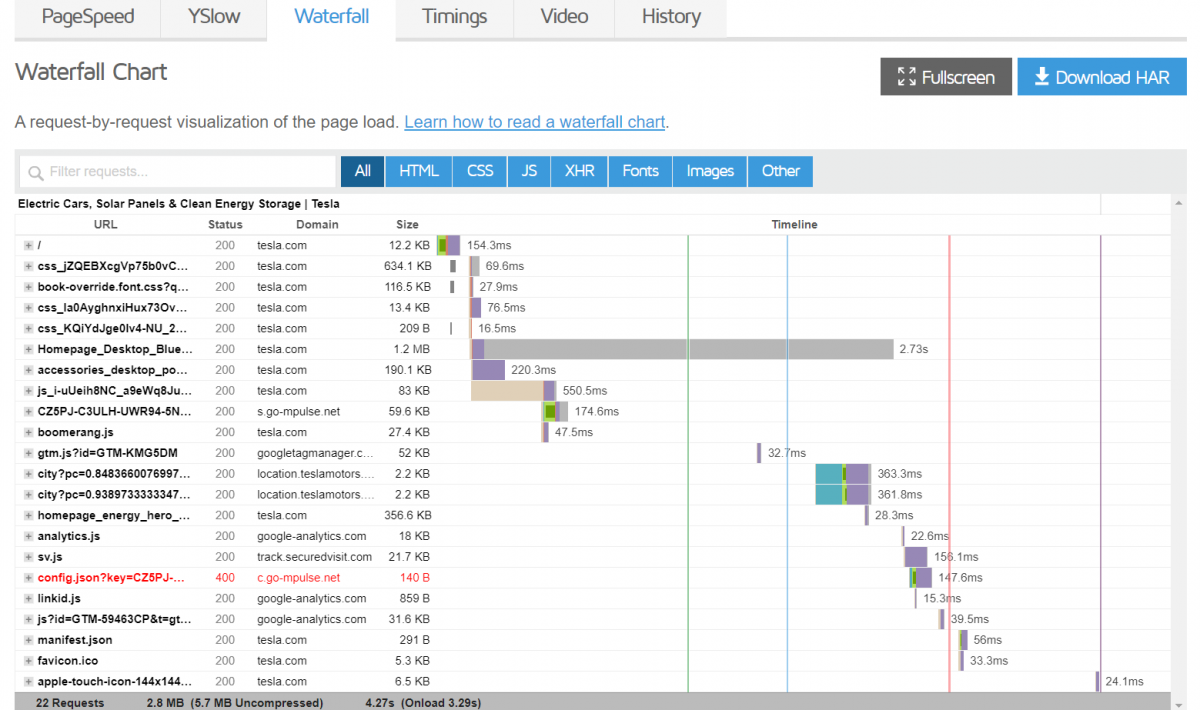 Timing. This tab of speed test results gives you a good visualization of how long it takes your website to reach various loading time metrics. By hovering over the metrics, you get more details about them.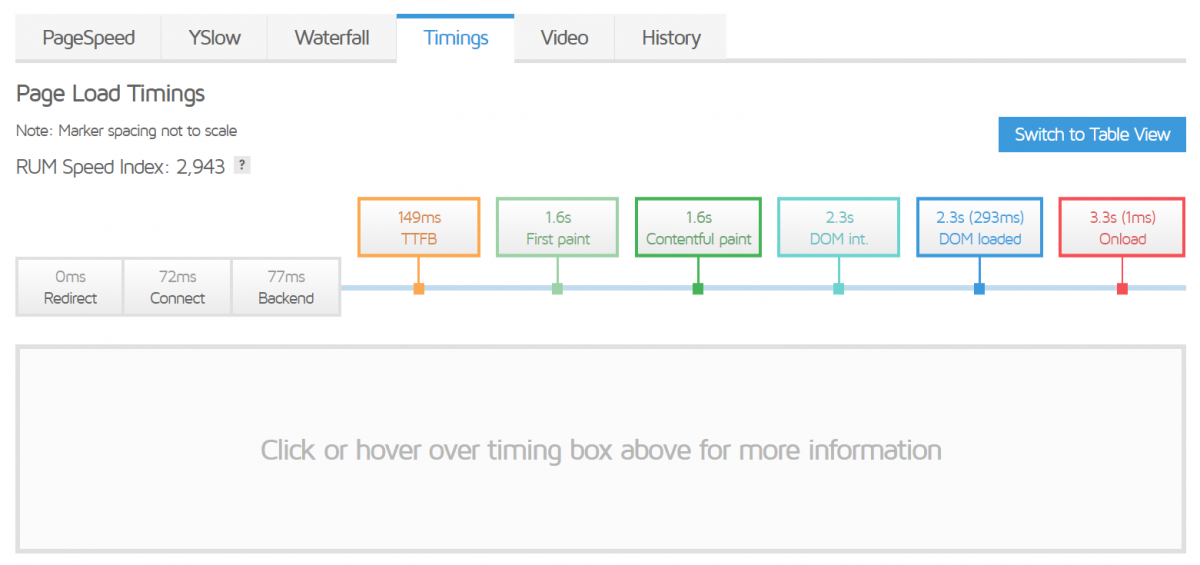 Video. The video tab, if you had the video options turned on, will show you how your site loads at 1/4th of the original speed. You will be able to see which elements take more time to load.
History. On this tab, you can see your page speed test results received in all your tests. It is a good practice to do tests repeatedly at different times. History is a great tool to compare the results.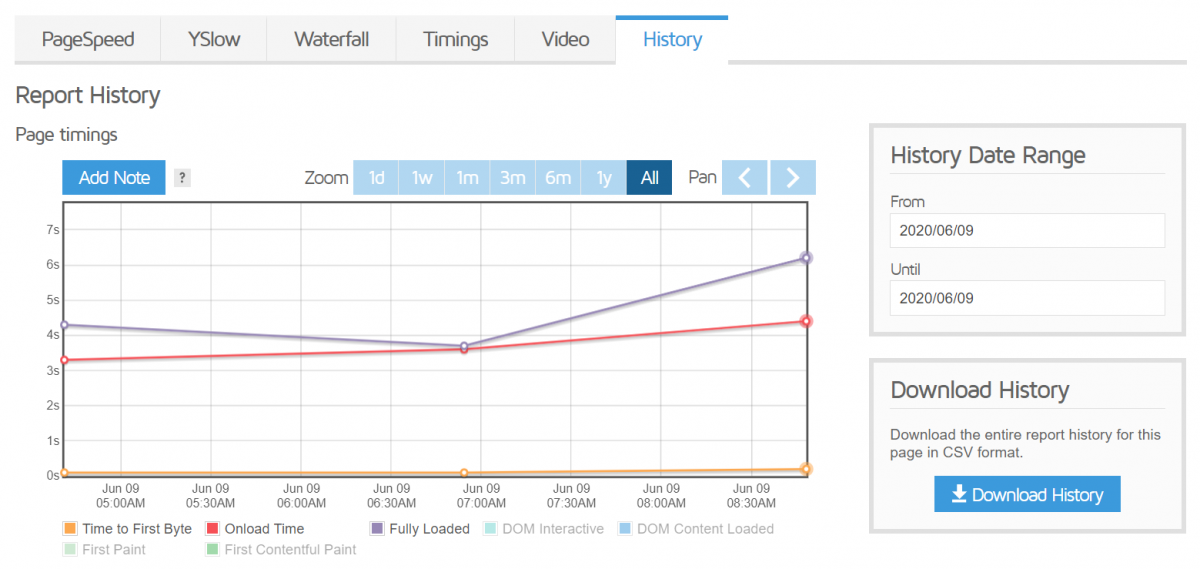 3. Improving your WordPress site's GTmetrix score
It's important to remember that you do not need to improve the official GTmetrix score, you need to improve your WordPress website's performance. So don't chase high scores — use the recommendations that are most applicable to your website. You can always contact WordPress website support experts who deal with performance optimization in their everyday practice.
The most straightforward recommendations are given in the first two tabs of the report: PageSpeed and YSlow. To facilitate the fulfilment, there are user-friendly plugins for many of them. For example:
If the report says "Minify JavaScript and CSS," you could use WordPress plugins like BWP-Minify, Autoptimize, W3 Total Cache etc.
If the report says "Optimize images," try plugins like Smush Image Compression and Optimization, Imagify Image Optimizer, EWWW Image Optimizer, Compress JPEG & PNG Images, etc.
If the report says "Enable compression," you can give a try to caching plugins WP Rocket, WP Total Cache, etc.
Let us help you with your WordPress speed optimization
Performance optimization requires expert approaches. Our web development team is ready both to help you test WordPress website speed with GTmetrix or other tools and use the results in the right ways for seamless optimization. In addition, our prices are very nice and consultations are absolutely free. Speed your website up easily!