Today's pace of life requires everyone to quickly adapt, develop and load sites. Modern people do not know how to wait.
You don't have much time to interest your potential buyers. So if you want to have a successful website, you have to make it fly!
Besides, you want Google to help you. Google search engines have introduced new ranking rules and to be on the first page of search engine results, you must to speed up your WordPress performance. Your WordPress site must be fast to trend, get a lot of customers and profit.
How long will consumers wait for a page to load
Imperva Incapsula surveyed 4500 people about the maximum time they would wait for a page to load. Their results are below: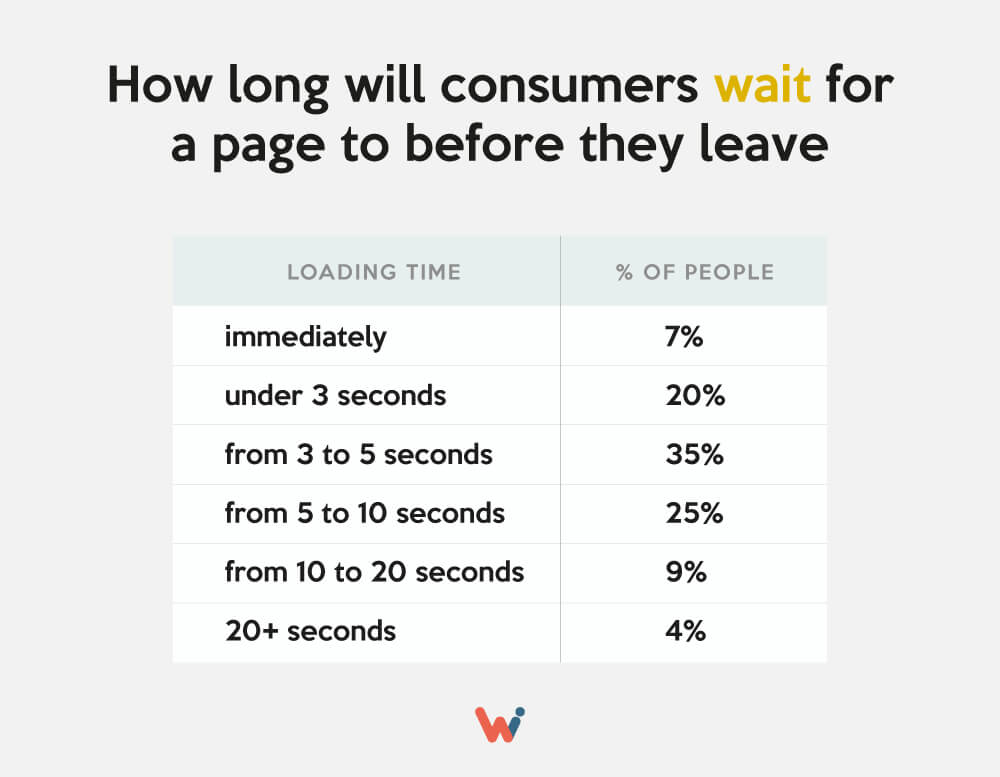 Why do you need to increase WordPress speed optimization? How can you speed up WordPress performance? How can you find out what is slowing down your website?
If at least one of these questions is interesting to you, then we can help you. Today, the web development agency at InternetDevels provides clear answers to all these questions.
Why do you need to do WordPress speed optimization
WordPress site is a great option for doing business, but if you are the owner of the WordPress site, you should know that it is best not to overload it with various plugins. This affects the loading time of the site.
Here's why:
WordPress website speed affects the number of exits from your site
As we mentioned above, people do not like to wait. This means that the longer your site takes to load, the more likely it is that the client will leave it. Your visitors may even cancel their request and not enter your site, because they get tired of waiting.
What can you do?
If you want to have a large number of satisfied customers and visitors, reduce the waiting time for your site's response as much as possible.
Website speed affects Google rankings
It's no secret that the Google ranking likes sites with short loading times. Do you remember the last time you went to the 6th or 8th Google page of search results when you were looking for something? You probably do it very rarely or never. If you want to raise your site in the SERP, you should make every effort to reduce the loading time of the site.
WordPress site speed affects phone users
The higher the speed of loading the WordPress site, the more convenient it is to use it from a phone. People are already more likely to use their smartphones than PCs, and it is expected that this percentage will only grow. Therefore, you must be prepared for this.
Make using your website as convenient as possible for telephone users, and as a thanks, you will receive a larger percentage of conversions.
Website speed helps you beat your competitors
Website speed optimization on WordPress will help you to get more traffic. If you optimize the speed of loading your WordPress site as much as possible, you will rise in the search results.
How to test the loading time of your website?
Testing your site's loading speed is as important as building it. Many people may advise you not to stop at this stage, but this is not so.
Even if you enter your site very quickly, this does not mean that all users have the same experience. Typically, the loading speed is different for you and your visitors. You may ask why this is. Because this is your site, and you have already visited it many times, your browser has saved instant login information.
That is why you should test the speed of your site performance using various tools. It helps you to create an objective picture of your site.
The faster your site's speed, the better for everyone. The best site speed should be just over 1 second. You can read some theory about page load speed optimization there.
To check the loading speed of your pages, you should use a special tool. There are a great many of them. We have already written a list of the 7 best tools to test and optimize your website's speed, so please check it out!
Best Website Speed and Performance Testing Tools:
Google PageSpeed Insights
Yahoo's Yslow
Page Scoring
Pingdom
GTmetrix
Web Page Test
Monitis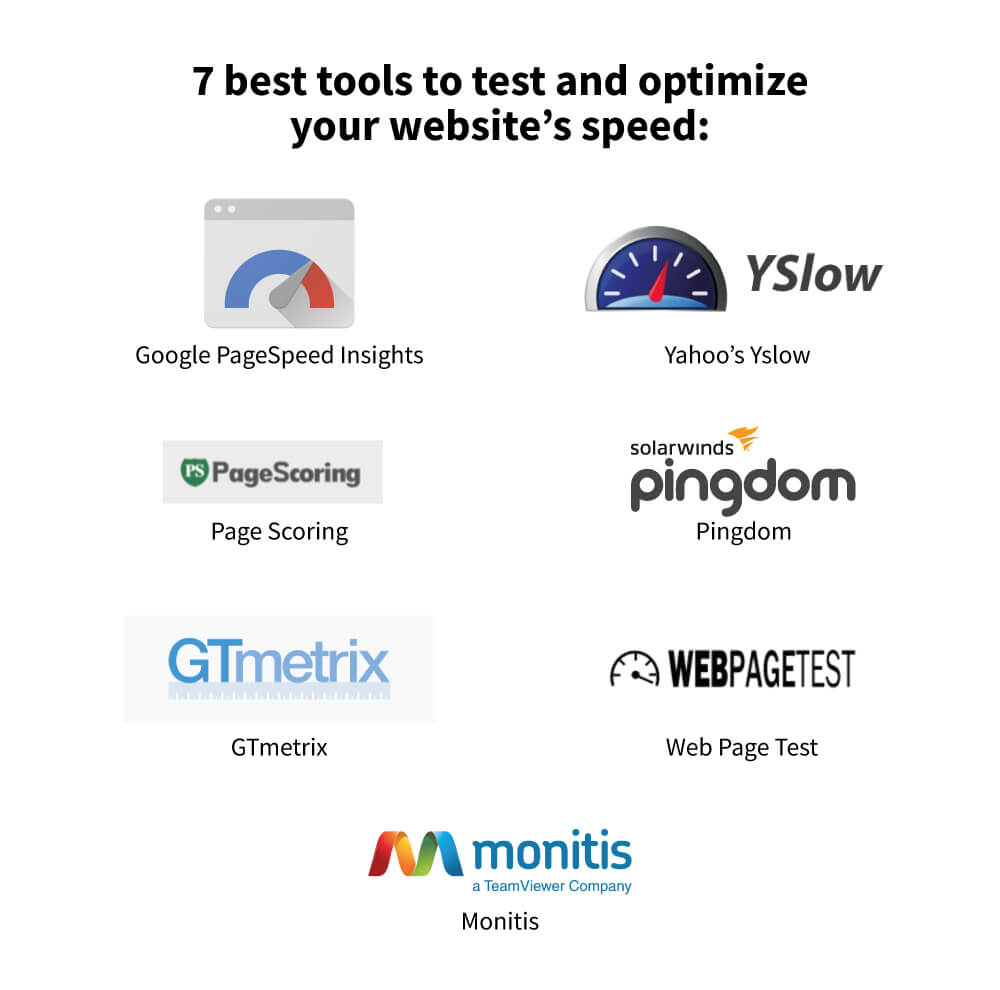 6 main problems that slow down your website performance
To speed up WordPress website performance, you need to understand what prevents it from working well, and what slows it down.
Here is a list of the main problems that slow down your site performance:
hosting
caching
variety of WordPress plugins
pictures size
compression
404 errors
Let's take a closer look at each problem that slows down your site speed performance.
The first thing that affects the WordPress loading speed of your site is the web server. The more sites are hosted on a single server, the slower their download speed will be. Therefore, make sure that the hosting on which you are hosted meets the needs of your site.
Caching directly affects loading speed. Caching is the process of storing data (such as images, tables, scripts). When you return to the same page again, this data will automatically be loaded from the cache. These procedures will help you reduce page load time.
A wonderful property of WordPress is the ability to diversify your site using various plugins. But you should remember that the more plugins you install, the slower your site becomes. So that they affect the speed as little as possible, you must carefully select and update them. We already have a list of 10 must-have WordPress plugins.
An attractive site should be well visualized. But do not forget that too large image sizes can slow down your site. Always optimize all the images on the site. There are many options for optimizing the image correctly and without loss of quality. It's best to use the JPEG format for this.
This is the process of cleaning up unnecessary code, which is not, actually, a complicated process. Typically, CDN does all of this. Often changes in the code have a good effect on the site loading speed.
If you have 404 errors on your site, they will certainly slow it down. Once you fix them, you can speed up your WordPress performance. Don't neglect them!
7 working ways to speed up WordPress performance
Below, we will give you the most working ways that help you speed up your website.
1. Choose the best hosting
First of all, we should talk about reliable web hosting. After all, there is nothing more important than where your site is located. Whatever you do in the future, if you have poor hosting, nothing will help. We believe that VPS may be the best bet for you — it is the golden mean among all the options. This type of hosting is quite reliable, fast and has an affordable price.
2. Install a good WordPress caching plugin
Caching plugins are an effective free tool on WordPress. Your main task is to choose the best one according to your needs.
Pay attention to the following 3 top plugins.
W3 Total Cache
WP Super Cache
WP Fastest Cache
To delve deeper into this topic, you can read our simple tour on how to clear cache in WordPress.
3. Make the images lighter
Visualization influences the attractiveness of content and catches the attention of visitors. But you should not forget that this is also one of the main sources of site overload. The best choice is to leave all the pictures, but resize them a size smaller, so you kill two birds with one stone. As we have said, it is better to choose a JPEG format.
We've also written about the best WordPress image optimization plugins — just check it out!
4. Update your plugins
Remember to update your WordPress plugins. Deprecated plugins slow down the site. Pay attention to whether all the plugins installed by you are necessary. If your site can work without some, then delete them. When you install plugins, look for when they were last updated. If they have not been updated for a long time, then look for others better, since out of date plugins can cause malfunctions of your site.
5. Use a lightweight theme
The main thing when choosing a theme for your site is to choose a light one. The theme affects the speed and loading of WordPress sites. Do not get fooled by a beautiful topic filled with all sorts of details. Such a theme will stop any site. Pick up a simple and clean one. Later, you can dilute it with interesting details by using other lightweight plugins.
6. Optimize your site with Gzip compression
Gzip is a compression of the files that are on the site, which in turn leads to faster downloads. Later these files unpack, but on the user side. Gzip compression can be done using a special WordPress plugin for speeding up WordPress page loading.
7. Use a CDN
CDN is a content delivery network. The abbreviation speaks for itself. You need a CDN if you have customers all over the world, or you want to provide fast delivery of information. This is a system of servers that provide information delivery depending on the geographical location of users.
In simple words, imagine the situation: you can overcome the path by car, or by plane. In this case, the CDN is an airplane.
Its main task is the fast delivery of content regardless of the user's location and ensuring uninterrupted traffic.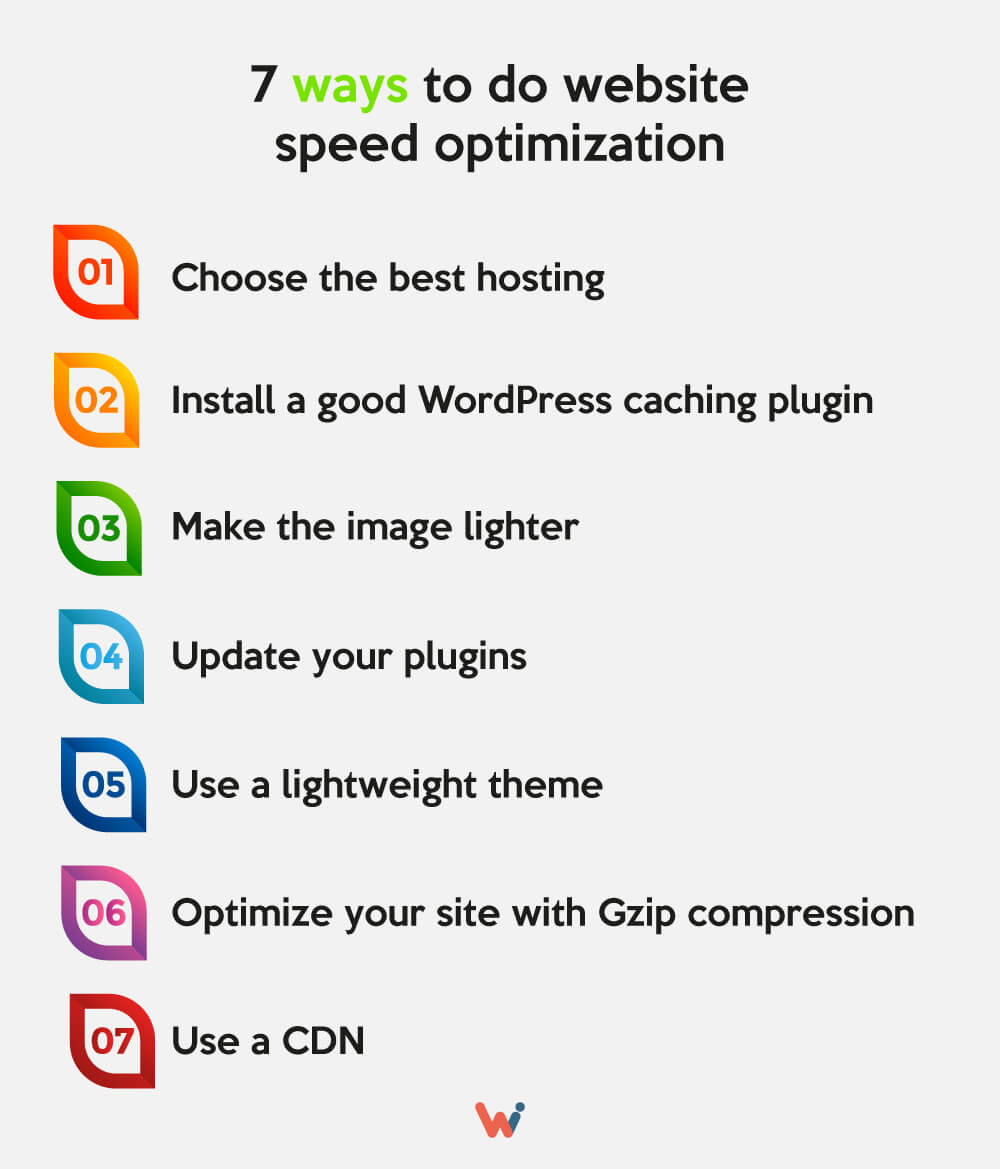 Сonclusion
The speeding up WordPress performance is one of the key things that affect the success of your online business.
Of course, you should not rush and apply all these ways. You can get a visible result even after using some of them. You need to start small.
If you have any questions or feel that you can't do it yourself, just contact the website maintenance company.