Let's talk about website quality assurance (QA) meaning, and what it is for. You may think that all web development companies are simply trying to get more of your money by offering you "unnecessary" QA.
With this article, our Drupal development agency wants to explain exactly what QA means, so that after reading this blog, you will no longer wonder why you need Website Quality Assurance. We will try to be as short as possible and present all the information about why QA testing is so essential in the web development process.
As a client or a business owner, you want to be reassured that your project was developed in the best possible way. That's why you should consider hiring a QA expert. The job of quality assurance engineers is highly important, as it allows you to be sure that your website is developed and functions in the way you intended it to. Want to know more about the working process of QA Engineers? This article is a good place to start.
What Is Quality Assurance?
Website Quality Assurance is the process of testing your website to identify mistakes, bugs, and errors that have not been noticed by a developer, designer, or other team members.
Website Quality Assurance includes:
Design testing: checking if the design of the site is what the client wanted it to be.
Functionality testing: checking if all the functionality on the site is working correctly.
Requirement testing: checking whether the site meets the requirements that were agreed to at the beginning.
Compatibility testing: use responsive testing tools to check if your website is compatible across various browsers and different desktop and mobile devices.
Security testing: checking whether the site has vulnerabilities or other problems with security.
Ideally, it would be best if you did QA before you were ready to launch the website. However, if you didn't do it, you can do QA testing after launch. We hope that you will carry out Quality Assurance website testing after reading the blog.
Who is a QA engineer?
A QA Engineer is a professional who will check the quality of your web product from the beginning of website development to its launch.
A QA verifies if your project meets the business requirements.

A QA specialist looks for all the hidden bugs and mistakes in order to prevent them.

A QA engineer works to prevent errors even before they occur.

A QA provides extensive information about the status of your product at all stages.

A QA tests the product for usability and compliance with the set standards.
Figuratively speaking, the work of a QA Engineer is somewhat similar to the work of an overseer.
Why do you need Website Quality Assurance?
Miser pays twice. It is impossible to create a website that will work flawlessly without a single error — even if you choose the best web development agency, there will be some inaccuracy.
So, the job of a QA engineer is to notice these errors and fix them before the project is transferred to you. First of all, you need website QA to get the perfect result and product. QA ensures that the product is exactly the way you want it.
Workflow of QA Engineers
Quality assurance is a highly important step for developing apps and websites. That's why all experienced companies should give their projects to quality assurance engineers.
There are several ways to keep the end-product's quality level high:
Scope of work estimation;
Evaluation of business requirements and specifications sanity check;
Development of test documentation;
Functional testing according to designed test-cases or user-stories;
Conduction of other testing activities (functional testing, a/b testing, performance testing, etc.);
Test-reports development, test-results handover and overall project feedback (which may include improvement advice, feature request etc.).
The Benefits of Quality Assurance for Businesses
Website Quality Assurance exists to provide your website visitors with the best UI and user-friendly functionality. This way, the site owners ensure that their site truly works perfectly. The meaning is to identify and nip website problems in the bud.
Further, we will list why you should conduct quality assurance for the website and pay a QA engineer.
Confirms your brand reputation
A brand must not only provide services, but also constantly care for and maintain a reputation. Website QA keeps your site in good shape at all times, which means you create the best website UAT. Your business will become an example of excellent work.
Detects serious problems at the beginning
Often serious problems on the site are discovered through the QA website testing process, and can be immediately corrected. Such a fast response saves your site from breaking, your users from frustration, and you from severe costs.
Helps to create a reliable site
Regardless of whether we are talking about Quality Assurance at the stage of website development or after launch, it is a guarantee that there will be no mistakes. With QA, you can be sure that you will end up with a perfectly functioning website.
Saves your money
QA testing saves you unnecessary expenses. It is cheaper to conduct quality assurance for a website and fix a mistake right away than to find it after it has already brought you losses — when you still have to spend money on fixing it.
Enhances User Experience
Remember that many companies provide similar services or sell similar products. To get around them, you need to deliver better UX. Still wonder why UX matters? Then check our previous blog to dispel your doubts. Quality assurance in web development is precisely about creating and optimizing your website's UX and UI.
What does a QA Engineer Do?
Quality assurance is a significant part of website development. Website development and QA testing should take place together. This is the only way to get the result without delays and inaccuracies. For everything to go right, you need to trust your projects to quality assurance engineers. We offer you an inside look at the whole QA testing life cycle.
Step 1 — Analyze the scope of work
At the outset, QA engineers are reviewing the business functional and non-functional requirements for a specific product. Only after the product overview, the QA should be able to specify the work scope needed for execution.
Step 2 — Develop test documentation
Next, the QA team creates a test plan document that clearly outlines what needs to be done, what resources are necessary for this, testing environments and objectives, and the testing schedule.
Step 3 — Create a test checklist
After the scope of work is established and approved, the QA team draws up a test checklist. In it, they describe the inputs, conditions, and future results. It's like an action plan for quality assurance for a website.
Step 4 — Functional testing according to designed test-cases or user stories
Then the testing process itself takes place. Testers perform testing manually and with the special tool. QA engineers describe the find errors to checklists so that developers can fix them right away.
Step 5 — Retesting after fixing bugs
After developers fix bugs, QA tests again to make sure everything is fixed and works seamlessly. At this stage, regression testing is still being carried out. This checks to make sure that new bugs did not appear after fixing the old ones.
Step 6 — Test-reports development
At the end of the entire QA process, the team provides you with a complete, detailed test report on what was done and how. This report will come in handy because everything that was done with your site is covered in it.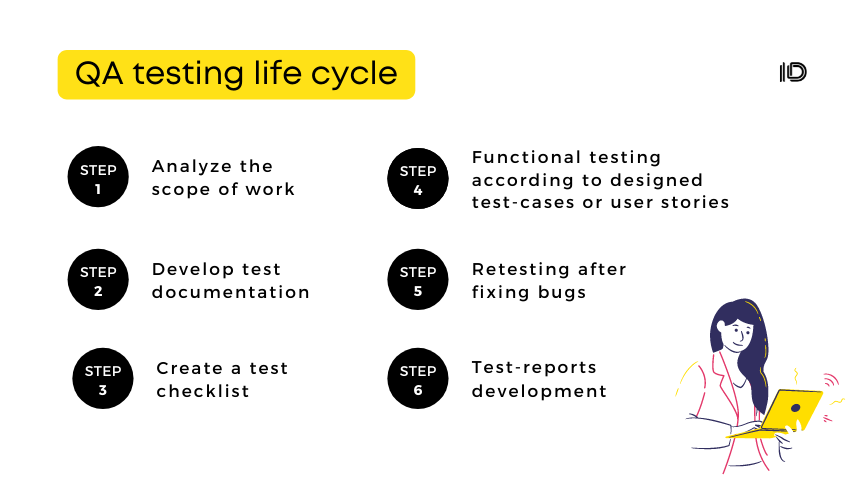 How often Website Quality Assurance should be done?
The QA process depends on the size of your site and its complexity. One-size-fits-all recommendation for all site owners: Perform Website Quality Assurance REGULARLY.
This will help continuously test the future site during the development phase and notice even the most minor errors.

Website testing will keep the site fully functioning post-launch without any errors.
Website Quality Assurance as Prevention Against Disease. This allows you to identify errors at the initial stages and quickly fix them without harmful consequences and losses.
Conduct website testing if you like, boost your productivity website and find and fix any problematic bugs.
Save yourself from stress, time, and financial expenditures - use assurance testing services.