If your company has decided to outsource some of its functions, you need to choose the best Drupal web maintenance company. You may have noticed that there are many IT support companies out there, but finding the right one for your business can be complicated.
Where to start the search? Why do you need a web maintenance company? What characteristics are important? And finally, how much does such a web maintenance service cost?
Today our web maintenance company will give you answers and useful tips on how to choose the best Drupal web maintenance company.
What is a "website maintenance company" and why do you
it now?
The services of Drupal web support companies are the same things you need for your PC. If you regularly check its condition, clean it from external and internal contamination, and generally maintain it properly, it will most likely not let you down and will last a long time.
Similarly, maintenance companies provide your website or other product with durability and keep it in top condition, which will save you money and strengthen your reputation on the market.
The Drupal web maintenance company can provide you with:
data error correction
fixing user access issues
updating new website features
security updating
backups
website failure prevention
fixing the website after hacker attacks — and more
With the help of a maintenance company, you are guaranteed to be sure that your service works perfectly, and you are a competitive business.
Why do you need a Drupal web maintenance company?
Delegation of responsibilities to the support company
As long as the Drupal web maintenance company works with your website, you are involved in brand development. This allows you to focus on how to attract customers to the brand, while your support company ensures the security and duration of your service.
The Drupal web maintenance company provides regular updates and backups
One of the most important points of business development is the constant updating of the website, avoidance of obsolescence, and negligence. This guarantees a high level of customer satisfaction and optimizes the user experience. Your website's support company ensures that important data is saved through backups and recovered quickly.
The support company protects against hacker attacks
It is equally important to be at the forefront of all kinds of attacks on your website, whether significant or minor. In today's world, this problem should not be ignored. A good Drupal web maintenance company will secure you against the loss of viable data such as the customer base, for example. In the other case, the same company will quickly help to recover everything lost.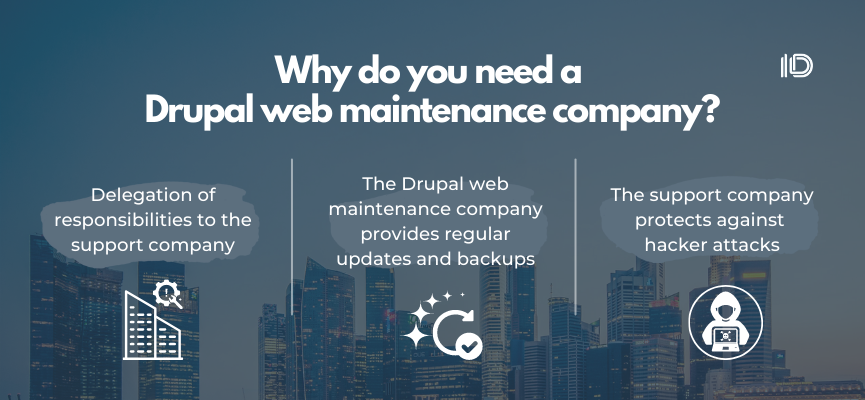 Top tips for your business while choosing the best Drupal web maintenance company
1. Learn more about the Drupal web maintenance company you are going to work with
Ask about the history of development and the size of the support company you will contract with to assess the level of professionalism and responsibility. Be sure to ask about future development plans, how the maintenance company sees itself growing in the future, and compare it with your expectations.
2. You need to know what services your maintenance company specializes in
Obviously, all companies are different, so you need to make sure that that one you choose can help you. Be very careful and ask them to show you the package of services that they can offer you.
3. Find out about company's prior experience
The more experienced the maintenance company, the better.
You should ask for their references to cases they have already done or call them as a client to see how they work. Don't neglect to read reviews of your Drupal web support company's previous experience.
4. Get a breakdown of maintenance company rates
Carefully consider the issue of cost. Investigate how much support specialists charge to see if you can afford what the company has to offer.
5. Find out if the maintenance company offers remote work
A Drupal web maintenance company is often not able to come to the office for every problem, nor is it profitable for your business. Make sure they can support you remotely. Don't forget about the times we live in. It's important to have support from a distance.
6. Assess the level of your need for a Drupal web maintenance company
Take a thorough approach to this issue, because the support packages of the maintenance company can contain different things, and you only want to pay for what you need. It is important to evaluate from the very beginning what your business needs. The right maintenance company will help you choose the best software, hosting, and more.
How much does it cost to maintain your website?
Once you know all the necessary information about the maintenance company that you need, you will want to know the price of their services.
You should understand that all of the above factors will affect how much you will pay for the package of services that will be provided to you during your cooperation with the support company.
Do not be afraid to specify and agree with the company on a price that suits them and will be convenient for you.
The price obviously will depend on the amount of work that the support staff will need to do and the type of your website as well.
You should understand that a good IT support company will cost you, so always stay realistic. The cheapest price will be the most attractive, but will it affect the quality of work you get?
Let the Internetdevels web maintenance company help you!
If you are actively looking for the best Drupal web maintenance company, then be sure to pay attention to our tips.
Without active support for your Drupal site, it can break and cause serious problems. Maintain Your Drupal Website at Internetdevels web development company.
If you are interested in something extra, feel free to contact us! We guarantee you thorough answers and advice.