Those who already know how to build an MVP (Minimum Viable Product) use it to their advantage and earn good money. Do you have a great idea for starting a business but do not have enough money and do not know if it is worth starting? Start by creating the Minimum Viable Product.
The MVP will allow you to create a website very quickly, relatively cheaply, with the necessary, if minimal, set of functions to start earning money immediately.
This blog will shed some light on MVP development, benefits, and reasons for creating an MVP. Heed the advice of Drupal web developers from Internetdevels to implement your idea at a reasonable price and test whether customers need your product.
What is a minimum viable product?
Minimum Viable Product is almost the same as developing a new website. The only difference is that an MVP costs about half as much and has a minimal set of features and design.
A complete website is like a ready-made, decorated cake. It takes time and a lot of ingredients to create and decorate it.
MVP is like a cupcake. It is no worse than a cake, but it is much smaller. However, it is also delicious, people love to eat it, and it costs less.
You can develop your Minimum Viable Product to a full-fledged website at any time.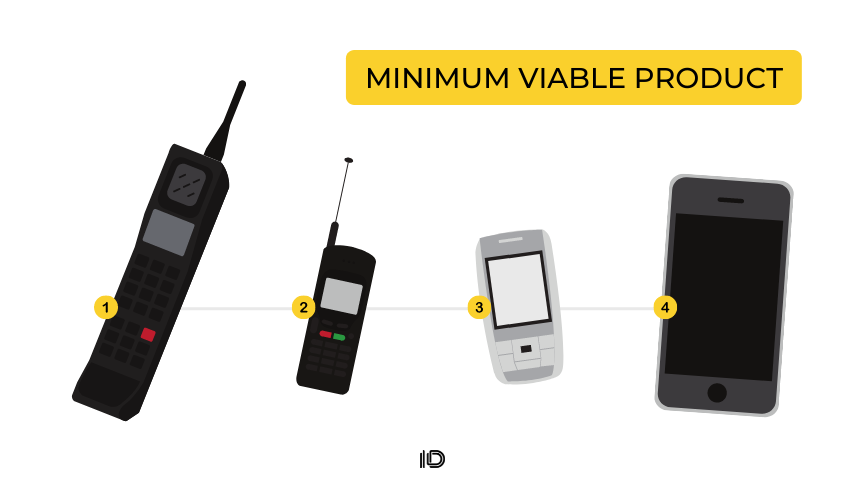 What makes a good MVP?
Before going into details on how to build an MVP (Minimum Viable Product), we would also like to point out what makes a good MVP.
A good MVP works for you and meets the needs of your customers. It also shows what features need to be added and what should be removed. The most important thing is that all this data is obtained from real users. This information is valuable, as it helps you create the most convenient and transparent site without unnecessary elements and pages.
MVP advantages for business
We offer you some clear and important reasons why you should build an MVP:
1. You can start MVP development with a small budget
MVP is what startups like the most. Later, if this brings you the desired results, you can spend the saved funds on the development of a full-fledged website. And if you get bad results, then you will not have lost much money. It doesn't cost much to get started.
2. MVP simplifies the entire development process
Starting a website development with MVP is a good idea because it is easier than creating an entire website. You and the development team can focus on the core function. You develop it and then add what is still missing. Developing an MVP is like a string you string beads on. Everything is simple and straightforward.
3. You can check the competitiveness of your product
It's hard to know for sure whether you'll have a customer base before you start a new business. Therefore, creating an MVP will help, without spending all your money, to check whether users need your product and whether it is competitive in the market.
4. Faster launch to get your idea to people
An MVP takes much less time to start up. Saving time is very important. What if someone also comes up with a similar business idea? You will already have your MVP up and running.
5. It helps attract investors to your idea
Launching a Minimum Viable Product redefines and proves or simplifies the viability of your business idea. If it turns out to be successful, then investors will support it. The MVP confirms the reliability of the project and that it is possible and necessary to invest money in it.
How do you create a minimum viable product?
Finally, we come to the main part — how to build an MVP. For the whole process to be successful, you should have three components:
great idea
reliable web development agency
power and flexible CMS
How to build a Minimum Viable Product?
On the Internet, some people say that the MVP is dead. The fact is that the very principle of how to build a Minimum Viable Product has changed, and the following steps will help you understand the MVP development process.
Step 1 - Analyze the market
More than half of startups fail due to insufficient preliminary analysis of the market and competitors or its absence.
Don't rush to implement your project blindly. First of all, formulate the problems it can solve. What does your target audience expect? How does it differ from similar ones? Analyze data to avoid collapse.
Our Process
Since we have been working in the market for more than 12 years, we already know everything about this. First of all, we advise and help clients to do a complete analysis of competitors and their products. This helps predict the success or failure of your idea. Then we make adjustments, advise, and move on to the next step.
Step 2 - Highlight main MVP features
Further, all attention should be focused on defining and selecting the main functions you want to add to the MVP. In order not to miscalculate, think like a client. What do you need to make it convenient for you to use your site? What can it do without?
Our Process
At this stage, we help you create a list of the features you need for the upcoming MVP and prioritize them. First we make a list of all the functions that are required for the functioning of your product. After that, we highlight a few of the main ones that will help your clients achieve their ultimate goals.
Step 3 - Design, develop and launch a MVP
After identifying the main useful functions, you need to think about the design. It should be simple, convenient, and thoughtful. Next, the actual MVP development process begins. If a web MVP company is qualified, it will do everything right.
Our Process
After agreeing on all the above issues, we proceed to the development of the design and the Minimum Viable Product itself. Remember, with a good web development company, you don't have to ask how to build an MVP. They will figure out what you want and do it the way you want.
Step 4 - Analyze the Feedback
After your MVP is released and real users protest it, you can improve it. You will still need to tweak things in the finished and launched MVP. User feedback will shed light on all the advantages and disadvantages of the new product.
Our Process
Our MVP development service measures the pleasure of your project so you can see the real benefits of your product and its disadvantages. This step will show you how well you thought of everything in the first steps. If everything goes well, then the additions to the complete MVP would be minimal.
How long does it take to build an MVP?
We can say for sure that it is twice as fast to create an MVP compared to a website.
There are as many ideas of how long it takes to create an MVP.
The timeframe for MVP development depends on your requirements, the complexity of the project, and the professionalism of the team. On average, it takes 6 months, but the time varies.
How much does it cost to build an MVP?
You can find various costs for creating Minimum Viable Products on the Internet. However, we want to say right away that you shouldn't be fooled by them. They are always either overestimated or underestimated. No one can tell the exact amount without knowing your idea and desires.
The cost of implementing an MVP at least depends on:
web development team qualifications
technology they use
hourly rates of specialists
features and functionality you want to add
type of contract
Considering the average indicators for each of these factors, you can estimate that you will need to spend approximately $20,000 - $50,000. Do not take this amount at face value, and these are rough estimates. Do you want to know the exact amount of the implementation of your idea? - Contact our website development company.