To honor the Drupal 8.5.0 release on March 7, we will not just describe what's new in it. Drupal 8 has already had 5 awesome minor releases: Drupal 8.1.0, Drupal 8.2.0, Drupal 8.3.0, Drupal 8.4.0, and now Drupal 8.5.0. Each of these versions gives us great novelties that make Drupal 8 easier to use for editors, faster, more innovative, and more.
So let's now flash back and look at 5 great features in each of the 5 great releases. Drupal 8.5.0 will receive the most of our attention. And, for dessert, we will sum it up with a colorful infographic.
Drupal 8.5.0 release: how we have arrived to it
The road to Drupal 8.5.0: step 1 — Drupal 8.1.0
Drupal 8.1 gives us a new, awesome experimental module for performance optimization. The BigPipe module lets site users immediately see the static page elements and receive the dynamic ones next.
We get a "family" of experimental modules for smoother upgrades and migration from Drupal 6 or 7 to Drupal 8. They are the Migrate, Migrate Drupal, and Migrate Drupal UI modules.
As of Drupal 8.1, CKEditor begins to support native browser spell-checking. It also gets a language button in its toolbar for adding language attributes to parts of multilingual text.
Drupal help tutorials, aka "tours," throughout a website's administrative interface, becomes easier to find and use. Everyone can better understand how Drupal works.
Composer, the greatest assistant of all times to PHP-based CMSs, can be used for managing all third-party packages needed by websites as of Drupal 8.1.0 .
The road to Drupal 8.5.0: step 2 — Drupal 8.2.0
It is now easy to place and configure blocks with the experimental Place Block module. It offers a "Place block" link in the admin toolbar, which opens the theme regions with quick block adding and editing options.
Another experimental module for configuring blocks emerges in Drupal 8.2. The blue "Edit" button initiates the block editing mode with a handy block configuration tray popping up in the sidebar.
The Content Moderation module
This experimental module lets site administrators define content moderation states. They also can decide which user roles are allowed to change these states.
The Datetime Range module
Drupal 8.2 gets a new experimental Datetime Range module. It offers a new field type for defining not just simple dates but date ranges (the beginning and end dates).
Content revisions enabled
For new content types, content revisions will be enabled by default. This makes it easy to roll back to the needed content versions and never lose any important content.
The road to Drupal 8.5.0: step 3 — Drupal 8.3.0
We get a fresh version of CKEditor with an updated UI, a new feature for pasting from Word, drag-and-drop options, the AutoGrow plugin for working with large screen sizes, and more.
This new experimental module gives us a handy UI for creating workflows with certain states. It can pair well with the Content Moderation module, but can also be used for non-content workflows.
Field Layout and Layout Discovery
We enjoy a new pair of experimental modules for layouts, the Field Layout and the Layout Discovery. They make it handy to arrange fields and allow modules or themes to register their layouts.
BigPipe stable & improved
One of Drupal 8's hottest novelties, the BigPipe module, reaches stability in Drupal 8.3.0. It has also received some improvements, for example, better usability on mobile devices.
More support for web services
Drupal cooperates with external applications better and better! The REST API allows for user registration, 403 responses coming with explanations, anonymous REST API performance rises, and more.
The road to Drupal 8.5.0: step 4 — Drupal 8.4.0
Multiple modules reach stability
In Drupal 8.4.0, a bunch of modules become stable (Layout Discovery, Workflows, Datetime Range, Inline Form Errors, and Media). Next come more details about the latter two.
Here is a remarkable novelty for media handling (e.g. creating media types, saving media to your library, and reusing them). In Drupal 8.4.0, the Media API is ready, but the module is currently hidden from the dashboard.
The Inline Form Errors module
A great usability and accessibility improvement arrives with Drupal 8.4.0 with the Inline Form Errors module. It lists form validation errors both next to the form and in the summary above.
Even more support for web services
In Drupal 8.4.0, web services receive still more attention, which results in a 15% performance boost for authenticated REST requests, REST features enhancement, and more.
New Symfony, jQuery, Drush, and more
In Drupal 8.4.0, we see updates of Symfony to 3.2, jQuery to 3, and jQuery UI to 1.12. Drush 8.1.12 becomes required. The support for Internet Explorer 9 and 10 discontinues.
Drupal 8.5.0 and its new great features
The Layout Builder module
Drupal 8.5.0's long-expected sensation is the experimental Layout Builder module. Editors can now easily create layouts by selecting from the predefined ones, adding sections and blocks, and arranging them in various ways.
After enabling the module, you see that the "Manage display" tab in a particular content type's configuration page no longer shows the list of fields. Instead, it has a "Manage layout" button. The button leads you to the incredibly handy layout management page for this content type items. Before you press it, you can also allow each content item to have a special layout by checking the appropriate option in "Layout options".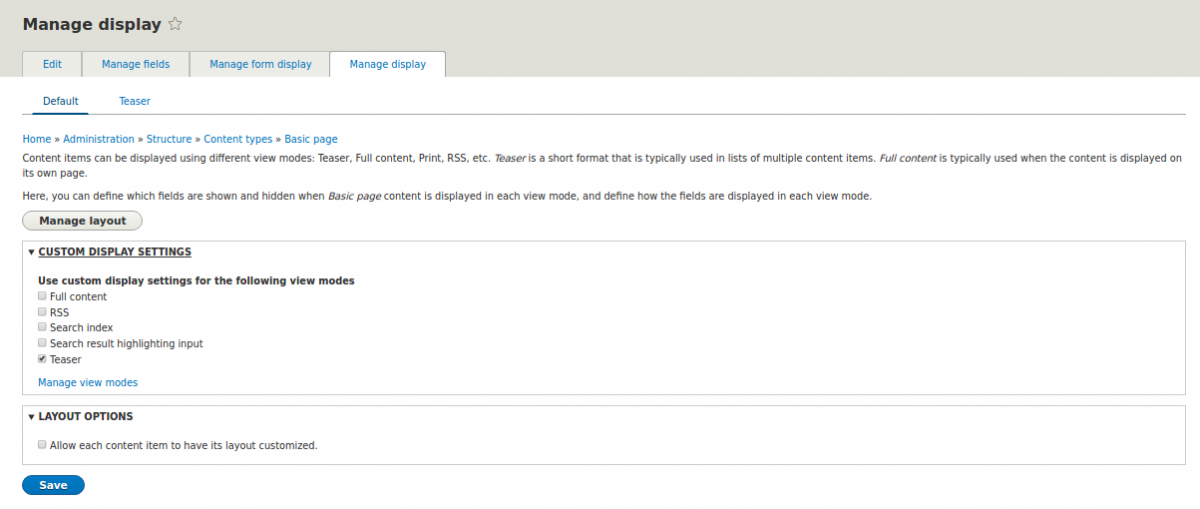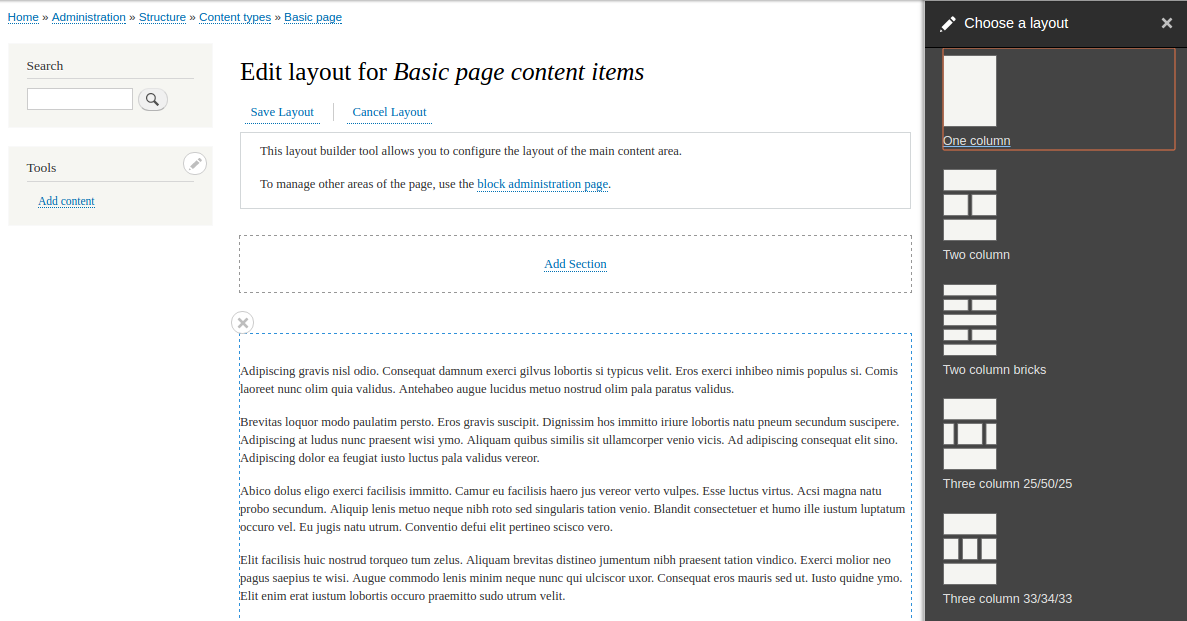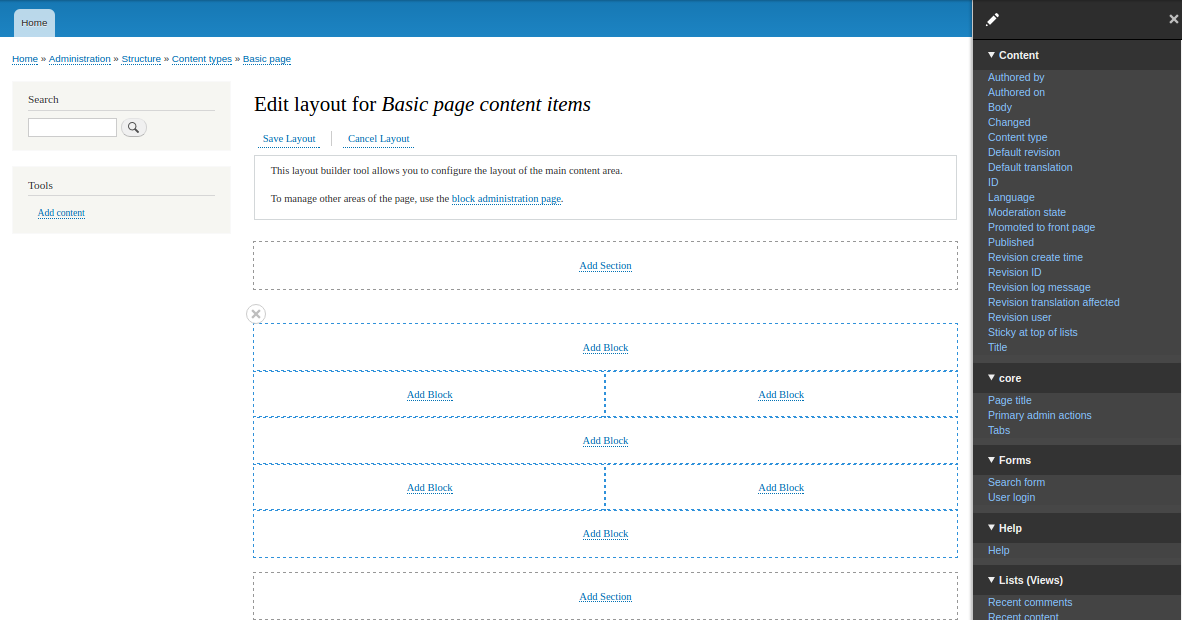 The Media module stable and improved
Compared to Drupal 8.4, where the Media module is hidden by default and needs contributed modules, Drupal 8.5 makes it stable and available on the dashboard, as well as improves its user experience.
In Structure — Media Types, you can see four default types (Audio, File, Image, and Video) and can add your own. In the list of fields, there is now a Media field available, for which you can define media types. Editors are able to create their media or reuse existing ones by starting to type their name.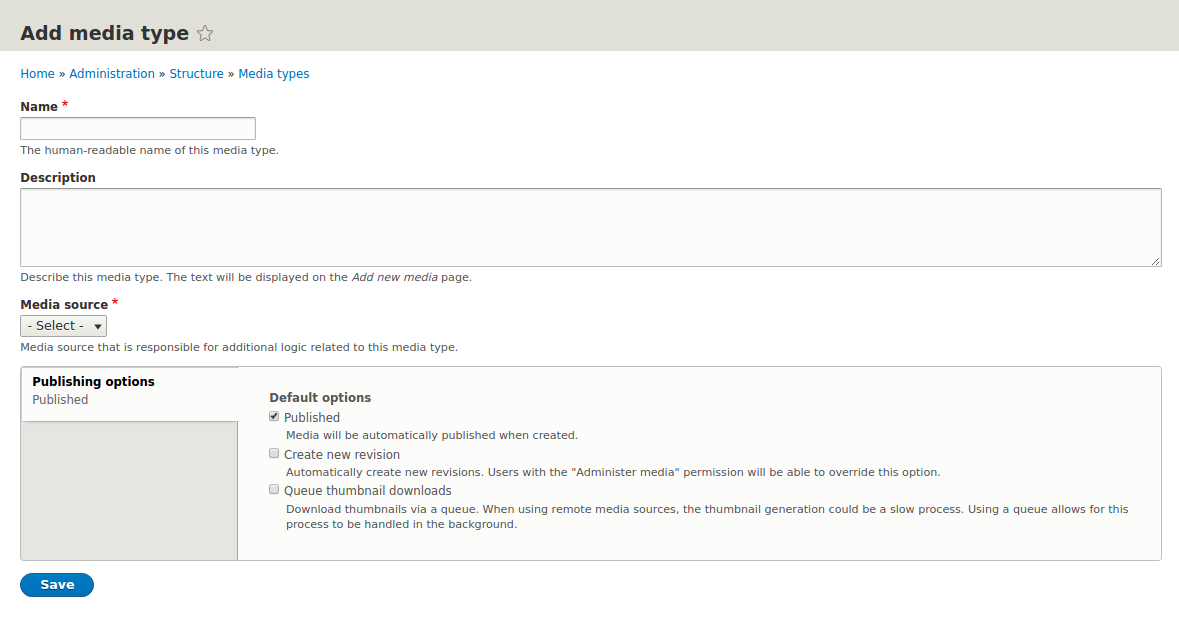 The Settings Tray module stable
Here is another famous module that has moved from experimental to stable in Drupal 8.5.0. Its magic blue "Editing" button and handy tray for block editing is ready to work reliably on production websites.
After enabling the module, just click on the "Edit" button in the left upper corner of your site, with no need to go to the admin dashboard. You will see the block configuration page. To call the helpful tray in the sidebar, click "Quick edit" next to any block of your interest.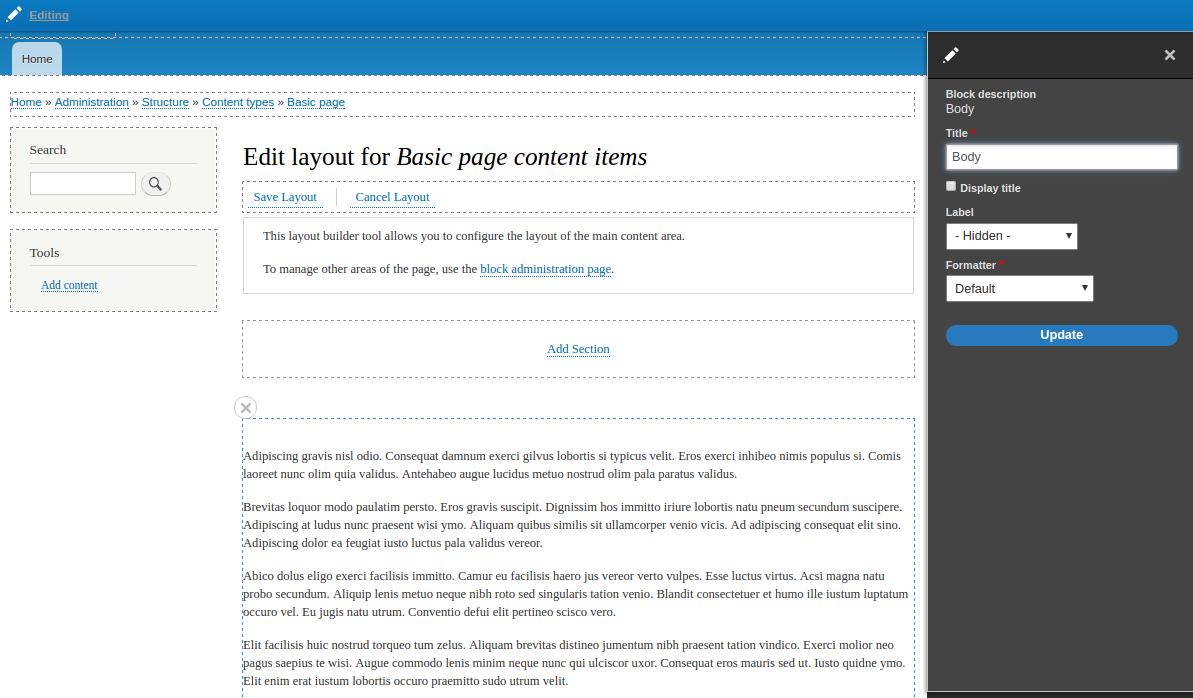 The Content Moderation module stable
One more popular module is ready for production sites. It works together with the Workflows module and lets you choose Content Moderation workflow type, which is ideal for editorial processes.
You can use the default "Editorial" workflow or create your own. In the workflow, create states (like Draft, Published, Archived etc.) and transitions (like from Draft to Published etc.). It is also possible to define which items this workflow applies to (which content types, media types, and custom block types).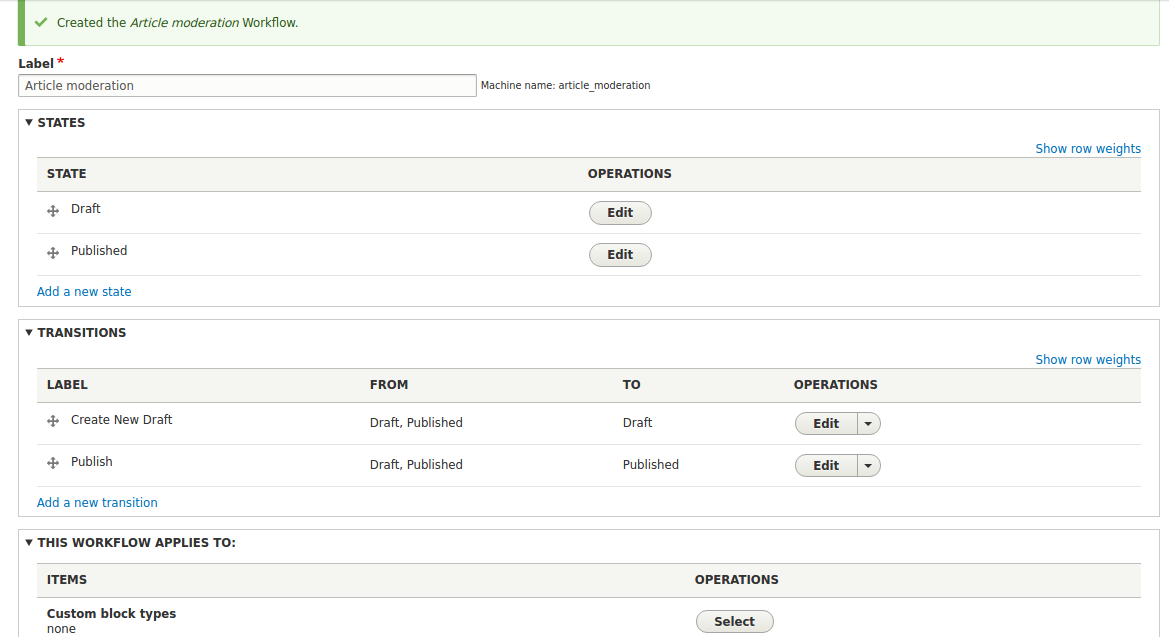 Great news for all who want to safely migrate their content from Drupal 6 or Drupal 7 to Drupal 8! The Migrate API is stable and works in a tandem with its experimental "collegues": Migrate Drupal and Migrate Drupal UI.
We almost have the whole "company" stable in Drupal core. This is very important, because more and more websites want to move to Drupal 8.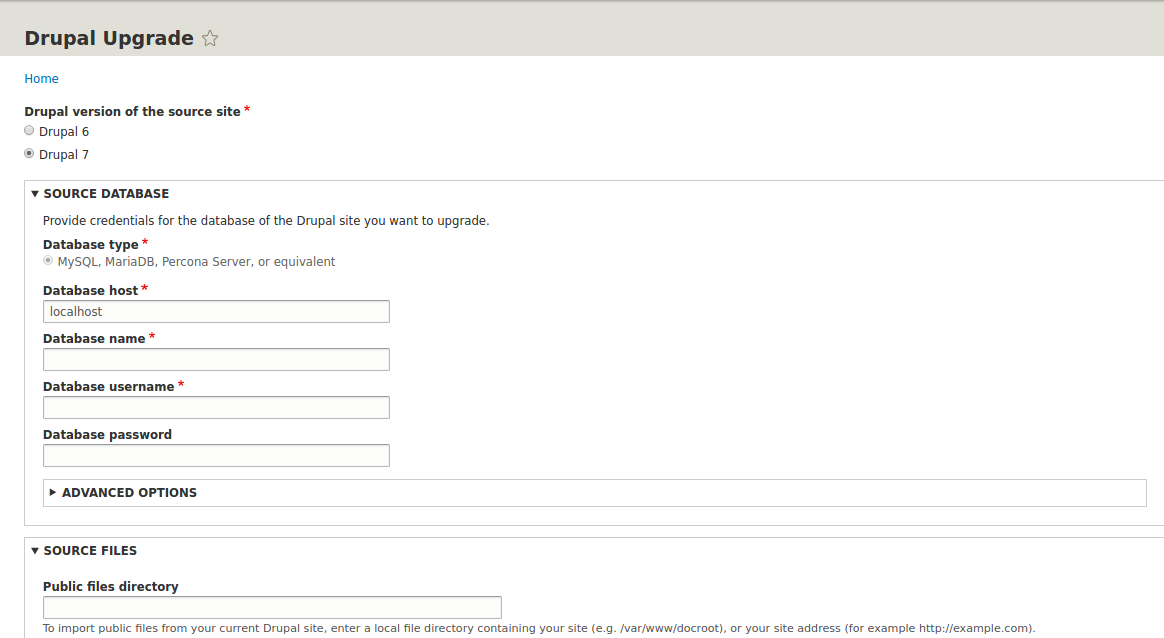 And more!
In addition, Drupal 8.5.0 has the BigPipe module enabled from the start, thus offering an out-of-box feature that allows you to deliver content to website users much faster. BigPipe is an example of a module that has travelled its path from experimental in Drupal 8.1.0 to a member of the "main squad" in Drupal 8.5.0 core!
Drupal 8.5.0 also brings in API-first improvements, which make Drupal third-party integration capabilities even stronger. They include better serialization for getting Drupal data via REST API, enhanced documentation, translation support, handier file uploads via REST API, JSON API, and GraphQL, more flexible permissions, better test coverage, optimized performance, and more.
Drupal 8.5.0 is awesome, and it's been great to look back at how "the great eight" evolved from 8.1.0. And sky's the limit for further Drupal 8's innovations!
If you wish to get an awesome Drupal 8 website, upgrade your existing site to Drupal 8 or update it to Drupal 8.5.0, feel free to contact our website development services company.
And now please enjoy the infographic!