Making your website awesome to look at and easy to use.
That's what Drupal theming exists for.
Hello there! Success is about... giving the right responses to good opportunities ;) If your potential customer told you "I would like to take a better look at your products", what would you respond? If a client said, "Can I please make an order on your website?", what would your response be? Yes, sure! You would welcome this precious client and willingly show him everything you have to offer!
And now imagine this client approaching your website from a mobile phone (be sure, the share of such users will soon overtake that of desktop ones!). Is your website's content displayed properly on any mobile screen? The time for thinking is not more than a few seconds. That's how long it takes a user to decide that a website is inconvenient...and to leave.
Improve it! Be responsive! Make sure your Drupal website looks great on any device with the help of responsive themes that provide "magic" adaptation to the screen size and resolution for easy reading and navigation. You can read more about how responsive web design works. And now let's check out a nice collection of free responsive Drupal themes loved by many web designers. You can use these themes on your website to make all this stuff work great for you.
Best Free Responsive Drupal Themes
1. Multipurpose Corporate Theme
This is a fully responsive free Drupal theme, so it looks perfect on any mobile, tablet or desktop device. It's an awesome solution for professional business and corporate sites, as well as various portfolios, events, promotions and the like. Multipurpose Corporate Theme includes a number of blocks, a good portfolio page, a blog page and a typography page.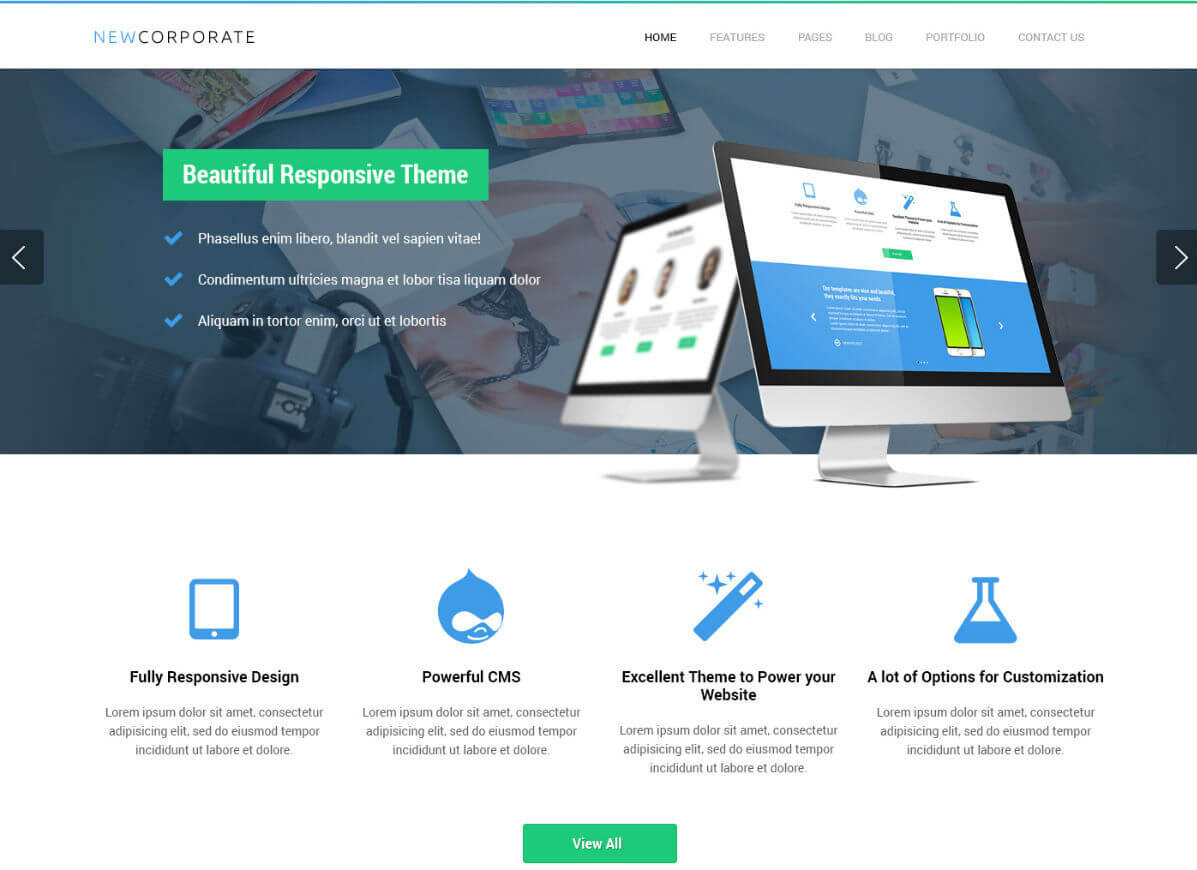 2. Lexus Zymphonies Theme
Give a try to this modern, clean and professionally made free responsive Drupal theme that will suit any kind of website: corporate, business, marketing sites, design studios and more. Lexus Zymphonies Theme has such cool features as One, two and three column layouts, Font Awesome icons, Ajax contact form, Nivo slider with custom styles, social media links (Facebook, Twitter, Google Plus, LinkedIn, Pinterest and YouTube), contact page with Google location map and lots of others.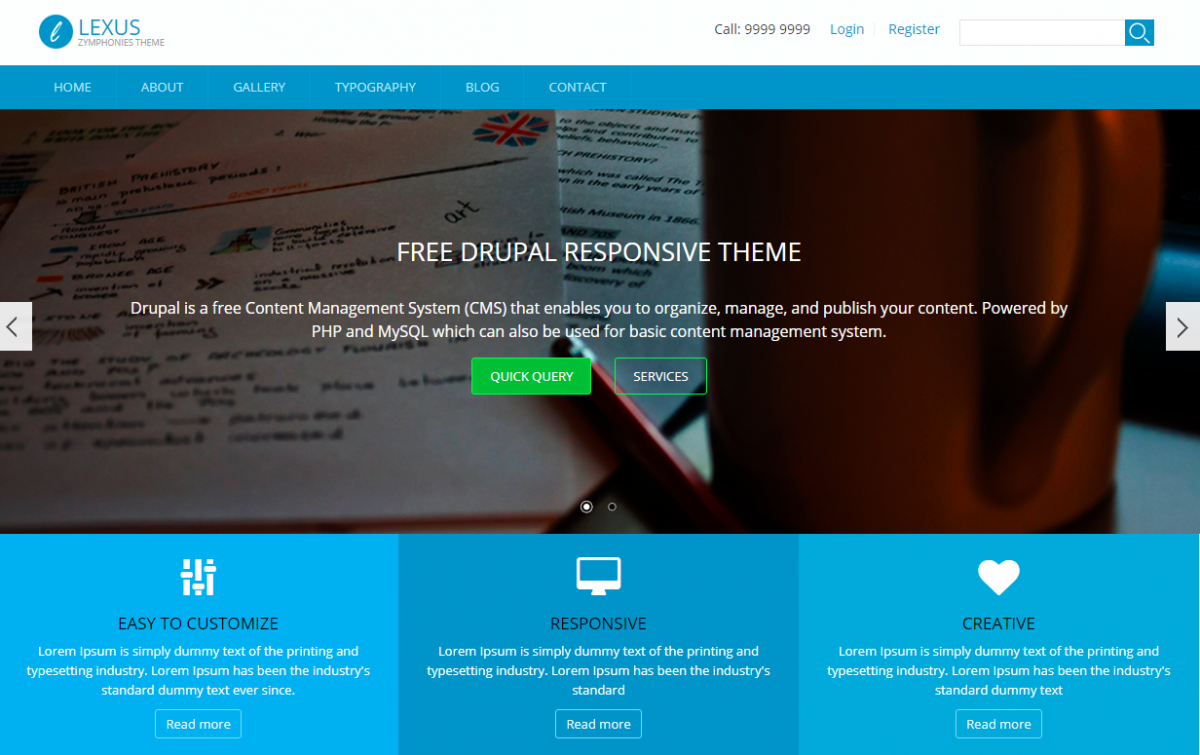 3. MBase
Here is a modern and cool open-source free responsive theme for Drupal 8, a kind of theme constructor with great opportunities. It enables themers to create child themes in minutes with the help of a special tool, with all the colours and icons they want, as well as quick and complex animation that requires no coding. This Bootstrap-based theme has lots of other useful features.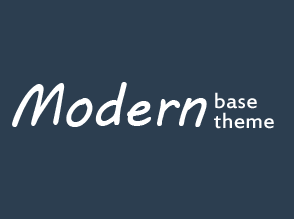 4. MultiPurpose Zymphonies Theme
Check out this multi-purpose, fully responsive free Drupal theme. It is a modern, professionally created and easily customizable one. A great choice for all kinds of corporate, business, marketing websites, design studios etc. It offers one, two, three column layouts, useful social media links, free Google Fonts, Font Awesome Icons, awesome sticky mobile menu and much more.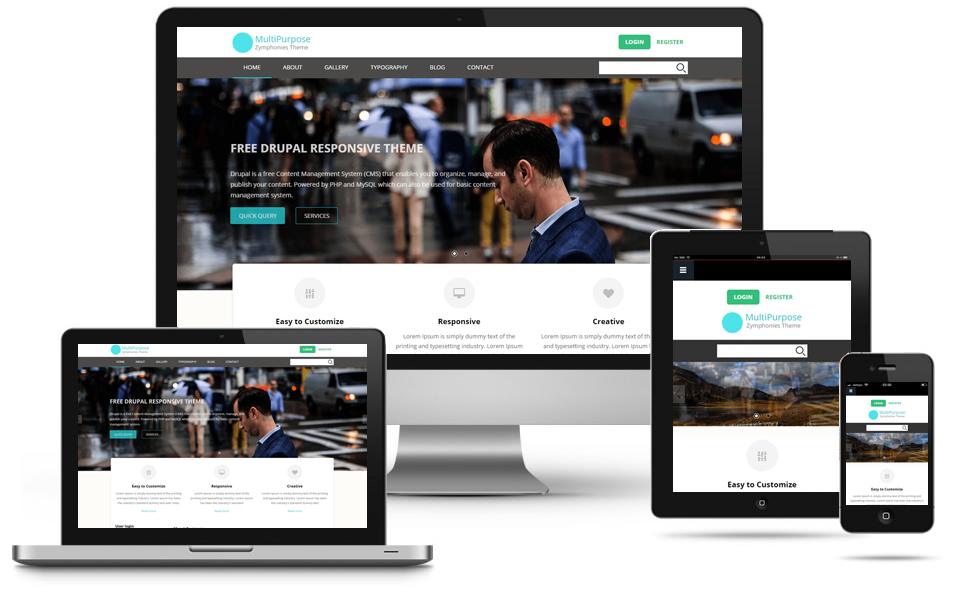 5. Mobile Responsive Theme
Its name explains everything and is as clear, simple and beautiful as the theme itself. Mobile, tablet, desktop - it's great for everything. It can do a world of good for personal websites, blogs, corporate blogs and other sites. The features of Mobile Responsive Theme include social media URLs, multi-level dropdowns, Nivo slider banner, minimal design and more.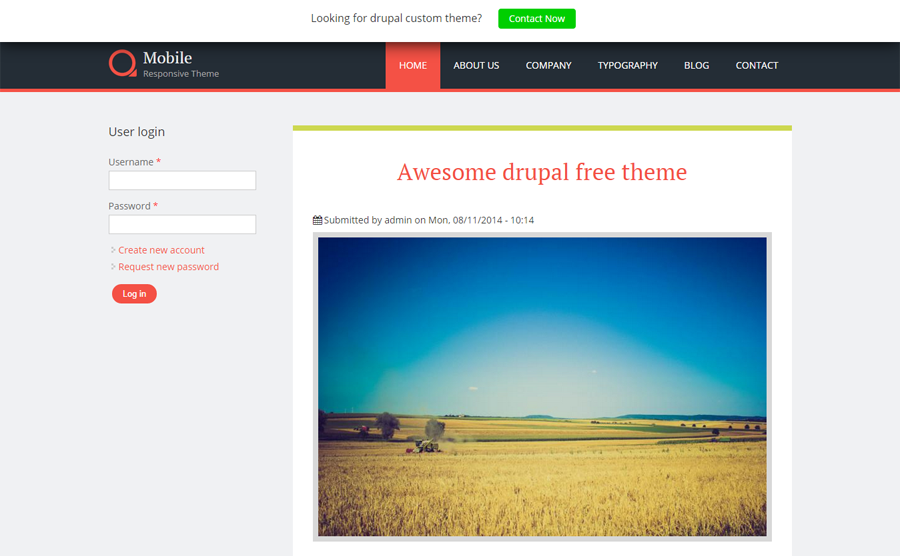 Good luck with trying these or other free Drupal themes! However, if they don't fully reflect your wishes and requirements, contact us and our gurus of Drupal web design will develop perfect custom responsive themes that will have anything you can dream of. Respond to your future success! ;)