Drupal web development has many benefits. Discover why Drupal is cool for university websites, and see a nice website example by InternetDevels.
It's never too late to learn … that Drupal is a great platform for higher education websites! The statistics are incredible: 71 out of the top 100 universities use Drupal for their sites, among them Harvard University, Stanford Law School, University of Oxford, Duke University, Yale, other Ivy League schools and many more. In addition, 28% of all .edu domain sites are powered with Drupal.
Constant development, a skill-sharing nature, an innovative spirit — Drupal has all these things in common with awesome education institutions that choose it for their websites. But it is not just a similarity of spirit alone that make these universities prefer Drupal! There are many practical reasons as well.
Their websites are far from being simple one-page business-card sites — they are huge and complicated, with lots of users and constantly updated pages full of rich content. Obviously, Drupal offers the necessary features and tools to satisfy all their needs.
Drupal's benefits for university websites
User roles and access
Professors, administration staff, students, simple visitors — all these and more need different permissions for creating and editing the website content according to their roles at the university. This is easy to provide with Drupal. Different access rights can be granted to groups of users instead of specific users, which is very convenient for webmasters.
Performance
Handling a university website with millions of pages without any impact on the performance is a challenging task. But Drupal is powerful enough to take on the challenge. Drupal's built-in caching and scalable databases are just some features responsible for the high performance of complex websites.
Scalability
Higher education websites are always expanding and growing. It's easy due to scalability, one of Drupal's most awesome features. No rebuild or redesign is needed, and there's no limit to the amount of added traffic that Drupal can deal with!
Easy content management
Uploading, downloading, creating, updating, editing and sharing different types of content are everyday processes at university websites. Drupal has a user-friendly interface, so you don't have to be an IT expert to do these things quickly and successfully. With Drupal 8, it has become even easier with the inline editing option. The WYSIWYG editor is now in Drupal's core.
Security
University websites contain a lot of valuable or sensitive information, so security issues are hugely important. Drupal's security team works every day to look for possible security breaches or bugs and provide security updates. Drupal is considered to be one of the safest site-building platforms.
Taxonomy
When there's a lot of content, it should be well categorized. Drupal's taxonomy system efficiently classifies the content into groups. This kind of categorization make any university website more convenient to use and easier to navigate.
A multisite approach
Multisiting is common for universities — they often have different departments and units that require sister domains. Drupal's multisite functionality offers great opportunities in sharing content, granting access, managing the settings between the sites and much more.
Maryland Global University's website: created by InternetDevels
And now, meet a diamond of InternetDevels Drupal development agency collection — Maryland Global University's website. It offers professional courses that can be taken in different ways: on-ground, online, blended, and as self-study. Here's where Drupal came in very handy! The most prominent features we provided with help of Drupal for this project are:
ecommerce functionality for buying the courses online
integration with Moodle — a famous LMS (learning management system) for online education.
Drupal and Moodle come together in a perfect alliance to serve the website's main mission: enabling people to get education in a way that is most convenient for them. And, of course, this powerful site with lots of sister sites enjoys all the above-mentioned benefits of Drupal.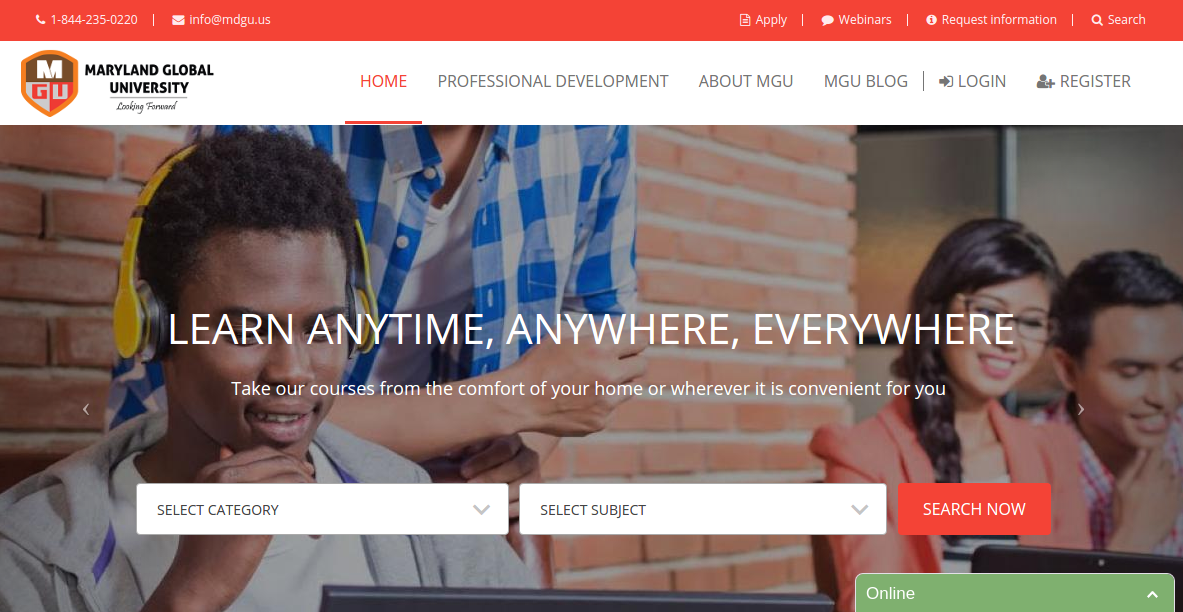 During our visit to DrupalCon 2016 in New Orleans, we presented a special offer for universities at our booth. Interested in something like this? Contact us and know that you will get a lucrative offer. Just give us your ideas about your would-be university website. Let there be education! And let it be brought closer to students with the help of Drupal ;)