It's great to see that the Web is becoming a more accessible place for everyone — regardless of disability. Website accessibility in 2020 is a priority for all respectful business websites. This is a totally different situation from the one 30 years ago when ADA (Americans with Disabilities Act) was just created.
Still, many website owners postpone the task of making their website accessible as they search for the information about it and get overwhelmed by tons of accessibility requirements. Every single website element (button, link, image, video, menu, and so on) needs a whole bunch of improvements according to the WCAG (Web Content Accessibility Guidelines), which cover almost 80 points.
In this post, we are discussing where to begin and how to prioritize the digital accessibility issues so you can have at least the most important ones resolved today. If you are interested in making your website accessible at affordable prices, you can contact our website development and support agency at any time.
Why is web accessibility important?
The question of why web accessibility is important needs less and less explanation today, but we will be glad to answer it again — just in case someone is still in doubt. So what will you gain from resolving the accessibility issues and making the journey through your website friendly to everyone?
You add new users groups to your audience. This includes users with permanent, temporary, or situational disabilities, and people with trivial technical problems like poor Internet connection.
Larger audiences, combined with the smooth user experiences, always boost the conversion potential on websites.
The reputation of your brand as one that follows modern practices and respects all users is priceless.
The more accessible your website is to assistive software, the more it is understandable to search engines. Your position in the rankings is sure to go up.
Cleaning up accessibility issues is like a universal "quality seal" for your site that improves it in all aspects.
Accessibility is never limited to users with disabilities. The Siri assistant, YouTube captions, and other universally-used things were once created from accessibility considerations.
There are already law cases based on the ADA legislation related to accessibility issues, including ones with famous brands. Stay on the right side by resolving the accessibility issues!
How to implement web accessibility: issue prioritization
The strategy of the InternetDevels team is to help our customers save their time and budget. So if they are not ready for a total website accessibility issue cleanup right now, here are a few considerations on where to begin. See ways to prioritize the accessibility problems:
By the most used website features. What things do users most frequently do on your website, and which UI elements do they use? Their accessibility should be optimized first. For example, ALT tags for websites full of photo content, captions for ones with a focus on video content, the proper form labels and error validation for websites that rely on form submitting, and so on.
By the most important website pages. You can also start accessibility issue fixing with the most vital pages. They may include the homepage, the key product/service page, the checkout if it's an e-commerce site, and so on.
By the most repetitive issues. Whatever issues have been found to be repetitive in a website accessibility audit, should have priority during the optimization process.
Most common accessibility issues: what usually needs to be fixed?
In addition to the prioritization tips, we will list a few common accessibility issues for websites and ways to fix them. This should come in handy for basically any website because they are a kind of web accessibility basics.
Color contrast. The text should have a sufficient contrast ratio against the background so users with low vision problems don't have difficulty reading it.
ALT text. Images are meaningless to screen readers without a relevant ALT text describing their content.
Link purpose. Link text should give a clear picture to screen readers of what will be found on the destination page.
Video captions. Videos need to have captions in the form of subtitles that reflect not just phrases but also meaningful sounds like music or laughter.
Media control. Users need a way to quickly pause videos and other animations on your website.
Field labels and instructions. Every field should have a label clearly associated with it and error messages should have helpful instructions.
Clear heading structure. Screen readers need to be able to navigate through your content while understanding its hierarchy, for which the logically structured H1-H6 HTML tags are vital.
Semantic markup. Not just the heading but all other website elements (lists, tables, emphasized text, etc.) should have a proper HTML markup clear to screen readers.
Keyboard navigation. Users who cannot use a mouse will appreciate it if your website supports keyboard navigation in at least the basic actions.
Example: keyboard accessibility in Drupal 8's Media Library: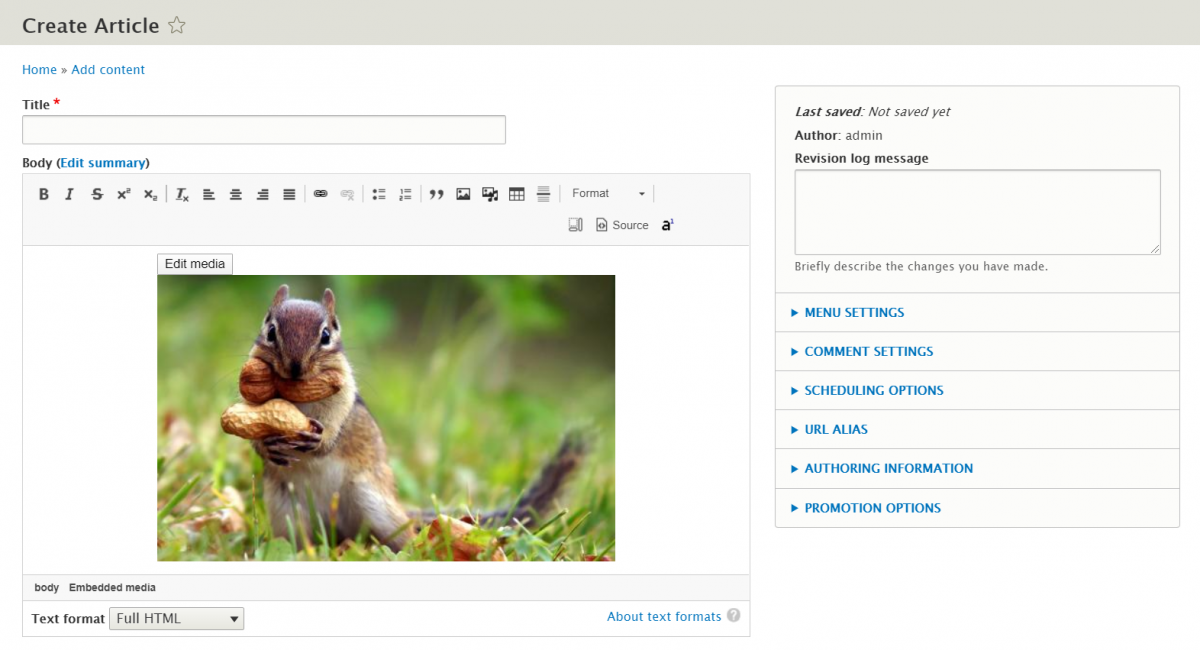 Services to test your website accessibility
We have picked a few user-friendly free online website accessibility checking tools that are very good at discovering common accessibility problems.
Wave
The WAVE (Website Accessibility Evaluation Tool) by WebAIM lists your website's accessibility problems and features along with good visualization as soon as you submit your website's URL.
Accessibility Checker
The Accessibility Checker tool by the CKEditor team will check how your content created in the CKEditor meets the accessibility requirements.
AChecker
The AChecker by the Inclusive Design Research Centre of Toronto University tests your pages against the selected accessibility guidelines from a URL, an HTML file, or HTML code.
Functional Accessibility Evaluator
The Functional Accessibility Evaluator (FAE) tests your web pages for compliance with the WCAG. You can get detailed summary reports and archive them.
A11Y Color Contrast Accessibility Validator
The A11Y Color Contrast Accessibility Validator by A11Y Company tests how good your color contrast is for visually impaired users.
In addition, websites that are built on a CMS such as Drupal or WordPress, have their specific tools make your website accessible or check its accessibility.
Let the accessibility optimization begin!
Accessibility problems cannot wait. We wish we could resolve all accessibility issues on the web!
What about you — are you ready to make your site accessible? Even if it's not full website optimization, having at least the key issues fixed will instantly make a great impact on your business.
Our Drupal development team cares a lot about accessibility. They know how to fix accessibility issues with websites and will help you prioritize your issues. Their experience allows them to work fast. You can be sure we will do everything to save your budget. So drop us a line and have your website accessibility improved!