You've got to start with the customer experience and work backwards to the technology.
Steve Jobs
Do startup websites need UI/UX design? Wouldn't it be a waste of time and money to work on UI/UX design before you know whether your product and services fail or succeed?
These questions always arise in the mind of startup owners who are planning to launch a website for their business. Our web designers have an answer to these questions — if a product or service offers a new solution, it has to attract customers. And what could attract potential clients better than appealing UI/UX design?
Therefore, it makes sense to focus on the development of UI/UX design for a startup website. Top specialists at InternetDevels have prepared a list of benefits UI/UX design brings your startup website. Check it out and start implementing UI/UX on your platform together with our team of dedicated specialists today.
Benefits of UI/UX Design for Startup Website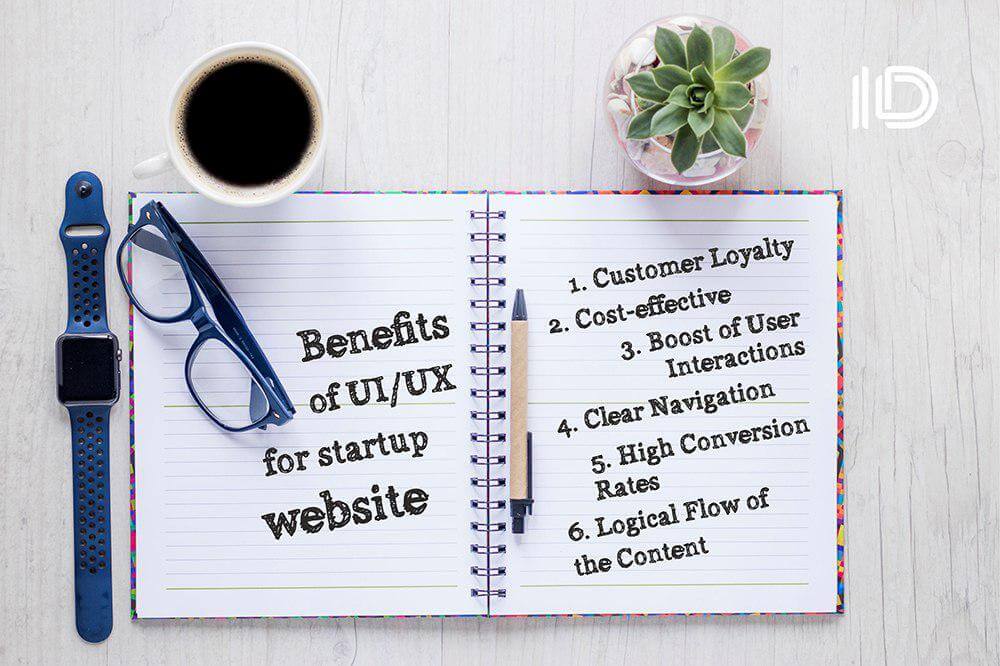 UI/UX Design Ensures Customer Loyalty
It is the user who is in charge of the quality of the brand. As the future of your business lies in the hands of the customer, it is crucial for improving user experience in order to build up customer loyalty.
Building up customer loyalty through UX means an establishment of a well-designed startup website that will meet the customers' expectations and requirements. A website has to be useful, usable and accessible to guarantee you customer loyalty.
UI/UX Design Saves Money and Time
The cost of design services increases as development goes on. It is more cost-effective to work on the design in the early stages of website development, as it is much easier to implement both code and design together, then change the already existing code later on.
The months of development time will disrupt users with dozens of bugs and issues. Just imagine what will happen to your business if you decide to add some features to your website when it is live and used by thousands of people!
UI/UX Design Boost User Interactions
Any startup website should appeal to the end users and provide a positive user experience. However, this is not possible without investing in UI/UX design.
An intelligently designed interface helps to understand the reaction of the users towards startup business. For example, you should provide a comment section where users will share their experience and opinions. Besides, with the help of UI/UX design, you can make a web page more personalized and use text and images that are specific to the user visiting the site.
Clear Navigation is a Key to a Positive User Experience
Clear navigation is a keystone of pleasing web design and satisfied users. With the help of UI/UX for startup website, you can be sure that the visitors move from one page to another without hassle. This also includes fast loading speed and intuitive design.
A good interface should have a search box. In this section, users can easily find the necessary information within your startup website. By implementing this feature, you help the visitors minimize the time taken for them to find what they need.
UI/UX Design Provides High Conversion Rates
Probably the most important reason why you need an outstanding UI/UX for startup website is to attract more clients to your business. By providing an appealing user interface, you can be sure that the visitors will come back to your site again and again. The conversion rates will grow.
No doubt, any good UI/UX should include call-to-actions at certain points of the web page. With the help of such buttons, you can encourage the visitors to purchase your products.
Logical Flow of the Content Make Visitors Surf your Website Longer
When creating the user interface, it is important to check the flow of the content. This entails arranging the content logically and in a manner that does not confuse the visitors. If the flow of the content is clear, users will stay on your platform longer, interacting with the data they need.
You might think that you have the best flow, but it turns out to be insufficient from the UI/UX point of view. For this reason, ask specialists to check the flow of the content on your startup website.
Think of your UI/UX Design for Your Startup Website In Advance
Having an outstanding UI/UX design for startup website is vital and beneficial. Make sure that you hire the right team who possesses the required expertise and can provide you with the best design services. This is the only way you are guaranteed to get all the benefits for your startup website we have outlined above.
With more than 11 years of web development services delivery, InternetDevels is always here to offer you the best solution for UI/UX design of your startup platform.