A platform's flexibility is paramount in today's tech environment. Business needs change all the time and choosing the right tool will no doubt help you achieve your goals. Drupal is one of these platforms that offer flexibility and sustainability with more than 42,000 modules available for download.
With so many website developers out there, it's hard to choose the right one. InternetDevels specializes in Drupal website development and for those clients who entrusted us with their projects, we appreciate working with you. We are happy to see your business succeed.
One of our reviews on Clutch, a B2B ratings and reviews website, came from a leading Danish retailer, JYSK. They had a capacity issue with their developers and we augmented their team. We helped the company by providing custom module development, performance testing, information architecture, maintenance, and support.
We've incorporated seamlessly with the company's own development team and we've been described as capable and talented Drupal developers.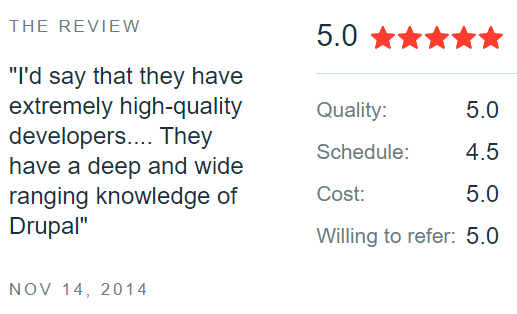 "I'd say that they have extremely high-quality developers... [InternetDevels] have a deep and wide-ranging knowledge of Drupal." – Project Manager, JYSK Ukraine
Another happy client is a European software firm that hired InternetDevels to develop a software tool with time-shifted video interviews for HR screening. They wanted to improve the software to a level where they can market the product online and have successful clients.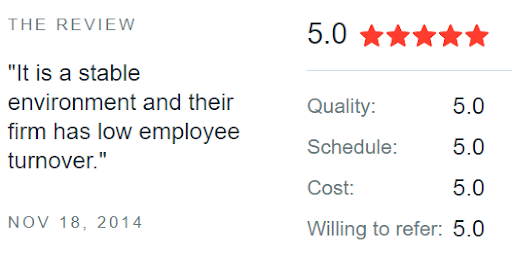 We allocated a project manager that constantly communicated with the client. InternetDevels received comments about our good development process and professionalism that the company didn't get from past providers. The client was satisfied with the partnership work that we did for them and fully trusted our capabilities in completing the project.
"Naturally, there are always ups and downs but, overall, their work is very professional...It is a stable environment and their firm has low employee turnover." – Managing Director, European Software Firm
Aside from that, InternetDevels is also featured on The Manifest, which showcases leading companies in their respective fields. You can also browse their listings of projects and awards to help you choose the right provider to partner with.
We are always pleased to receive such pleasant messages from our clients. It's always gratifying to work with businesses and help them succeed in their endeavors.
Shoot us a message! We'd love to hear more about your company and talk about how we can help you grow your business.