Ukrainian Drupal community with an active support of InternetDevels Drupal web agency has actually invented completely unique kind of Drupal event, which makes the whole community go wow! So, ladies and gentlemen, we proudly present you Drupal Tour! The main point of the event is in its dynamics and velocity — we're not going to stop just on one location, but would travel all around the country to involve even larger amount of audience, interested in Drupal development. The team of professional Drupal developers travels to different cities of Ukraine, aiming at communication with young representatives of Ukrainian IT-industry, especially — the ones interested in Drupal.
And know what? It has already hit off! We have just returned from the first Drupal Tour and are still full of positive impressions. Our first point of destination was Ivano-Frankivsk, and we visited it on 8.11.14. How was it? Just awesome, undoubtedly!
So, let's remember how was it! At 5 AM, our Drupal-van left from Lutsk to make its first trip at Drupal Tour event! It's so great, that our country is so beautiful and picturesque! We've seen a lot of historical and mysterious places' en route and couldn't help to stop by and have a closer look at them.
At 10 AM we already were in beautiful Ivano-Frankivsk. The city met us with quite cold weather, but hot breakfast ;) Having had breakfast we headed to our actual point of destination. Special thanks go out to the attendees, who started coming an hour before the first report was scheduled. Guys, you're great!
Each registered attendee has got a cool Drupal-mug. They gladly shared their emotions about it in social media.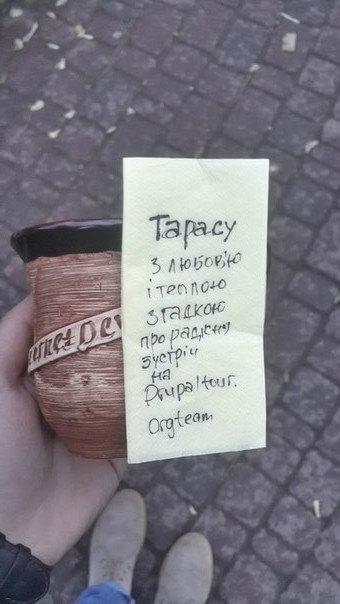 And anyway, the best sign of Drupal Tour's success is the great number of people, who have visited it: the pub was overcrowded! We're really happy, that there is so many people, who'd like to visit the event and in our turn next time we'll find bigger place. So the atmosphere and the audience were just great, and this inspires us to continue touring ;)
Our reporters did their part the best they could: their reports were interesting and practically useful, so that they caused lively discussions among the audience.
During the meeting itself the most active participants came over to the organizers and we gave them possibility to tell about their own projects and ideas (like coworking) between the main Drupal Tour's reports.
The atmosphere at the after-party was nice and pleasant. We've met a lot of interesting people during it so that we've had a nice opportunity to discuss the event with them at the glass of delicious beer or tea :)
And finally, our Drupal tourists have had a walk through the city center of Ivano-Frankivsk and headed back to Lutsk.
We want to say thanks to all the participants — everything was just awesome!
Keep in touch and follow us in Facebook and Twitter. Maybe, your city will be next!