If you want the visitors to settle down on your website and register, you definitely need a special tool to make both the registration and login processes easier and faster. Luckily, Drupal 8 possess a number of benefits, and modules for social login is one of them!
The team at InternetDevels website development company has prepared a list of top Drupal 8 modules for social login functionality. Stay tuned!
The best Drupal 8 social login modules
Check out this list of modules for social login in Drupal 8 and choose the one that suits you best!
OneAll Social Login is a powerful module that will let your users register on the website from their accounts in 35+ social networks, such as Google, Facebook, Twitter, and more. The great benefit of this module is that it is fully compliant with all European and U.S. data protection laws. With the help of OneAll Social Login, you can easily increase the user registration rate because the registration process is much more simplified.
The Social Auth module is part of the Social API. It does not only help users login effortlessly but also lets website owners get data from a provider, and much more. An important aspect of the new 2.x version is that it possesses its own content entity, which means that all data can be stored in the database. Visitors can register on the website through 30 social networks with the help of this Drupal 8 social login module, including Slack, Reddit, Uber, and more.
Auth0 Single Sign On replaces standard Drupal 8 login forms with one powered by Auth0. This social media module implements authentication with multiple platforms, such as GitHub, Twitter, Facebook.

The Social Auth Google module allows users to register and login to the website with the help of Google account. This Drupal 8 social login module allows sites to request any scopes so that any tasks requiring authentication with Google services can be performed.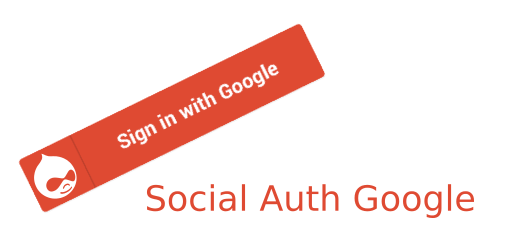 HybridAuth Social Login for Drupal 7
HybridAuth Social Login integrates into Drupal with the help of HybridAuth library and allows your visitors to login and register using Facebook, Twitter, Windows Live, Instagram, AOL, and much more. The greatest advantage of this module is that it doesn't depend on any external service and doesn't load any external CSS or JS files. It can also connect a few social identities to one account and log in users through any of them.
Choose your perfect Drupal module for social login
Now you know what to pay attention to when choosing a module for social login in Drupal 8. And the team of InternetDevels Drupal development company is always at hand to assist you with modules installation and configuration.
If you didn't find the module that suits you, we could easily create a custom one that would meet all your requirements! Do not hesitate to contact us 24/7 if you need any help or have questions regarding Drupal 8 modules for social login.