Are you happy with your digital banking experience?
We assume that it is much easier to do banking from the comfort of your home or while you are on the go than driving somewhere and waiting in line. Practically, however, it is not that easy. There is a complex layout, dozens of different sections on the dashboard and a dozen more of subgroups to reach the payment history. Sounds familiar? Navigating through the majority of online banking platforms is frustrating and feels like a waste of time.
Web designers at InternetDevels decided to share their vision on digital banking UX design. Check out our approach to resulting design solutions for financial service companies.
Why UX Design is Important in Financial Services?
Many people don't like to deal with online banking operations. Very often the customers are not able to find the necessary tab or process a transaction. The average bank offers so many services that the customers get lost among all the possible options. Digital banking should become more transparent and user-friendly.
If the client is not satisfied with the platform, if they experience trouble with UX, they'll leave the website and never come back again. It is much easier to use other online banking services than waste time trying to figure out how to process the payment. This is where positive online banking UX design comes in.
Making online banking more appealing to the users is only possible through positive UX. Our designers raise consumer understanding about online financial services by creating comprehensive and intuitive design. Our web developers put their ideas into practice, creating great online services.
Steps to Improve your Digital Banking UX Design
1. Start with UX research
The first thing any financial company should start with is research in order to figure out the users' pain points when interacting with digital banking. UX design should have focus on the needs and behavioral patterns of the users. Any online service should be simple, obvious and intuitive for the customers.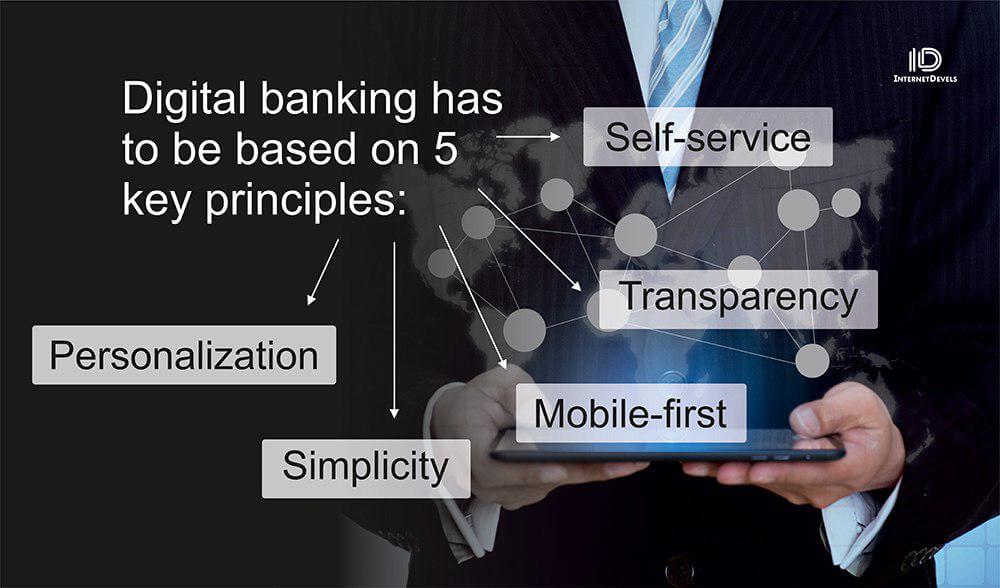 2. Generate the digital banking UX
After figuring out pains, needs and interests of the clients it is time to generate a perfect online banking UX. Create a plan of how customers will use a product to fulfill all their needs. Next, convert the insights into the product prototype. Prototypes help to test usability and functionality. After getting feedback and fixing some issues that might occur you can start designing a user interface.
3. Create digital banking design
Think about what tabs your potential customers are looking for and make it easy to reach. Avoid all additional sections and subgroups. The process of any financial operation should be simple and intuitive. Create some predefined templates for better user experience.
4. Ensure the correct layout
All the design elements should be located according to their priority for user experience. Use different visual means, such as font size, shape, and color to help users follow the banking operations intuitively. Don't forget to group elements on the basis of user scenarios.
5. Provide omni-channel digital banking UX design
Customers have to be able to get access to the platform through any gadget. Most people use their smartphones rather than computers for mobile banking.
Our Vision on Banking UX Design
Make navigation understandable and intuitive.
Create guides on how to proceed with banking operations.
Make your contact information noticeable.
Set opening external links in a new tab.
Consider the importance of color and contrast, text and themes.
Create a sitemap.
Publish an accessibility statement.
Responsive images.
Of course, this is not the full list of features that are necessary for a successful online banking UX design. However, we have pointed out the most important ones. Contact our dedicated team for developing solutions that deliver results.
How does the InternetDevels Team Collaborate with the Clients?
All of our projects are conducted under the full control of the customer. We constantly communicate via skype, task tracker, email or other online services. The project progress is tracked by the client, and he is able to give his feedback. Design and all the concepts are shared with the customer, so he can participate in the development process.
Our regular collaboration includes daily check-ups and reports to ensure clients have full control of our UX services. We are creating a positive financial user experience and make sure that our clients apply best practices in digital banking experience.
Increase Trust in your Digital Banking
We encourage you to keep in mind all this advice and create the best financial solutions for your customers. We hope you can apply this UX design tips in your project, and we are here if you need any help.
At InternetDevels Drupal web design company, we can solve any challenges related to digital banking UX design. Are you with us? Contact us for any help or support.