Do you want to reach more users, generate more revenue, and make your brand recognizable around the world? Then build your multilingual eCommerce store with WordPress. A multilingual eCommerce store will help you sell your products and services to the whole world, and to everyone who has access to the Internet.
Creating a multilingual WooCommerce website is the key to the success of your business because 3/4 of the users on the Internet do not speak English. Below, on our blog, InternetDevels web development company will tell you everything you need to know about creating a multilingual eCommerce website with WordPress.
Are multilingual sites allowed in WordPress?
The question of whether multilingual sites are allowed in WordPress is perhaps the first thing WordPress site owners wonder. We would like to assure you that a WordPress site is a good choice to create a multilingual site.
WordPress itself does not have a built-in multilingual capability, but there are many free plugins to add this feature.
What Is a Multilingual Website in WordPress?
If you want to cover almost 80% of clients from all over the world, you need to create a multilingual store with WordPress. A multilingual site is a site that is available in different languages, not just English.
When users visit your multilingual site, they should not have the impression that this is a translated version of your original site. All the content must be tailored to each language and culture. Your audience should feel at home. The more languages available on your site, the more buyers you can reach.
Do not limit yourself to creating a website in English only, add other languages as well. The three most popular languages on the internet are:
Clients also ask us:
Can WordPress be used for eCommerce?
We always answer them:
Of course, you can use WordPress to build your eCommerce site.
Business owners often hesitate between Shopify and WordPress.
More than once we have received questions like:
Is WordPress better than Shopify for e-commerce in 2021?
We suggest you answer this question yourself after reading the blog!
Top 6 reason to build a multilingual eCommerce site with WordPress
If you still doubt whether you need to create a multilingual website with WordPress, then check out the top 6 reasons why you need to create one. We hope they will help you decide.
1. Improved SEO
Search engines will better search your business if you translate websites into other languages. Search engines value sites that are available in different languages and therefore show them higher in the search results.
2. Expand the audience
One of the most common reasons for creating an optimal website is the desire of owners to expand their client base — and it really works. The more languages are available on your site, the more people will understand it.
3. Beat competitors
Creating a multilingual eCommerce shop with WordPress means you are a serious company that strives to gain global trust. By making your website available in different languages, you are 100% outflanking your competitors who have not.
4. Better user experience
The fact that you have created your site in several languages shows your visitors that you value them and care about a positive UX on your site.
5. Boost sales
If you notice that your sales are staying at the same level, then it's time to make your site multilingual. The larger your audience, the more likely it is that they will turn into your customers.
6. Gain trust from users all over the world
By qualitatively translating your site to other languages, you show your respect for the language and culture of the audience that speaks this language. When you are translating, though, take into account the cultural aspects, too, to avoid an awkward situation.

How to create a multilingual WooCommerce store with WordPress
In order for you to create a multilingual website you need to have:
a WordPress site
Woocommerce plugin
Everything seems to be easy until it comes to setting up a multilingual plugin. To correctly set it up you need to tinker a little and take into account your business peculiarities. Below we will tell you about the 3 most popular plugins for creating a multilingual website on Woocommerce and their features.
Top 3 WordPress multilingual plugins for eCommerce store
WPML
WPML confidently takes the leading position among all translation plugins. Despite being a paid plugin, it's worth every dollar. You will have more than 40 different languages to translate your entire site into, not just the content on it. It has 3 different plans:
Multilingual Blog
Multilingual CMS
Multilingual Agency

Key WPML features:
translation into 40+ languages
over 100,000 active users
easy and fast integration with WooCommerce
has a user-friendly interface
provides detailed tutorials on setting up and configuring the plugin
has a 30-day trial period
translates content, themes, plugins, and more
you can add your own language variants
works great with almost all themes
it constantly updated
Price: 30-day trial period / paid starts at $29
TranslatePress
TranslatePress is a super-functional multilingual plugin. One of the most impressive features is that it supports 221 languages! There are paid and free versions of the plugin.

Key TranslatePress features:
translation into 200+ languages
more than 100,000 active users
easy to use
translates directly from the front-end
translates the entire site, not just blogs
Integrates with WooCommerce and Elementor
has an automatic user language detection option
compatibles with Rank Math, which will improve SEO
has a user-friendly interface for manual translation
easily integrates with Google Translate
supports WooCommerce
translates images
Price: free/ paid starts at €79
GTranslate
GTranslate is the third, but no less powerful and convenient, plugin for translating and creating a multi-site website. It uses a cloud-based approach that has a positive effect on page loading speed.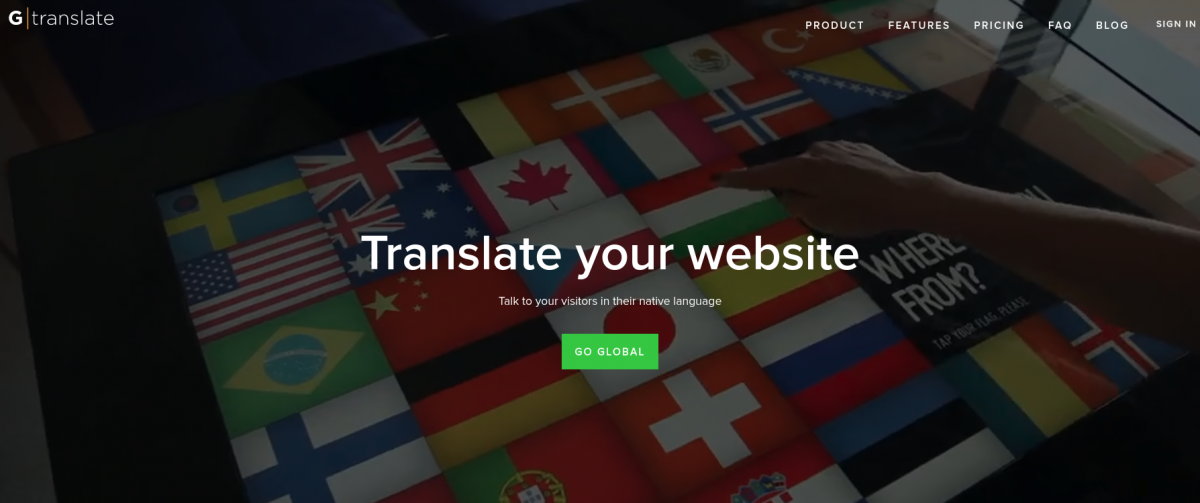 Key GTranslate features:
translates to more than 100 languages
allows users to edit translations manually
integrated with Google Analytics
compatibles with WooCommerce
translates absolutely everything on your site
supports right-to-left (RTL) languages
translates content based on the user's language
is SEO-friendly
uses machines translations
you can create a separate domain for each language
translates URLs of your website
automatically updated
Price: 15-day trial period/ paid starts at $79.9
Create your multilingual WooCommerce store with Internetdevels' help
If your goal is to create a truly profitable and successful business, then create a multilingual eCommerce store with WordPress. We hope our blog was helpful to you.
Do you have a multilingual plugin on your site? If not, then our web developers will be happy to install and set up a suitable WordPress translation plugin on your website. Reach an international audience today!